Acclaimed pianist Garrick Ohlsson performs Beethoen with Maestro Tovey and the Vancouver Symphony Orchestra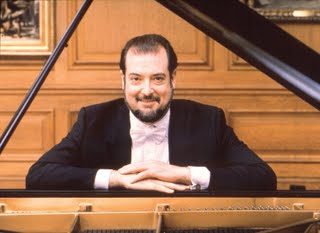 VANCOUVER, BC
–
The VSO
proudly presents acclaimed
pianist Garrick Ohlsson
on
October 3rd and 5th
, 8pm at the Orpheum Theatre. Mr. Ohlsson will perform Beethoven's 'Emperor' Piano Concerto No. 5 with a special performance of the beautiful, lyrical Sibelius Symphony No. 2 in the second half. Balakirev's rarely heard In Bohemia kicks off this concert. Maestro Bramwell Tovey conducts.
"Mr. Ohlsson centered the performance, playing with his customary clarity, command and wit. He…brought elegance to the beguiling slow movement and zipped through the sprightly finale with zest and humor that still allowed for lyrical turns of phrase in dreamy passages."
- New York Times

Garrick Ohlsson is the most important American pianist of his generation, and the greatest. He was the first American to win the International Frederick Chopin Piano Competition in 1970, the first of many honours including first prize at the Busoni and Montreal Piano Competitions, the Avery Fisher Prize, and a Grammy Award. An alumnus of Juilliard School, Mr. Ohlsson credits his musical development to his teachers, most notably Claudio Arrau, for teaching him to master the works of Mozart, Beethoven, and Shubert, for which he is now legendary. He has performed with orchestras across the globe, recently completing a North American tour and European performances with the Salzburg Mozarteum and the Deutsche Symphony Berlin.
CONCERT INFO
Masterworks Diamond Series:
Saturday and Monday, October 3 and 5, 8pm
Bramwell Tovey, conductor
Garrick Ohlsson, piano
Balakirev In Bohemia
Beethoven Piano Concerto No. 5 in E-Flat Major, Op. 73, Emperor
Sibelius Symphony No. 2 in D Major, Op. 43
Tickets $25 to $78.50 (Student, Senior and Subscriber discounts available)
Tickets available by phone at 604.876.3434 or online at
www.vancouversymphony.ca
Labels: Garrick Ohlsson, vancouver, vancouver symphony orchestra