La percussionniste Aiyun Huang jouera dans la są©rie CBC McGill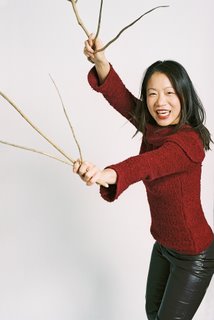 Soirą©e Big Bang
La są©rie de concerts CBC/McGill prą©sente Aiyun Huang et l'Ensemble de Percussion de McGill
Montrą©al, le mardi 3 fą©vrier 2009 íńž Pour son prochain concert, la są©rie CBC/McGill prą©sente la percussionniste Aiyun Huang et l'Ensemble de percussion de McGill, le jeudi 12 fą©vrier ą› 19h30 ą› la Salle Pollack de l'Universitą© McGill. Le violoniste Mark Fewer et la clarinettiste Lori Freedman feront ą©galement partis de la distribution de la soirą©e.
Pour l'occasion, la CBC a commandą© une nouvelle Čžuvre au compositeur canadien Michael Oesterle. Son ¨ī Cepheid Variations ¨™ est ą©crite pour glockenspiel solo, deux marimbas et deux vibraphones. En plus de cette crą©ation, le programme de soirą©e prą©sentera quelques Čžuvres phares du rą©pertoire pour percussion : ¨ī Links No. 5 (Sitting on the Edge of Nothing) for solo vibraphone ¨™ (1987), de Stuart Saunders Smith ; le ¨ī Concerto for Violin and Percussion Orchestra ¨™ (1940-59) de Lou Harrison ; ¨ī Bass Clarinet and Percussion ¨™ (1981), de Morton Feldman.
Ce concert est une occasion exceptionnelle d'entendre la percussionniste de renommą©e internationale Aiyun Huang, professeur de percussion de l'ą'cole de musique Schulich. Celle-ci s'est produite en concert ą› travers l'Amą©rique du Nord, le Mexique, l'Europe et l'Asie.
Deux de ses colląģgues de l'ą'cole de musique Schulich, la clarinettiste Lori Freedman et le violoniste Mark Fewer, se joindront ą› elle. Freedman est une clarinettiste virtuose dont le style polyvalent lui permet d'interprą©ter et de composer de la musique contemporaine, improvisą©e ou ą©lectroacoustique. Considą©rą© comme ą©tant l'un des musiciens les plus uniques et les plus innovateurs de sa gą©ną©ration, Fewer porte plusieurs chapeaux. On le retrouve en solo, en musique de chambre, ą› la tąĀte d'un orchestre, en jazz et comme directeur artistique.
L'Ensemble de percussion de McGill, formą© d'ą©ląģves en percussion de l'ą'cole de musique Schulich, se produit en concert sur le campus de l'Universitą©, en plus d'ąĀtre rą©guliąģrement invitą© ą› participer ą› des ą©vą©nements musicaux d'envergure, rą©cemment en France et ą› Toronto.
La Salle Pollack est situą©e au 555 Sherbrooke Ouest. On peut se procurer des billets au guichet de la salle Pollack (514-398-4547), de midi ą› 18 h la semaine, ou une heure avant le dą©but de chaque concert, au prix de 15 $, (10 $ pour les ą©tudiants et les personnes du troisiąģme ąĘge) au guichet de la salle Pollack de midi ą› 18h la semaine, ou encore une heure avant le dą©but de chaque concert. Le prix des billets comprend les taxes et les frais de service. Les billets sont ą©galement en vente par l'entremise du rą©seau Admission (514.790.1245 ou www.admission.com íńÓ frais de service en sus).
Pour plus de renseignements sur ce concert ainsi que sur toute la są©rie, veuillez tą©lą©phoner au 514-398-4547 ou visitez le site www.cbc.ca/montreal.
Scott Tresham est le rą©alisateur de ce concert. Kelly Rice est le rą©alisateur-coordonnateur et le directeur artistique des concerts CBC/McGill 2008-2009.
Labels: CBC McGill, Huang Jouera, percussion