Salonen Era Comes to a Triumphant Close in Los Angeles
Review by

Paul E. Robinson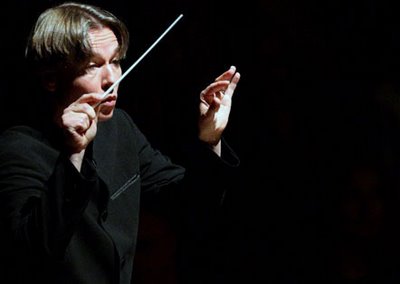 Classical Travels
THIS WEEK IN CALIFORNIA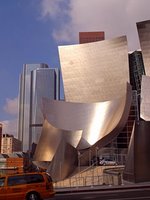 When I last visited LA (2002), just before the opening of Frank Gehry's Walt Disney Concert Hall - the new home of the Los Angeles Philharmonic - I was not impressed with the exterior of the building. I did not stay long enough to see or hear the interior. This year, in LA again on my way back from China, I was in the hall on the occasion of one of
Esa-Pekka Salonen
's last concerts as music director (April 9, 2009).
Opening Film a Tribute to Salonen
The evening began with a short film celebrating Salonen's seventeen years with the orchestra. This is the longest tenure of any LA Phil music director and Salonen today is a beloved figure in the community.
Salonen has always peppered his programs with new works and collaborated with some of the most interesting artists in other fields including director
Peter Sellars
, and video artist
Bill Viola
. While other orchestras have got mired in the past and have had trouble reaching out to younger audiences, under Salonen's leadership the LA Phil has been a trend-setter. His promotion of contemporary music, his exceptional conducting skills and his energy have made the LA Phil a uniquely modern orchestra.
Maestro's Violin Concerto More Than a Program Pleaser
The first piece of music on the program was
Ligeti
's
Clocks and Clouds
, which dates from 1972 and was inspired by the work of philosopher
Karl Popper
. Strangely hypnotic, the composition makes highly original use of five clarinets and a twelve-voiced women's chorus. The ladies of the Los Angeles Master Chorale make a remarkable contribution.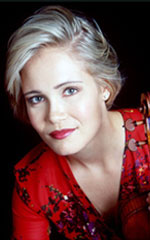 Following Ligeti was the premiere of Salonen's Violin Concerto. Judging by this work, Esa-Pekka Salonen is a multi-faceted, profoundly interesting man. The piece draws on quasi-experimental avant-garde techniques, but clearly has roots in the recent past- Stravinsky and Berg are evident influences - and takes pleasure in contemporary pop music too. Soloist Leila Josefowicz (photo:
right)
performed this fearsomely complex new work from memory, playing with authority and passion.
Beethoven Blazing with Intensity and Forward Motion!

Esa-Pekka Salonen is not known for his Beethoven, but he clearly has strong ideas about how the piece should go. He is very much a modern musician, well aware of what the period instrument specialists have taught us about this music and how it should sound.
Following suit, Salonen had his timpanist use harder sticks, his strings less vibrato, his trumpets rotary-valved instruments, etc. He is also current in believing that early 20th century performances with modern instruments have generally used far too many strings and failed to take seriously Beethoven's metronome markings, and that these two issues, in fact, go hand in hand.
For this performance, Salonen cut his cellos back to eight and his basses back to six. Curiously, he used a seating pattern more common with conductors of a previous generation –
Toscanini
and
Klemperer
come to mind. Basses were on the left, with cellos behind the first violins. Second violins were to the conductor's right on the outside.
All this scholarly preparatory work is irrelevant, however, if the performance falls short.
This Beethoven 5th was blazing in its intensity from beginning to end and Salonen's musicians played with every ounce of energy they could muster, especially the timpanist. His tempos could seem unyielding at times, but the relentless forward motion had its own rewards. I am sure the double basses would have liked a little less of it in the trio section of the scherzo – the tempo was so fast they could only approximate the actual notes – but who could complain in a performance this exciting.
On the podium, the conductor Salonen most resembles, in my opinion, is the late
Herbert von Karajan
. Like Karajan, Salonen is very still except for his arms, and his more extroverted movements clearly grow out of the music rather than being simply showy or exhibitionistic. He is very sparing in his cues but there is no question about his mastery of the music. Again like Karajan, this economy of movement and air of authority has the effect of focusing the attention of both musicians and audiences.
Salonen to Spend More Time Composing?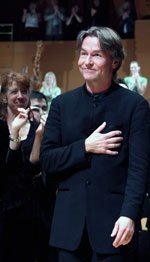 If Salonen has changed the music scene in LA, the city and its unique culture have changed him too. He was an introverted young Finn when he arrived, preferring to let his baton do the talking. He is older and more mature now, but also far more outgoing and not shy about expressing his opinions. He himself acknowledges that he discovered himself through living in LA and working with the orchestra.
As he nears the end of his historic tenure in Los Angeles, Salonen is a musician at the very top of his game. In the next few years he will spend at least part of his time in London as principal conductor of the Philharmonia Orchestra. In recent interviews, he has said that he will also devote more time to composing. If this is so, we look forward to hearing these new works. In his compositions over the past fifteen years, one can hear a steady evolution toward ever more ambitious and successful works.
Salonen is unquestionably an important composer. At the same time, he is one of the most gifted and imaginative conductors of his generation. Few maestros combine the technical command, the breadth of repertoire, the charisma and the imagination that define Salonen.
But time marches on. Dudamel is waiting in the wings in LA and will doubtless bring something new and vital of his own to the orchestra.
The Ultimate Measure of a Hall is the Music

The Walt Disney Concert Hall, the home of the Los Angeles Philharmonic, is, in my opinion, commendably daring architecturally, but neither beautiful nor practical.
The entrance seems to have been dealt with as an afterthought, or a necessary evil; to put it another way, it is so small and inconsequential as to seem apologetic, rather than inviting as it should be. Once inside, that impression of 'unfriendliness' is reinforced by dark and cramped lobbies.
The search for one's seat can be a nightmare. Everything looks the same as one wanders from level to level, down nameless corridors, leading to who knows where. Had architect
Frank Gehry
decided that clear and prominent signage was unfashionable?
An usher appears. I offer up my incomprehensible ticket for guidance. She deciphers the secret code and motions me down another corridor.
At intermisssion, I somehow find my way to the refreshment area – no signs, of course. I expect to hear the usual bell, warning that intermission is coming to an end, but no such bell sounds. Instead, ushers clambering up and down the various levels begin shouting that the second half of the concert is about to begin.
Is this too one of Gehry's bizarre innovations? Personally, I prefer a persistent bell to official bellowing. I was reminded of the soldiers I had seen a few weeks earlier, stationed in Tiananmen Square to manage the tourists; when people weren't moving fast enough, they shouted menacingly, herding them along.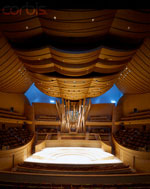 Like most other patrons, however, I am prepared to forgive most, if not all, of the nuisances heretofore mentioned, if the concert hall has wonderful
acoustics
; on the basis of what I heard in one concert by the LA Philharmonic in this hall, I must enthusiastically say: 'All is forgiven'! In spite of its shortcomings, the Walt Disney Concert Hall is a great place to listen to music.
Acoustician for The Walt Disney Concert Hall (photo:
right
) was Yasuhisa Toyota, who also worked on Suntory Hall in Tokyo. Although he clearly deserves a lot of credit for the excellent sound in this hall, I looked in vain for his name on the LA Philharmonic website.
Kendall's Brasserie and Bar

If you want a good meal before a concert, I suggest you avoid the two options inside the building and go across the street to the former home of the LA Philharmonic, the Dorothy Chandler Pavilion.
Kendall's Brasserie and Bar
has excellent food, good service and a warm and friendly atmosphere. On a nice evening you can even sit outside and enjoy your meal.
Paul E. Robinson is the author of Herbert von Karajan: the Maestro as Superstar and Sir Georg Solti: his Life and Music, both available at http://www.amazon.com/.
Photos of Esa-Pekka Salonen by Mathew Imaging


Classical Music Blogs
Labels: classical travels, Esa-Pekka Salonen, Leila Josefovitz, Los Angeles Philharmonic, Paul E. Robinson, violin