This Week in Toronto (Mar. 28 - Apr. 3)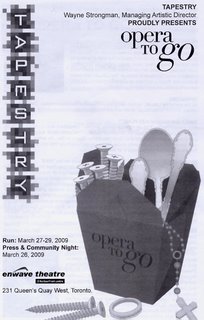 There are several very interesting presentations this week that are well worth attending. First of all, I can recommend Tapestry Newopera Work's presentation of Opera To Go, an evening of four newly commissioned short operas. I attended the opening last evening, and can honestly say that I was hugely impressed by the wealth of talent and creativity that exists in Canada. Under the leadership of Managing Artistic Director Wayne Strongman, Tapestry actively nurtures composers and librettists by holding intensive summer workshops, known as LibLabs. Over the past 14 years, 47 composers and 47 librettists have participated. So far over twenty 15-minute opera works have been created and staged by the Company. In this year's showcase, three short pieces (One Lump or Two? / My Mother's Ring / The Virgin Charlie ) and one 40-minute work (The Perfect Screw) are being staged. Three comedies and one dark piece, a ratio that seems to be par for the course. I find myself totally engrossed and hugely entertained by all four pieces. It is workshops like this that take opera out of its "grand" mode to a more accessible level. New works like these keep the art form alive. Performances on March 27- 29, at the Enwave Theatre in 231 Queen's Quay West, Toronto.
Speaking of new works, Opera in Concert is staging Canadian composer Charles Wilson's newly revised Kamouraska. Though composed in 1974-5, this piece never received a full staging until now. According to the OIC website, this opera is based on a Canadian novel by Anne Hebert, "a tale of horror and imagination, based on a real 19th century love triangle in rural Quebec. Charles Wilson's opera paints a terrifying tableau of the life of Elizabeth d'Aulnieres, her marriage to Antoine Tassy - squire of Kamouraska - his violent murder, and her passion for George Nelson, an American doctor" It stars former COC Ensemble member soprano Miriam Khalil, as well as James McLennan and Alexander Dobson. Alex Pauk conducts the Esprit Orchestra, with OIC Artistic Director Guillermo Silva-Marin as dramatic advisor. Performances on March 28 8 pm and March 29 at 2"30 pm at the St. Lawrence Centre for the Arts, 27 Front Street East, Toronto.
Another important event this week is Madama Butterfly produced by the newly resurrected Opera Hamilton. It opens on March 31 in a "special performance", followed by two more on April 2nd and 3rd. It takes place at the Ronald V. Joyce Centre for the Performing Arts, Hamilton Place, 60 minutes drive down the QEW from Toronto. It stars Chinese soprano Ai Lan Zhu as Cio Cio San, with tenor Gordon Gietz as Pinkerton. Baritone Gaetan Laperriere is Sharpless and former COC Ensemble Studio member mezzo Lauren Segal is Suzuki. Long time OH stalwart Daniel Lipton conducts.
Finally, you have one last chance to catch the Toronto Symphony Orchestra, featuring the superb pianist Louis Lortie and the sensational conductor Yannick Nezet-Seguin joining forces for a program of Ravel and Prokofiev at Roy Thomson Hall on Saturday. I attended the Wednesday performance, a truncated show with only Ravel Piano Concerto in G Major and the Prokofiev 5th Symphony. Lortie was in scintillating form, offering a sparkling account of the G Major, expertly supported by Nezet-Seguin. The mammoth No. 5 is a little too bombastic for me - too much brass and percussion in the first movement, but as a performance, it was absolutely stunning. The March 28 show is also truncated, with Piano Concert for the Left Hand replacing the G Major, and the addition of the orchestral version of Alborada del gracioso. It is also billed as a "casual concert", with an early start (7:30 pm) and a jazz ensemble to entertain the audience after the show. Any chance to hear Lortie and Nezet-Seguin is not to be missed!