Sensational Singapore: the Remarkable Creation of Stamford Raffles and Lee Kuan Yew
By
Paul E. Robinson
Classical Travels
SIGHTS & SOUNDS OF SINGAPORE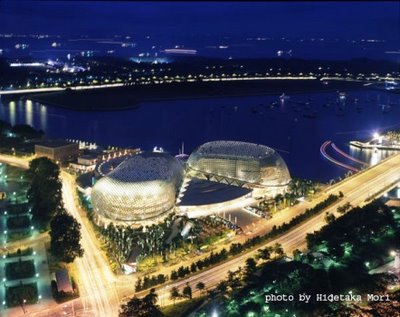 Our cruise liner, the
Diamond Princess
, arrived in Singapore this morning in a light rain. She docked at a container terminal and at about 10:00 am passengers were bused to a shopping centre opposite the Hyatt Hotel on Scott Road near
Orchard Road
.
Orchard Road is the heart of upscale shopping in Singapore. From this intersection on into downtown, stores, malls, and restaurants abound. Marita and I, together with her brother and sister-in-law, explored the shops for several hours, after which we took a short taxi ride to the Intercontinental Hotel downtown for an excellent buffet lunch comprised mostly of regional cuisine.
The light rain had by now turned into a heavy shower, but we stayed dry shopping nearby in the Bugis Mall which connects to the hotel. The
Bugis
, by the way, were one of the first native peoples of the Malay Peninsula.
Raffles Hotel: Singapore's Colonial Beginnings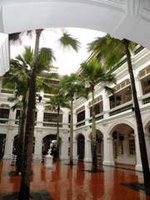 Finally, the rain let up and we were able to walk the few blocks to
Raffles
(
right
). Singapore has progressed beyond its colonial past, but has the confidence to celebrate it in the form of dozens of meticulously restored buildings such as this magnificent hotel.

Raffles was built in 1899 and quickly became a favorite haunt of well-heeled locals and visiting celebrities. It was thoroughly renovated in 1991 and the sweeping staircases, shaded verandas and tall swaying palms look as grand and elegant as they did in the nineteenth century.
Sir Stamford Raffles
, an official of the British East India Company, essentially created Singapore in
1819
, confident that the crossroads location and the wonderful harbor would be ideal for a trading centre.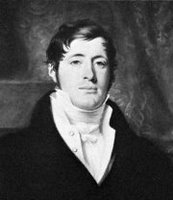 When Raffles (
right)
arrived,
Singapore
was the diverse, cantankerous ethnic mix it is today, but he took steps to ensure that the persistent animosities were kept under control. He divided the city-state into sectors for each ethnic group - British, Indian, Chinese and so on. By and large this division is reflected in the layout of Singapore today. Some of the finest shopping can be found in 'Little India' or on Arab Road with the appropriate peoples and products.
We ran out of time to enjoy a full English tea at Raffles, but we did get to knock back a few "
Singapore Slings
," a cocktail invented by bartenders in the famous Raffles Long Bar where the likes of Joseph Conrad, Somerset Maugham, Noel Coward and Paul Theroux had staved off the tropical heat before us. Packed with tourists, the bar's classic atmosphere continues to seduce, with its slow- turning fans, shuttered windows, and rich chocolate paneling.
From the time of Sir Stamford Raffles, into the mid-twentieth century, Singapore was a British Crown Colony. Self-government within the Federation of Malaysia came only in 1955, followed by complete independence in 1965.
Independence, Lee Kuan Yew and Government that Works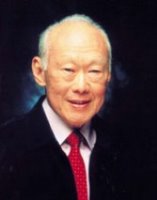 Since independence, under the firm but wise leadership of
Lee Kuan Yew
(
right
), the country has advanced to the forefront of nations enjoying peace and prosperity. Singapore, though small – only 267 square miles and about 5 million people – is extraordinarily well-governed and a kind of paradise for those fortunate enough to live there.
Lee Kuan Yew (1923-) is not a modest man, but then he does not have much to be modest about. The high standard of living enjoyed by nearly everyone in the country is a largely result of the policies that he promulgated.
The government of Singapore is officially defined as a "parliamentary republic." While the freedom to make money is almost unlimited, the freedom to be critical of the government is severely restricted. Newspapers, magazines, cable television and the internet are all carefully scrutinized and censored by the government.
The government's approach is not unlike that employed by China today, but without any ideological underpinnings.
Singapore realizes that it lives in a dangerous world and cannot afford unlimited freedom of speech. The result has been imprisonment or fines for those who choose to challenge the system, but an admirable quality of life for those who do not.
Years ago Singapore became famous for arresting those who dared to spit on the streets or to deposit used chewing gum in public places, and for its severe punishment of drug offenders. Today's Singapore has less crime and less poverty than almost any other country in the world. It is also recognized by many as one of the world's cleanest countries.
Lee Kuan Yew stepped down as Prime Minister in 1990, but he continues to exert enormous authority in Singapore's affairs as 'Minister Mentor,' with his son Lee Hsien Loong as Prime Minister.
Notes on Urban Planning, Architecture, Music and Arts in Singapore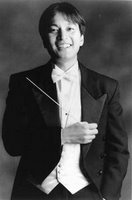 For such a small territory with so much development, Singapore strikes the visitor as being remarkably well-planned – clean, green and lush with parks, gardens and grand buildings, both new and beautifully restored.
Cultural activities in Singapore are thriving. The
Singapore Symphony
Orchestra (SSO), under music director (since 1997) Lan Shui (
right
), is an excellent ensemble with dozens of recordings to its credit, including, for example, the
complete
symphonies and concertos of Tcherepnin.
The SSO performs in a 1600 seat hall, in the striking, controversial architectural complex called
Esplanade
– Theatres on the Bay – facing Marina Bay downtown (
photo by Hidetaka Mori, above
). The rounded and prickly shape of the Esplanade has prompted wags to nickname it the 'Durian' after the eponymous foul-smelling tropical fruit that it resembles. Acoustician for the project was the late Russell Johnson - one of the best in the business.
Singapore is also, apparently, a nation of voracious readers. The huge Borders bookstore on Orchard Road is well-stocked and well-patronized. Among the current best-sellers on prominent display are the two massive volumes of Lee Kuan Yew's memoirs (
The Singapore Story
(1999);
From Third World to First: the Singapore Story
(2000). Not quite the whole story, but important documents from a living legend.
Labels: classical travels, Paul E. Robinson, Singapore, Singapore Symhony