This Week in Toronto (April 4 - 10)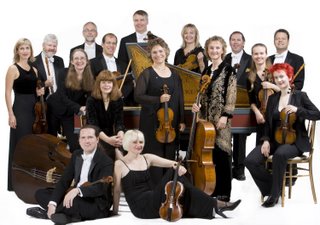 Tafelmusik Baroque Orchestra
Photographer: Cylla von Tiedemann
This being Easter Week, there is a wealth of sacred music to choose from. Top on my list is Tafelmusik's St. Matthew Passion, performed in conjunction with Montreal's Les Voix Baroques, under the direction of Jeanne Lamon. There are twelve soloists, including Charles Daniels as Evangelist and Stephan MacLeod as Jesus. Countertenor Matthew White sings Alto. You can catch it at Tafelmusik's usual venue - Trinity St. Paul's Centre in downtown Toronto (April 2-5, 8), or at the acoustically wonderful George Weston Recital Hall, Toronto Centre for the Arts at 5040 Yonge Street in North York (April 7). This intimate recital hall has been woefully underused in recent years, so it is nice to see that occasionally you can still catch a show there.
Also on offer at the George Weston Hall this very evening (Sat., 7:30 pm April 4) is St. John Passion with the Amadeus Choir under conductor Lydia Adams. Soloists include Monica Whicher, James McLennon, Daniel Cabena, Daniel Auchincloss and Alexander Dobson. There is a rare chance to hear Puccini's Messa di Gloria, put on by Tryptych Chamber Choir at the Trinity Presbyterian Church, 2737 Bayview Avenue (Sunday April 5, 7:30 pm) Also on the program is Stanford's Stabat Mater, a piece I am not familiar with. I am also intrigued by the Canadian premiere of Karl Jenkins' Stabat Mater, at the All Saint's Kingsway Annglican Church, at 2850 Bloor Street West, on Good Friday. Now, if only someone would put on a concert performance of Wagner's Parsifal - I'd even settle for just the Good Friday music in Act Three :)
On Tuesday, April 7, German pianist Markus Groh is in town for a recital at the St. Lawrence Centre under the auspices of Music Toronto. On the program are Brahms, Liszt, plus Erwin Schulhoff's 5 Etudes de Jazz and a new piece by Jeffrey Ryan. On Thursday, April 9th, Canadian Sinfonietta presents violinist Catherine Manoukian in a program of Finzi, Arutunian and Dvorak, conducted by Tak Ng Lai, at the Glenn Gould Studio.
Finally I'd like to draw your attention to Mozart's Cosi fan tutte, put on by the Royal Conservatory of Music. I attended opening night last Thursday, and was completely bowled over by the high quality of the singing and the orchestral playing, under the baton of the great Mario Bernardi. I heard an all-round excellent cast, but particularly outstanding were Inga Filipova-Williams (Fiordiligi) and Wallis Giunta (Dorabella). There are two more performances, Sunday April 5 at 2 pm, and Tuesday April 7 at 1 pm. All performances at the Mazzoleni Hall of the Royal Conservatory of Music, 273 Bloor Street West. And all the performances are free! (Due to limited seating, you should arrive one hour ahead to get a voucher).