A Sparkling Cosi fan tutte from RCM's Glenn Gould School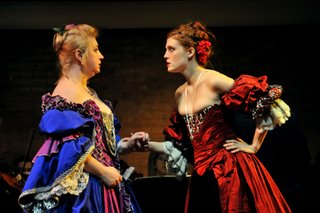 Inga Filippova-Williams (Fiordiligi) and Wallis Giunta (Dorabella) in Royal Conservatory of Music's
Cosi fan tutte
Photo: Nicola Betts
April is opera month in Southern Ontario, with a veritable treasure trove of productions from mainline companies like the COC, Opera Atelier, and Opera Hamilton. But we mustn't forget the venerable Glenn Gould School of the Royal Conservatory of Music, whose shows are invariably enjoyable and give us a chance to discover voices of the future. This is particularly true this spring as I attended the opening night of a semi-staged Cosi fan tutte on Thursday April 2. It was so good that I went back a second time yesterday afternoon. As this production of Cosi clearly demonstrates, there is a wealth of vocal talent in Canada. Rarely has Cosi been as genuinely funny as this one. At the risk of sounding ageist, I have to say the roles in this opera are best taken on by singing actors at the bloom of youth, when it comes to dramatic verisimilitude. In this production, there are eleven soloists altogether, all double-cast except for Don Alfonso. The six soloists in the first cast that I saw are certainly up to the task - I think all of them are young artists in the Glenn Gould School Artist Diploma program. They are well schooled, throughly prepared and expertly directed by Jennifer Parr.
Heading the cast was soprano Inga Filippova-Williams as Fiordiligi. She was a finalist in the Julian Gayarre Singing Competition last September. Her beautiful and flexible full lyric voice, even from top to bottom, is tailor made for this most exacting of Mozart heroines. On both April 2 and 5, she sang a fiery "Come scoglio" with excellent floritura and huge high Cs. She was also able to scale down her big voice for the even longer, fiendishly difficult "Per pieta", touchingly sung and only a little short on a truly solid trill and totally clean scale work. She also used her expressive face to comic effect. Filippova-Williams was well matched by the Dorabella of Wallis Giunta, who has been given several high profile assignments including the title role of Dean Burry's Pandora's Locker at the RCM. Blessed with glamorous looks, a gleaming high mezzo and good dramatic instincts, Giunta's Dorabella was an unalloyed pleasure. Soprano Taylor Strande was a bright-voiced, spunky Despina, her soubrette a nice complement to the two ladies.
The men in this production are also on a high level. Montreal native and McGill graduate lyric baritone Matthew Cassils was an engaging Guglielmo, singing with firm, attractive tone. Ferrando, his partner in crime, was sung by tenor Adam Bishop with a sweet lyric sound, ideal in the lighter Mozart roles. His "Un aura amorosa" was well sung, even if his top notes were produced with some pressure. He also acted very well - arguably the funniest guy onstage! Bass-baritone David English brought equally vivid sense of drama to his role of Don Alfonso, using his imposing height to advantage. I'd be remiss if I don't mention the excellent stage direction of Jennifer Parr. Given the small size of the stage already occupied by the orchestra (there is no pit), space is at a premium. Parr shows impressive creativity in using the minimal space onstage as efficiently as possible - it is amazing what one can do with two modest-sized benches! She also uses the aisles and doors in the auditorium for entries and exits for the chorus and principals. On both April 4 and 5, the performance was anchored by the marvelous conducting of Mario Bernardi, once again showing to all that at the grand age of 78, he is still a fabulous Mozartian. He was very supportive of the singers and covered for them when there was an occasional slip-up. The youthful orchestral musicians played their hearts out, and the performance as a whole, while not note-perfect, was of a very high level indeed.
There is one last performance tomorrow (Tuesday April 7th at 1 pm) with the second cast which I have not heard but is reported to be fine. The location is Mazzoleni Hall, Royal Conservatory of Music, 273 Bloor Street West in downtown Toronto. Remember - due to limited seats, it would be wise to get there at least 45 minutes early to secure a voucher.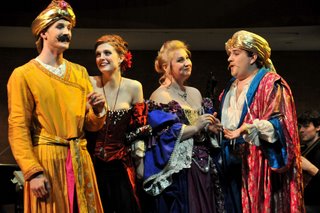 (l. to r.) Matthew Cassils (Guglielmo), Wallis Giunta (Dorabella), Inga Filippova-Williams (Fiordiligi), and Adam Bishop (Ferrando)
Photo: Nicola Betts
Labels: Cosi fan tutte, Glenn Gould School, Mario Bernardi, Royal Conservatory of Music