COC Ensemble Studio La Boheme showcases Voices of the Future
Yannick-Muriel Noah (Mimi) and Adam Luther (Rodolfo) in Act 4 of
La boheme
. (Photo: Heather Lewis)
http://www.heatherlewisphotography.com/
One of the joys of opera going is to discover new and exciting voices. Those in attendance at Tuesday's noon hour concert at the Four Seasons Centre in Toronto were treated to a delightful display of the vocal richness Canada has to offer. Current and former members of the Canadian Opera Company Ensemble Studio offered selections from Puccini's La boheme to a packed Richard Bradshaw Amphitheatre. The COC is staging this perennial favourite in a series of 12 performances starting April 17, starring a cast of nearly all Canadian talent, led by former Ensemble member Frederique Vezina (Mimi), David Pomeroy (Rodolfo), and Peter Barrett (Marcello). Often we forget that behind the "first cast" is a team of "cover artists" or understudies who are ready, willing, and able to take over in case of an indisposition. Yesterday we got to hear the cover singers showing what they can do. Without the benefit of sets, costumes and orchestra, these singers managed to bring Puccini's music to life through their voices and the force of their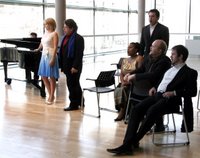 personalities.
l to r (Laura Albino, Alexander Hajek, Yannick-Muriel Noah, Adam Luther, Peter McGillivray, Michael Uloth)
Photo: Heather Lewis
Leading the cast was soprano Yannick-Muriel Noah as Mimi. Noah made a splash last season replacing an ailing Eszter Sumegi in two performances of Tosca, receiving raves. The first prize winner of the prestigious Hans Gabor (Belvedere) Competition in Vienna two years ago, Noah was given a contract to sing the title role in La Wally last fall in Klagenfurt (Austria), receiving critical acclaim. As Mimi, her rich and dark-hued spinto was shown to advantage, her "Donde lieta" a model of delicacy and emotional power. Partnering her as Rodolfo was tenor Adam Luther, who was a youthful and impetuous Jacquino in Fidelio earlier this season. Tenors with good voices are always in demand, and when one combines voice with handsome stage presence, it is a recipe for success. As Rodolfo, Luther sang with ringing tone, only a little short on chiaroscuro. Baritone Alexander Hajek's Marcello was engaging and stylishly sung. Former Ensemble member Peter McGillivray nearly stole the show as a lively and big-voiced Schaunard. Bass Michael Uloth took full advantage of Colline's brief moment to shine in "Vecchia zimarra" The trio of Musettas - sopranos Laura Albino (Act 2), Lisa DiMaria (Act 3)and Teiya Kasahara (Act 4) all brought their unique gifts to the role. Albino sang a sassy "Quando m'en vo"; DiMaria made a vivid impression in her exchanges with Marcello, and Kasahara was suitably sympathetic and compassionate in Mimi's final moments. Ensemble Studio conductor Samuel Tak-Ho Tam offered full support to the singers, as did collaborative pianist Christopher Mokrzewski. With twelve performances scheduled - a huge number and two more than usual given the popularity of Boheme - I wouldn't be surprised if some of these singers will get their moment in the sun.
Labels: COC Ensemble, La Boheme