Provocation - ARTundressed, une exposition ˆ©rotique et sensuelle internationale ˆÝ Montrˆ©al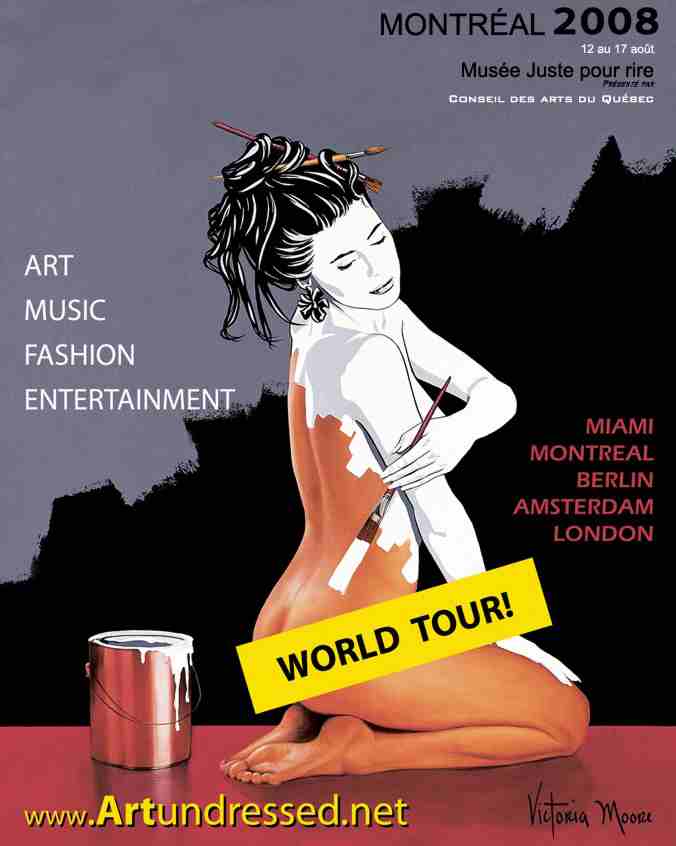 ARTundressed
Festival d'art ˆ©rotique de Montrˆ©al, du 12 au 17 aoˆªt de 14h00 ˆÝ 23h00
Musˆ©e Juste pour rire 2100 boul. Saint-Laurent, Montrˆ©al

Dans le cadre de l'ˆ©vˆ©nement " Provocation Sensualitˆ© ˆârotisme " et en collaboration avec Le Bal ˆârotique et Erotic Signature, le Conseil des Arts du Quˆ©bec (CAQ) accueille " ARTundressed " une exposition internationale en tournˆ©e (Miami, Montrˆ©al, Berlin, Amsterdam, Londres) avec plus de 150 artistes dont les ¬úuvres cˆ¥toieront celles d'une trentaine d'artistes sˆ©lectionnˆ©es par le Conseil.

Plusieurs ¬úuvres prˆ©sentˆ©es ˆÝ Montrˆ©al se retrouvent dans les tomes I et II du livre " The World's Greatest Erotic Art of Today ". Le tome III (sortie 2009) inclura aussi des ¬ú‰ìuvres d'artistes quˆ©bˆ©cois.

Provocation Sensualitˆ© ˆârotisme, six journˆ©es pour promouvoir positivement la sensualitˆ©, l'ˆ©rotisme et la beautˆ© ˆÝ travers les arts : arts visuels, danse, performances, dˆ©filˆ©s de mode, musique, vidˆ©o, films, lancement de livres et bien d'autres surprises.

Le Bal ˆârotique



Par cet ˆ©vˆ©nement, le Conseil des arts du Quˆ©bec rejoint les objectifs du Bal ˆârotique :
¬… crˆ©er un ˆ©vˆ©nement culturel annuel visant ˆÝ ˆ©largir les mentalitˆ©s sur la sensualitˆ© et l'ˆ©rotisme ;
¬… offrir un environnement artistique pluridisciplinaire ;
¬… ˆ©tablir une plateforme de rˆ©flexion sur l'esthˆ©tique et l'ouverture sur l'art ˆ©rotique ;
¬… promouvoir la culture ainsi que la communautˆ© artistique Quˆ©bˆ©coises et Montrˆ©alaises.


Prix d'entrˆ©e par journˆ©e: 10$
Passeport aux six jours de programmation: 30$
Membre du CAQ - escompte de 50%
Labels: art, art visuel, montrˆ©al, musˆ©e