The Bayview Residences Victoria Symphony Splash - August 3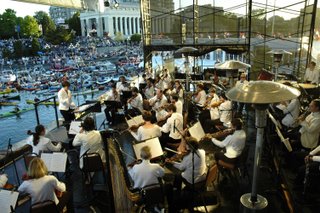 Inspired by BC 'Äì Bayview Residences Victoria Symphony Splash
concert program announced!
Victoria, BC 'Äì The Victoria Symphony'Äôs Music Director Tania Miller has announced the program for the 2008 Bayview Residences Victoria Symphony Splash on August 3 that features music and performers that pay tribute to British Columbia'Äôs 150th anniversary.
The music for this year'Äôs event is inspired by the wonderful 150 year history of British Columbia and includes a world premiere by local composer Tobin Stokes, a performance by the South Island Dancers, and pieces which were premiered in 1858, the year of the founding of the Crown Colony of British Columbia. Audience members will be treated to a variety of musical styles, including well known tunes, a good old sing-along and of course the grand finale, the 1812 Overture complete with cannons and fireworks. This year the finale is sponsored by WestJet, the official airline and fireworks sponsor of Bayview Residences Victoria Symphony Splash.
The world premiere of Tobin Stokes 'ÄòThe Inner Harbour Overture'Äô written for the 2008 Bayview Residences Victoria Symphony Splash is a unique and topical piece featuring historical and current sounds that can be heard in the harbour. These sounds are woven into the piece from both live and recorded sources. The piece starts with a live interaction from the Coho ferry, and builds to include the train, nearby church bells, the carillon and many other bells. The piece ends with the sound of the final steam whistle from the Princess Marguerite as it left the harbour in the 1980's. The work honours Victoria and British Columbia's past, and plays to the vibrancy that continues today in the capital city's Inner Harbour.
Music Director Tania Miller will be conducting this year'Äôs outdoor performance, 'ÄúThis year'Äôs program features music that connects to the BC 150th anniversary celebrations with music from the New Frontier, to selections that were premiered in the years when BC became a part of Canada, and when Vancouver Island became a part of BC. We are excited about our collaboration with the South Island Dancers, and members from the Esquimalt First Nations, which will be a special aspect of the concert. And of course, our special Splash soloist this year, Hugo Wong who will perform the first movement of Schumann'Äôs beautiful piano concerto. This concert has a wonderful magic to it, a wonderful atmosphere of the community coming together. We are looking forward to seeing everyone there.'Äù
2008 Bayview Residences Victoria Symphony Splash:
Celebration of BC
4:00 South Island Dancers
4:15 Vic High R&B Band
5:15 The CanUS Group, jazz ensemble
7:30 Victoria Symphony
Tania Miller, conductor
Hugo Wong, piano
South Island Dancers
Piano provided by Tom Lee Music
Tobin Stokes Inner Harbour Overture (World Premiere)
Offenbach Orpheus in the Underworld 'Äî Can Can
Suppe Light Cavalry Overture
Copland Saturday Night Waltz and Hoedown from 'ÄúRodeo'Äù
Colin Doroschuk Celebration of Souls - South Island Dancers
Strauss Champagne Polka (1858 premiere)
Mendelssohn Wedding March (Queen Victoria's daughter 1858)
Intermission Canadian Scottish Regiment Pipe and Drum Band
Sousa The Thunderer March
Schumann Piano Concerto Mvt.1 - 2008 Young soloist, Hugo Wong
Williams Cowboys Overture
Tobin Stokes Settler'Äôs Sing along - 2005 Young Soloist, Heather McLeod
Copland Appalachian Spring
Tchaikovsky 1812 Overture with fireworks and cannons sponsored by WestJet
Traditional Amazing Grace 'Äì Canadian Scottish Regiment Pipe and Drum Band
Kids Activities! 2 -5 pm in the Splash Kids Zone and the Island Farms Kids Tent at Belleville and Government and on the Legislature lawn at Menzies and Government: Ice Cream Stand, Face Painting, Daisy the Cow and Farmer Vicky, the largest Victoria Symphony Instrument Petting Zoo ever.
Grandstand Seats 'Äì Grandstand seats are available in advance for $75 per person through the Victoria Symphony Box Office 250.385.6515. Located on Government Street in front of the Legislature lawn the Grandstand Seats provide a comfortable and unobstructed view of the stage floating in the Inner Harbour. Seats are reserved from 3:30 onwards with in/out privileges throughout the evening. A Tax receipt of $50 will be issued for each seat purchased.
The Victoria Symphony is Vancouver Island'Äôs largest and most active arts organization offering its audiences 68 years of tradition, a commitment to fostering new music and a dedication to community involvement through music education. Showcasing the outstanding talents of its musicians and guest artists the Victoria Symphony'Äôs 2008-2009 season offers a diverse and exciting line-up of over 50 concerts led by its vibrant Music Director
Tania Miller.
Bayview Residences is part of a 20-acre hilltop community being created on Victoria'Äôs Inner Harbour. When completed, this Urban Resort Community will include residential towers as well as retail and commercial services as part of the revitalized CPR Roundhouse 'Äì a designated National Historic Site. Bayview Residences offers spacious one, two and three bedroom residences with exceptional interior design and attention to detail. The community'Äôs Amenity Clubhouse will feature squash and tennis courts, gym facilities, lap pool and cafe. Bayview is a strong supporter of the community, sponsoring numerous national and local events including the Canadian National Junior Squash Championships and the annual Bayview Residences Victoria Symphony Splash. For further details, visit the on-site presentation centre at 80 Saghalie Road or www.bayviewresidences.com.
Each year, the Victoria Symphony performs on Sunday of the BC Day long weekend from a floating stage in Victoria'Äôs picturesque Inner Harbour. Bayview Residences Victoria Symphony Splash is recognized as one of North America'Äôs most popular and successful outdoor family, cultural and community events, attracting upwards of 40,000 people. Admission is by donation.
For more information, please visit www.victoriasymphony.ca