This Week in Toronto (October 19 - 25)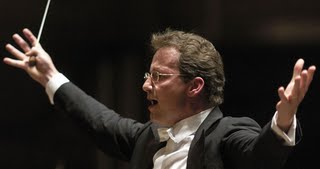 Franz Welser-Most conducts the Cleveland Orchestra (Photo courtesy of Roy Thomson Hall)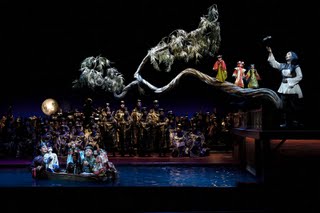 Stravinsky's
The Nightingale and Other Short Fables
, directed by Robert Lepage (photo: Michael Cooper)

For opera fans, the big news this week continues to be the COC production of Stravinsky's The Nightingale and Other Short Fables, directed by Robert Lepage. It opened on Saturday and it was a complete triumph. It was what an operatic experience should be but rarely is - one that dazzles, surprises, delights and inspires, all at the same time. Lepage turned operatic conventions upside down with a myriad of novel ideas regarding presentations, incorporating elements previously untouched and unrealized in the western opera. If you were struck by his Damnation of Faust at the Met last season, he has outdone himself here. The singing was uniformly excellent, particularly the clear, bell-like tones of Russian soprano Olga Peretyatko, whom I heard last year in Valencia, Spain, in the recording sessions I covered of Frederic Chaslin's new opera Wuthering Heights. She impressed me then, but she is even better here - this high coloratura role is tailor-made for her. As the Canadian reviewer for Opera, a UK magazine, I will write a full review there to be published in a future issue. As I understand it, all the tickets are pretty much sold, but there may be returns, so do check the COC website for updates. Performances this week are on Oct. 20, 22, and 24 at the Four Seasons Centre. The other show, Puccini's Madama Butterfly, continues on Oct. 21, 23, and 25. I have seen it twice already, and I am told that in recent performances, the audience have been extremely enthusiastic.
More operas are on offer this week. This being the Haydn bicentenary, University of Toronto Opera Division is presenting his Il Mondo della Luna, in a one-hour excerpt format, at the Richard Bradshaw Amphitheatre at the Four Seasons Centre at noon, Tuesday 20. The U of T publicity material also cites that this is the International Year of Astronomy - so it is a double celebration! It features students of the Faculty of Music, so this is a good chance to hear up and coming voices. This is a sneak preview to the fully staged production to take place on November 5-8 at the MacMillan Theatre at the Faculty of Music, University of Toronto. The COC noon hour performance is free, but as usual, you will need to arrive at least 30 minutes before to line up.
Opera in Concert

will be presenting another rarity, Rossini's

La Donna del Lago,

one of his relatively rare forays into opera seria. It is based on the Sir Walter Scott poem and the "lady" is a real star vehicle for a prima donna who has the chops to do the florid music justice. I have never seen it fully staged, and the OIC version obviously won't be staged either. It does have a very fine soprano in

Virginia Hatfield

, who has developed by leaps and bounds since her COC Ensemble Days. The show is on Sunday, Oct. 25, 2:30 PM at the Jane Mallet Theatre of the St. Lawrence Centre.
Symphonically speaking, the big event this week is the appearance of the august Cleveland Orchestra on Tuesday Oct. 20 8 pm in Roy Thomson Hall. The conductor is its current music director Franz Welser-Most. On the program is Fetes, a Debussy opener, followed by Haydn Symphony No. 85 and Shostakovich Symphony No. 5. Welser-Most exudes youthful vigor combined with a well-tempered, mature style. He is a bit of a controversial figure in Cleveland, where he is adored by the public but disliked by one particular critic who was subsequently released from his long-held position at the local newspaper. You'll get to see and hear what all the fuss is about on Tuesday. Any visiting orchestra is an event and this one is not to be missed.
Finally, the equally august Toronto Mendelssohn Choir presents Handel's Israel in Egypt at the newly minted Koerner Hall, with soloists Suzie LeBlanc and James McLennan. Noel Edison leads the Festival Orchestra. I attended the Frederica von Stade Farewell there last week and can truly say this new hall is a magnificent venue, not just for its beauty but its wondrous acoustics. If you haven't been to a concert there, this would be a good choice as the hall is very acoustically choir-friendly.
Labels: Il Mondo della Luna, Israel in Egypt, La Donna del Lago, Robert Lepage, The Nightingale and Other Short Fables