COC Ensemble Studio Alumni in a Concert of Opera Arias and Duets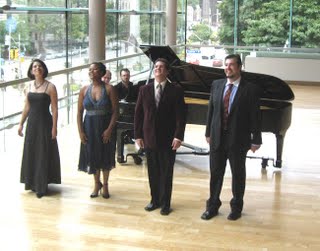 (l. to r.) Allyson McHardy, Yannick Muriel Noah, David Pomeroy, James Westman. Seated at piano: Steven Philcox
(Photo: Joseph So)
"Alumni Reunion" Concert
Yannick Muriel Noah, soprano
Allyson McHardy, mezzo
David Pomeroy, tenor
James Westman, baritone
Steven Philcox, piano
"Ai capricci della sorte" from L'Italiana in Algeri - McHardy and Westman
"Vogliatemi bene" from Madama Butterfly - Noah and Pomeroy
"Di Provenza il mar" from La Traviata - Westman
"Mon coeur s'ouvre a ta voix" from Samson et Dalila - McHardy
"Dein ist mein ganzes Herz" from Das Land des Lachens - Pomeroy
"Ebben! Ne andro lontana" from La Wally - Noah
"Au fond du temple saint" from Les Pecheurs de Perles - Pomeroy and Westman
Following an auspicious opening concert given by current COC Ensemble Studio members two weeks ago, the Vocal Series continued today with an "Alumni Reunion" opera concert starring four former members who have gone on to significant careers - soprano Yannick Muriel Noah, mezzo Allyson McHardy, tenor David Pomeroy, and baritone James Westman. McHardy and Westman were members in 1997, Pomeroy in 2001, and Noah in 2005. All four are currently starring in the season-opening Madama Butterfly. I've seen both casts and can honestly say they all gave fine performances. This concert was highly anticipated - by the time I arrived 30 minutes before the show, a huge lineup had already formed in front of the opera house, and as usual, it was standing-room only.
McHardy and Westman kicked off the proceedings with a scintillating Isabella-Taddeo duet from L'Italiana in Algeri. This show was last staged by the COC in 2003. Judging by the performance of McHardy and Westman, it is time for a revival with these two artists! McHardy's rich, dark mezzo is perfect as Isabella, and Westman, with his warm, robust baritone and irrepressible stage persona, is a marvelous Taddeo. Given their razor-sharp comic timing and excellent chemistry, even I, a non-Rossinian, enjoyed it. They were followed by Noah and Pomeroy in the love duet from Act One Madama Butterfly. Being in different casts in the current run of the Puccini, the two have not sung together until now. Noah has a huge, dark-hued soprano which she is able to scale it down to a lovely pianissimo, an absolute requisite for Butterfly. Pomeroy has an ardent quality that makes him an engaging Pinkerton. The two big voices rang out excitingly in the hall, and they capped the duet with a powerful high C - it lasted a good four seconds, but who's counting...
Westman returns for Germont's aria from La Traviata. "Di Provenza" has become his calling card the last few years. I heard his Germont at the ENO three years ago, and Westman was easily the best singer on stage. This afternoon, his warm, rich baritone with its totally secure high register was a pleasure. McHardy may look a little too youthful as the dangerous Dalila, but vocally, "Mon coeur" fits her like a glove. Even with the leisurely tempo adopted by pianist Steven Philcox, McHardy sustained the long lines beautifully, capping the end with a lovely mezza voce. Pomeroy's "Dein ist mein ganzes Herz" is a party piece, which he delivered with gusto. Noah's solo piece was "Ebben, ne andro lontana" from the rarely staged La Wally. Following her win at the Hans Gabor (Belvedere) Vocal Competition, Noah was offered a chance to sing this role at Klagenfurt, which she did to excellent notices. This aria, made famous by Wilhelmina Fernandez in the movie Diva many years ago, requires a voice of spinto weight and strong high notes. Noah, with her opulent tone and lively vibrato, fit the bill perfectly. Her climactic high B was particularly exciting. The last piece on the program - there was no encores - was the Pearl Fishers' Duet, an audience favourite if there ever was one. Pomeroy and Westman gave their all, and their voices, even with very different timbres, blended well. The audience rewarded them with a rousing ovation. The whole cast then came back to vociferous applause from the enthusiastic crowd.
Labels: Allyson McHardy, David Pomeroy, James Westman, Yannick Muriel Noah