This Week in Toronto (October 12 - 18)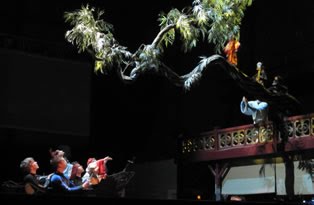 Part of the set for
The Nightingale
, showing the terrace on the right side of the stage. Photo taken at the May 2009 workshop lab in La Caserne, Quebec. (Photo: Viviane Paradis)
The big event for opera lovers this week is the opening of Stravinsky's
The Nightingale and Other Short Fables
, directed by Canadian
Robert Lepage
. This is a unique presentation of Stravinksy's 50 minute short opera as the centerpiece, with the addition of several short piecesinto a full evening's entertainment, albeit a rather short one of two hours including an intermission. I attended a press preview/news conference a week and a half ago at the Tanenbaum Opera Centre, where Lepage and the whole creative team (minus the puppet designer Michael Curry) were there to give the media a tantalizing glimpse of the show. A few days ago, I had my first actual experience of the show in a working rehearsal at FSC. Unfortunately, they only rehearsed the first half of the program, so no
Nightingale
. However, it did give me a good idea what to expect in the finished product, which promises to be a show of exceptional creativity.
The performance begins with
Ragtime
, an orchestral piece that shows an amazing grasp of this American musical genre by Stravinsky, who after all spent significant time in the US. This is followed by three solo vocal pieces all sung in Russian:
Pribaoutki
by new COC Ensemble Studio soprano
Simone Osborne
;
Berceuses du chat
by German contralto
Maria Radner
; and
Two Poems of Konstantin Balmont
, with COC Ensemble Studio soprano
Teiya Kasahara
. There are two terraces on each side of the stage, with the orchestra out of the pit and on the stage. During the three solo pieces, the singer is on the right terrace, while on the left terrace is a bunch of artists engaging in shadow-play, projected onto a wide screen upstage. To say that to our western eyes unfamiliar with such performance aesthetic, the result is dazzling. Shadow play (and shadow puppetry) is very popular in almost all cultures save that of western Europe. In China for example, shadow play involving puppets, often composed of several movable parts, was extremely popular in the bygone days. Lepage uses this ancient theatrical technique to great effect in the story telling. The three solos are followed by Four Russian Peasant Songs featuring the COC Women's Chorus. Various clarinet solos are inserted in between these pieces. The last piece of the first half is made up of
Renard.
This was previously staged by the COC Ensemble Studio in June 2008, but of course this new production is entirely different. After an intermission, the second half is the centerpiece,
The Nightingale
, which was not rehearsed on Friday. This promises to be a truly unique show. If you have seen a fairly recent DVD of this opera sung by Natalie Dessay, you will not recognize the Lepage production, which could not be more different. I understand the COC production is essentially sold out, but I am sure there will be some returns. Performances on Oct 17, 20, 22, 24, 30, Nov. 1, 4, and 5 at the FSC.
>
Hear It
:
Stravinsky's The Nightingale
(Naxos Music Library, available free to
La SCENA Card
members)
Meanwhile, the COC's
Madama Butterfly
continues its long run this week, with performances on Wed. Oct. 14 and Fri. Oct. 16 7:30 pm, and Sunday Oct. 18 at 2 pm.
For something a little different, Canadian soprano/pop diva Measha Brueggergosman makes a return to Toronto since her much publicized open-heart surgery in June for a concert benefiting the African Medical and Research Foundation. It takes place at St. Andrew's Presbyterian Church at King and Simcoe at 5 pm. Unfortunately it conflicts with the opening of the COC Stravinsky, which is at a very odd time of 4:30 pm. If you are not going to the opera, do go to hear Measha and support a good cause. Tickets are $60 to $175, with 50% off for students with valid ID. Call (416) 961-6981.

At Roy Thomson Hall, the Toronto Symphony this week (Oct. 13 and 14, 8 pm.) offers two performances of Broadway Classics, its pops concert series. With the beloved Erich Kunzel gone, the conductor will be Steven Reineke, who was Kunzel's associate at the Cincinnati Pops. Singers are soprano Kathleen Brett, tenor Colin Ainsworth and baritone Daniel Narducci. On the program are Sound of Music, Oklahoma, My Fair Lady, and South Pacific, all chestnuts of the musical theatre.

Finally, on Sunday Oct. 18 2:30 pm, the Aldeburgh Connection presents Alfred, Lord Tennyson, at Walter Hall, University of Toronto. Tickets are $50, with student rush seats at $12. Soloists are Virgina Hatfied, Lynne McMurty, Michael Barrett, and Alexander Dobson, with Stephen Ralls and Bruce Ubukata at the piano. Aldeburgh Connection is famous for its innovative program-driven recitals, in celebration of the art of the song.