This Week in Toronto (Mar. 21 - 27)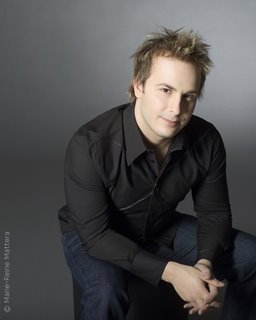 Yannick Nezet-Seguin brings his artistry and charisma to Roy Thomson Hall this week (March 25, 26, 28)
Photo: Marie Reine Mattera
Today is the first day of Spring, and not a moment too soon! After suffering from an unusually severe winter, we Torontonians can finally look forward to warmer days. As I write this on Saturday morning, it is 3 degrees Celsius and brilliant sunshine. Too bad I am going to be wasting a chance to enjoy the rays by sitting for three and a half hours inside a movie theatre this afternoon. But given it is the Met in HD
La Sonnambula
starring the incomparable duo of
Natalie Dessay
and
Juan Diego Florez
, the sacrifice is worth it :)
This new production of Sonnambula opened two weeks ago to near-unanimous negative reaction. Stage director Mary Zimmerman's reworking of this piece, set in a rehearsal studio of this opera, was vociferously booed on opening night. The critical reaction was preserved for posterity since the performance was broadcast on Sirius Radio live. I find it humorous that in the first minute of so of the booing, Margaret Junwait (the Met announcer) totally ignored it in her voice-over. The booing continued unabated and eventually she couldn't ignore it any longer, only to say somethng innocuous and lame like "there are different reactions to the show from the audience" or some such thing. Wouldn't it have been better to acknowlege it right at the beginning, whether she agrees with it or not? Now we have a chance to decide for ourselves today whether the boos were justified. Zimmerman won't be taking a curtain call since it is not the premiere, but it will be interesting to see if she is going to be interviewed at intermission. (However I must say Dessay and Florez received nothing but the loudest cheers) The venues are at selected Cineplex theatres in the GTA, including Sheppard Grande, Scotiabank Theatres, and Silver City (Yonge and Eglinton).
My theatre of choice for Met in HD is Sheppard Grande. I noticed that when I went to see
Madama Butterfly
two weeks ago, the management has made vast improvements to their concessions arrangements, greatly reducing the wait time. They are also experimenting with "Intermission Table Service", where patrons can pre-purchase drinks and food ahead of time. On the menu are sandwiches, wraps, sushi, sweets, hot and cold drinks. The prices are not cheap, but par for the course in theatre concessions. At intermission, the order will be ready and waiting for the purchasers in a reserved seating area. This is a great idea!!! But because it was a new procedure, very few people took advantage of this service and the seating area was practically deserted. I would imagine this time around, it will be better patronized.
The other important musical event this week is the welcome return of conductor
Yannick Nezet-Seguin
and pianist
Louis Lortie
to Toronto. On the program are the two Ravel piano concertos, his
Alborada del gracioso
, and Prokofiev's
Symphony No. 5
. Notice that there are different starting times and variations in the program! March 25 concert is only 75 minutes long, start time of 6:30 pm, with no intermission. Ravel's
G Major
and
Alborada del gracioso
are NOT performed. Ravel's
Piano Concerto for the Left Hand
is NOT on the March 28 concert. Also, the March 28 is a "Casual Concert" with informal attire and a reception with live music after the show. If hearing the full program is important to you, then March 26 is the show to attend. On the other hand, if you want an early evening, then March 25 is worth considering.
Labels: This Week in Toronto