Gabrielle Maes' A Farewell Concert- May 31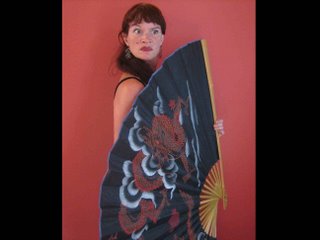 Gabrielle Maes'
A Farewell Recital
-One night only-
Saturday, May 31, 8pm
Gabrielle Maes, last seen in the show-stopping role of Lady Doyle in Houdini at the Segal, is excited to present A Farewell Recital before moving to Malaysia. The concert will be on Saturday, May 31, at the Westmount Baptist Church, which, according to Gabrielle, has the best-damned piano in the city. Accompanying her will be pianist extraordinaire, Amy Zanrosso.
Though singing is her main love, Gabrielle also acts. Performing everything from musical theatre to opera, she has come to understand that it takes more than someone with a pretty voice to draw an audience into a song or aria.
For A Farewell Recital, Gabrielle will be singing a wide range of musical styles and composers. The first half of the evening will include opera arias, Spanish folksongs and a little Purcell and Caccini. For the second half, she turns to her other love, songs from the musical theatre canon. Gabrielle explains the eclectic mix; "This concert has all my favourite songs in it. That's why it is sort of a mishmash of various styles." She continues, "I love the voice as an instrument, and seeing as I am going away, I wanted to have the chance to compile all the songs I have wanted to sing into one night." Gabrielle will be moving to Malaysia, starting a totally different life. She will still be singing, but being in a foreign land will give her the chance to have a different musical perspective. She plans on continuing her career.
About Gabrielle Maes
An acclaimed Canadian singer, Gabrielle grew up in Montreal and Holland. After many years of studying piano with famed Israeli teacher Shoshana Cohen, Ms Maes decided to focus on her second instrument and complete a Bachelor of Fine Arts in Advanced Vocal training from Concordia University in Montreal. While attending Concordia, Ms Maes won the coveted Mills Purchase Prize for Best Performing Artist. She went on to win three consecutive scholarships at the prestigious Abingdon School of Music in England.
Gabrielle is a versatile musician singing everything from classical opera and choral works to 20th century music and American song. In her career she has debuted pieces written specifically for her including works by the avant-garde French director Pierre Carniaux. While in Paris she wrote and performed a three-person cabaret, which she since adapted to the one-woman Bedraggled, which enjoyed two Montreal runs. She was nominated for a MECCA award as best actress for her performance in Bedraggled. Gabrielle continues to sing as a soloist for leading orchestras as well as with ensembles throughout France and Canada. She toured Europe in the summer of 2007. Gabrielle received great reviews for her role as Lady Doyle in the Leanor and Alvin Segal Theatre production of Houdini. Ms Maes was the winner of Le Spotlight Musical Theatre Challenge 2007 and sat as a judge for the Le Spotlight 2008 edition.
She will sorely miss the changing of the seasons, but feels sure she will be back to see it again and again.
Amy Zanrosso received a Master's Degree in piano performance from McGill University in 2001. She has since been freelancing in Montreal as a chamber musician and collaborative pianist.


Where and When
Westmount Baptist Church, May 31, 8pm
411 Roslyn
For tickets and information: (514) 277-2359
$20-Regular, $10- Students/Seniors
-30-