Cette semaine à Montréal (7 à 13 déc) / This Week in Montreal (Dec. 7 - 13)
Musique, danse, et théâtre à Montréal cette semaine
Music, dance, and theatre in Montreal this week
Théâtre :
Il n'y a plus rien - Disparu en 1996, Robert Gravel a laissé quelques œuvres marquantes, posant un regard à la fois lucide, désopilant et d'une noirceur tragique sur l'humanité. Cet ultime volet de sa trilogie La Tragédie de l'homme brosse un saisissant tableau d'un hôpital pour vieillards. Montée cette fois par Claude Laroche, l'œuvre créée en 1992 paraîtra-t-elle encore plus actuelle dans notre société vieillissante, superficielle, obsédée par la santé ? » Du 17 novembre au 19 décembre, au Théâtre du Rideau Vert. —Marie Labrecque
Theatre:
Educating Rita, by Willy Russell, lightens the mood as the Segal Centre's second show, running from November 22 to December 13. A disillusioned, alcoholic professor and his continuing-education student, a free-spirited, working-class hairdresser, meet over the course of a university semester. The mismatched characters have an immediate, profound and lasting impact on each other. Self-development, class and education are the main themes in this comic and witty play. —Jessica Hill
Theatre:
For those searching for the festive fuzzy feeling this holiday season,
Geordie Productions presents A Christmas Carol
, for children 7 and up, December 4 to 13 (*extended to Dec. 20). Judging by the aesthetic beauty of their productions of Alice in Wonderland and Alice Through the Looking Glass, the company will surely find a way to give this old, warm classic a whimsical, phantasmagorical twist. —Jessica Hill
Jazz :
Lun. 7 » Lundi cubain avec le trio du pianiste Yoel Diaz. Resto-bar Le dièse onze. (21 h) [En reprise à tous les lundis en décembre et en janvier.] —Marc Chenard
Jazz :
Lun. 7, mar 8 » Les voix du jazz. Maison de la culture Rosemont-La-Petite-Patrie (20 h) [872-1730] —Marc Chenard

BERNARD LABADIE


CONDUCTOR


ROSEMARY JOSHUA


SOPRANO


DAVID DANIELS


COUNTERTENOR


JAN KOBOW


TENOR


JOSHUA HOPKINS


BARITONE


LA CHAPELLE DE QUÉBEC















Musique de Noël / Musique classique :
Les Violons du Roy célèbrent cette année leur 25e anniversaire. Le point culminant de leur saison à Montréal sera sans doute la présentation, en deux soirées consécutives, du Messie de Haendel et de l'Oratorio de Noël de Bach avec la Chapelle de Québec et des solistes exceptionnels sous la direction de
Bernard Labadie
:
Rosemary Joshua, David Daniels, Jan Kobow,
Andrew Foster-Williams,
Joshua Hopkins
. Ne ratez pas la chance de les entendre, tout juste avant le public de New York et Los Angeles. À l'achat d'un billet pour les deux concerts, recevez un coupon échangeable contre un disque des Violons du Roy. Le Messie, 8 décembre à 19 h 30. L'Oratorio, 9 décembre à 19 h 30. Église Saint-Jean-Baptiste – 418-692-3026,
www.violonsduroy.com
Jazz :
Mar. 8 » Denis Chang Ensemble. (Jazz Manouche) Resto-bar Le dièse onze (20 h 30)
» La série hebdomadaire de musiques improvisées Les mardis Spaghetti. Le Cagibi (21 h)
www.myspace.com/mardispaghetti
—Marc Chenard
Musique d'orchestre :
Busy months are ahead for the Orchestre symphonique de Montréal. As part of the Montreal Bach Festival, conductor and harpsichordist Ton Koopman leads the OSM on December 9 at 10:30 p.m. in a performance of Haydn's Symphony No. 98, Bach's Orchestral Suite No. 3 and Concerto No. 1 for Violin, performed by soloist Richard Roberts. One of the most renowned French conductors of the last century, Serge Baudo appears with the OSM on December 13 and 14, conducting Schubert's Fifth Symphony and Debussy's Danses sacrée et profane. Violinist Corinne Chapelle, winner of the 2006 International Music Competition in Montreal, will join the orchestra to perform Dvofiák's stunningly lyrical Violin Concerto in A minor. 514-842-2112,
www.osm.ca
Jazz :
Mer. 9 » La série hebdomadaire de musiques improvisées Mercedismusics. La Casa Obscura. (21 h)
www.casaobscura.org
—Marc Chenard
Musique classique :
Lauréat du prix remis au meilleur artiste canadien au Concours Musical International de Montréal piano 2008,
Sergei Saratovsky
est présenté, dans le cadre de Musique sur un plateau, à la salle de musique de chambre de la Maison JMC le 9 décembre à 18 h. Au programme : Mozart, Debussy et Schumann. Les concerts de cette série, d'environ une heure, sont précédés d'un apéritif dès 17 h. Maison JMC, 305, avenue Mont-Royal Est, 514-845-4108 info@jeunessesmusicales.ca
Jazz :
Mer. 9 et jeu. 10 » Le trio du pianiste Normand Devault avec Normand Guilbeault et Claude Lavergne. Upstairs Jazz Bar. (20 h 30) [En reprise à tous les mercredis et jeudis jusqu'à la fin du mois, sauf les 25 et 31.] —Marc Chenard
Musique de chambre :
Le 10 décembre, le Quatuor Franz Joseph présente son concert Don Juan ou la passion à quatre à la Chapelle historique du Bon-Pasteur. Un concert Mozart avec Olivier Brault et Jacques-André Houle au violon, Hélène Plouffe à l'alto et Marcel Saint-Cyr au violoncelle.
Musique contemporaine :
Le 11 décembre à 20 h, la Chapelle historique du Bon-Pasteur présente Inspirations Tremblay avec les six musiciens du groupe IKS. Le concert est précédé d'une rencontre à 19 h 15 avec la compositrice résidente Cléo Palacio-Quintin et le directeur artistique de l'ensemble IKS Sylvain Pohu. Entrée libre aux deux événements. 514-872-5338.
Jazz :
Ven. 11, sam. 12 » Christine Jensen Quartet. Upstairs Jazz Bar. (20 h 30) —Marc Chenard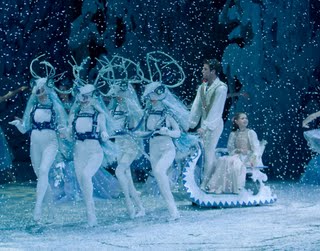 Danse :
Tangente nous invite au premier volet de sa série Danses en famille qui se poursuit les 12 et 13. Le traditionnel
Casse-Noisette des Grands Ballets Canadiens de Montréal
, signé Fernand Nault, clôture l'année du 12 au 30 au Théâtre Maisonneuve. —Fabienne Cabado
Jazz :
Sam. 12 » Le trio de la pianiste Min Rager. Resto-bar Le dièse onze. (20 h 30)
»
Le Ratchet Orchestra du bassiste Nicolas Caloia (30 musiciens!)
. Il Motore. (20 h 30) [Infos: 284-0122] —Marc Chenard
Musique Noël / Musique classique :
Le 13 décembre, la pianiste Maneli Pirzadeh interprétera une transcription de Casse-Noisette de Tchaikovski.
Jazz :
Dim. 13 » Quartette du saxo et clarinettiste Yvan Belleau. Upstairs Jazz Bar. (20 h 30) —Marc Chenard
Musique de chambre :
Si vous ne pouvez assister au concert du Quatuor Franz Joseph le 10 décembre, vous pourrez vous reprendre le 13 décembre à l'église de la Visitation, 1847 boulevard Gouin Est, métro Henri-Bourassa. Entrée libre, les portes de l'église ouvrent à 14 h 40 – 514-872-8749