This Week in Toronto (November 30 - December 6)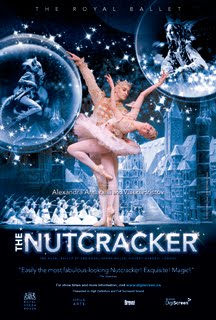 Poster of the Royal Ballet's
The Nutcracker
December is Holiday Season, so there is a veritable feast of Messiahs and choral music in general to choose from. And of course it is also the season of Nutcrackers. While the National Ballet of Canada's offering of James Kudelka's production of
The Nutcracker
doesn't start until December 12, you can whet your appetite with the
Royal Ballet
's version, to be shown in selected theaters across Canada. I have seen this show some years ago in London and it is nothing short of spectacular. This is being presented by
Digiscreen
, and for details of theater locations and times, go

to www.digiscreen.ca
The Toronto Symphony Orchestra presents the ever-popular Dvorak's Symphony No. 9 "New World" on December 2 and 3 8 pm at Roy Thomson Hall. It is conducted by British maestro Bramwell Tovey, music director of the Vancouver Symphony. Tovey is also a noted composer, and on this occasion he will be conducting two of his own compositions, Urban Runway, and Songs of the Paradise Saloon. Also featured is TSO principal trumpet Andrew McCandless.
Tafelmusik presents Vivaldi's baroque chestnut Four Seasons Dec. 2 - 6 at their home venue Trinity St. Paul's Centre, 427 Bloor St. West, and a single performance at the George Weston Recital Hall on December 8. Also on the program are works by Galuppi, Tartini, and Albinoni. Stefano Montanari is the guest director and violin soloist.
For those interested in "cross-over", be sure to catch the mega-cross-over-star Andrea Bocelli live in concert at the Air Canada Centre on Thursday December 3. Canadian songwriter David Foster is also featured. This concert is part of a tour by Bocelli to promote his new Christmas CD. Steven Mercurio conducts. Tickets go from $75 to a whopping $500, and is available from Ticketmaster.
The first Messiah of the season is offered on Friday December 4th 8 pm, simultaneously by The Elmer Iseler Singers and the Amadeus Choir conducted by Lydia Adams at the Metropolitan United Church, and by the Vocal Horizons Chamber Choir and the Handel Festival Orchestra conducted by Kerry Stratton at the George Weston Recital Hall. The Elmer Iseler Singers Messiah will have soloists Meredith Hall, Allyson McHardy, Michael Colvin and Peter McGillivray. The Stratton Messiah features Caroline Davidson, Deborah Overes, Stephen Harland, and Michael Uloth. The next day, on Saturday December 5, Mississauga Festival Choir offers Messiah in excerpts, in a show called For Unto Us A Child is Born. I will be at the Living Arts Centre, 2 pm and 8 pm. A bit farther afield is a Messiah conducted by Howard Dyck who is retiring after this season. It is at Centre in the Square in Kitchener on Saturday 5, 7:30 pm, an hour west on High 401. The quartet of soloists are Katherine Whyte, Lauren Segal, Joseph Schnurr and James Westman.
Labels: Nutcracker, Royal Ballet, Toronto Symphony Orchestra