Ratcliff's Uncommon "Ode to Common Things" Superb Marriage of Words and Music!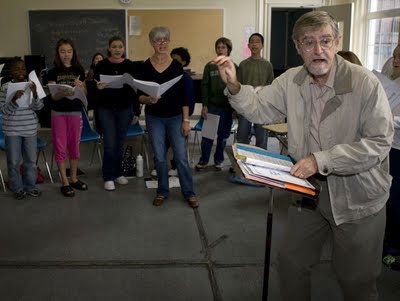 This Week in Texas


Like many institutions in the state of Texas, the Austin Symphony Orchestra (ASO) is more than a little to the right of center - it takes few risks in matters of programming; nonetheless, music director Peter Bay keeps finding ways to energize his concerts and challenge his listeners. The latest example of this irrepressible spirit was a performance of Cary Ratcliff's (
photo
:
above
)
Ode to Common Thing
s, a major work for soloists, chorus and orchestra based on poems by the Chilean master poet,

Pablo Neruda

.
Comfort Food: Words by Shakespeare, Music by Mendelssohn
The concert began with Mendelssohn's Incidental Music to Shakespeare's play A Midsummer Nights Dream (MND), programmed as part of the ASO's ongoing celebration of the 200th anniversary of the composer's birth. In this performance, the ASO was joined by the Conspirare Symphonic Choir.
From the Incidental Music that he had composed for Shakespeare's play, Mendelssohn later extracted a purely orchestral suite comprised of some of his best-loved music, including the glorious 'Wedding March' which has ushered millions of happy couples out the door of a church into a life of 'wedded bliss'.
Maestro Bay chose to add to Mendelssohn's orchestral suite some other bits and pieces from Mendelssohn's MND Incidental Music. The problem is that these bits are ,well - incidental, and don't make a lot of sense on their own without some of the text they were meant to support.
For me, the best options are, either 1) to play the suite of stand-alone orchestral pieces, or 2) to add some linking text comprised of narration and/or spoken excerpts from the play.
Be that as it may, Bay and his musicians played the music very well indeed. The horn and flute solos were not impeccable, but the style of playing was impressive. I particularly liked Bay's tempo for the scherzo, which is marked Allegro vivace and not Presto, as too many conductors seem to think. Bay's comfortable tempo adeptly brought out the charm of the piece.
The brief vocal solos were a little shaky and the chorus occasionally lacked clarity and rhythmic precision, but overall this was a good night for Mendelssohn.
Eclectic Traditional: Words by Neruda, Music by Ratcliff
Cary Ratcliff has lived in Rochester, NY for many years and plays keyboards with the Rochester Philharmonic. He has produced a large body of work which includes, among other things, songs for Shakespeare's A Midsummer Night's Dream.
The poetry Ratcliff chose to set to music in Ode to Common Things is by Nobel Laureate Pablo Neruda, and dates from the years 1954-59.
Some years ago I became interested in Neruda and that interest deepened considerably after a visit to Chile in 2008. Then - as it happens - just this last week, during an ocean voyage, I read a fine biography of Neruda by Adam Feinstein.
Neruda is perhaps most widely known and admired for his love poetry, but during much of his life, he was a political activist and diplomat. An ardent communist, he got into all kinds of trouble with friends and opponents alike. At one stage, when the Chilean government sought to arrest him, Neruda was forced into hiding. He later escaped on horseback over the Andes into Argentina. In another period, he alienated friends by stubbornly continuing to support Stalin even after the dictator's monstrous crimes came to light.
Neruda died of prostate cancer in 1973, just after the heartbreak of seeing his friend Salvator Allende overthrown and probably murdered in a coup led by General Pinochet. Neruda's funeral procession became one of the first public protests against the Pinochet government.
Neruda wrote numerous odes, but the Ode to Common Things is perhaps exceptional. An analysis and celebration of everything we take for granted in our lives, Neruda's poetry in this piece is perceptive, surprising, beautiful, sad and funny - often all at the same time. And so too is Ratcliff's music. In fact, when the poetry and the music are combined, there is almost too much sound and information to comprehend - at least at first hearing.
Fortunately, for this performance, Neruda's poetry was made available to the audience as an addition to the printed program. Unfortunately, when words are set to music they are often elongated to the point of being unrecognizable, especially when the tempo is quick, and so the tiny font size (7-8pt?) used in the program accentuated the difficulty of digesting large blocks of text in time to appreciate its particular musical expression.
These are problems, however, that will likely disappear with repeated hearings as one becomes more familiar with this complex piece. And let me be clear about this: Ratcliff's Ode to Common Things deserves repeated hearings.
Ratcliff composes in a style that I would describe as 'eclectic traditional'. The harmonies are traditional but the ways in which voices and instruments are used and combined are decidedly original.
In a choral work based on Chilean poetry, most composers would go all out with Latin rhythms. The orchestration would include a good deal of Latin percussion and bits of tango and samba would be everywhere. Ratcliff's composition is more subtle; its Latin elements are never predominant.
Ratcliff pays Neruda the compliment of respecting him as not only Chile's greatest poet, but also as a man whose thoughts and words have universal significance.
Power and Poetry: Chorus, Orchestra and Soloists Deliver!
Singing in the original Spanish, the Conspirare Symphonic Chorus, prepared by Craig Hella Johnson, was wonderful. The nearly 100 voices handled the tricky rhythms and textures with both finesse and enthusiasm.
Soprano Ava Pine, mezzo-soprano Dana Beth Miller and tenor Bryan Griffin were all excellent. Miller was particularly impressive in her duet with acoustic guitar in 'Ode to the Guitar'.
Maestro Peter Bay is to be commended not only for introducing Ratcliff's Ode to Common Things to Austin, but also for conducting it with extraordinary technical command and acute sensitivity to the myriad expressive demands of the piece.
A good night for Mendelssohn! A great night for Pablo Neruda, Cary Ratcliff and Peter Bay.
As you Like it!
After hearing a work like Ode to Common Things, listeners may want to read more poetry by Pablo Neruda and listen to other pieces composed by Cary Ratcliff. They may also want to watch a beautiful film about Neruda during a period of exile when he lived in Italy, and make the acquaintance of some Neruda songs by another composer, Peter Lieberson.
Paul E. Robinson
is the author of
Herbert von Kar
ajan: the Maestro as Superstar
, and
Sir Georg Solti: His Life and Music
, both available at Amazon.com.
Labels: "Ode to Common Things", Austin Symphony Orchestra, Cary Ratcliff, classical music blog, Conspirare Symphonic Choir, Long Center, Pablo Neruda, Paul E. Robinson