Cette semaine à Montréal (8 à 15 novembre) / This Week in Montreal (November 8 to 15)
Musique, danse, théâtre, et arts plastiques à Montréal cette semaine
Music, dance, theatre, and fine arts in Montreal this week
Théâtre :
Tout est encore possi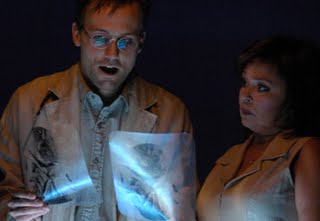 ble – Après l'amusant Les Exilés de la lumière, l'auteure Lise Vaillancourt revient avec une pièce dont la description intrigue. Se promenant entre l'Afrique et un cabinet de psychanalyste, elle présente quatre personnages qui racontent autant de récits « impossibles à croire ». La création bénéficiera de la touche du metteur en scène des Deux Mondes (Terre Promise), Daniel Meilleur. »
Du 3 au 21 novembre
, au Théâtre d'Aujourd'hui —Marie Labrecque
Theatre:
Centaur's second play, Death and the Maiden, by Ariel Dorfman, running
November 3 to December 6
, presents a complete change in tone. An emotional, edge-of-your-seat thriller, it tells the story of a woman, a former political prisoner, who is forced to confront demons from her past when she suspects her neighbour was part of the old fascist regime that had tortured her. When she kidnaps him to extract a confession, her husband, a lawyer, is torn between his love for his wife and the law. —Jessica Hill
Jazz :

Dim. 8
» Pierre François Quartet ave invité Remi Bolduc (sax alto). Upstairs Jazz Bar. (20 h 30) —Marc Chenard

Musique de chambre :
Le c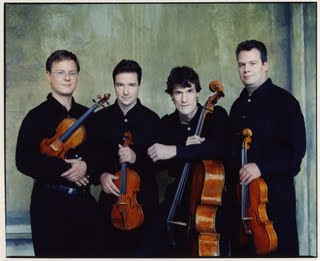 oncert de la série Émeraude du
9 novembre
prochain s'annonce comme un pont entre l'Allemagne et Israël. En effet, la Société Pro Musica a convié sur une même scène les musiciens du quatuor allemand Vogler et Chen Halevi à la clarinette. Trois œuvres seront en vedette, dont le Quatuor à cordes en sol mineur, op. 74 nº 3 dit « Le cavalier » de Haydn, le Quatuor à cordes nº 1, op. 8, WV 72 de Schulhoff et la pièce pour cordes et clarinette Dreams and Prayers of Isaac the Blind de Golijov. Un concert exaltant que le Washington Post a qualifié de « parfaite harmonie, d'une façon rarement entendue en concert. » Au Théâtre Maisonneuve de la Place des Arts, à 19 h 30.
Contemporary Music:
Prizewinning new music – Keep your finger on the pulse by attending the Ensemble contemporain de Montréal on
November 9
as they premiere prizewinning contemporary compositions by Vincent Ho, Andrew Staniland and Analia Llugdar. Under the direction of Veronique Lacroix, the ensemble rounds off the programme with Solstices ou Les jours et les saisons tournent by the venerable Gilles Tremblay. 514-524-0173,
www.ecm.qc.ca
Jazz :
Mar. 10
» Lancement du disque L'ascenceur du guitariste Carl Naud sur étiquette Effendi. Resto-bar Le dièse onze. (18 h) [Voir chronique de disque ci-contre dans la section jazz.] —Marc Chenard
Jazz :

Mer. 11
» Lancement du disque de la chanteuse Elisabeth Sheppard. Upstairs Jazz Bar. (20 h 30) » De Chicago, la saxophoniste Matana Roberts et son projet Coin Coin + le trio du pîaniste Antoine Bustros. Sala Rossa de la Casa del Popolo. Infos : 284-0122. (21 h) » Pink Saliva [Gordon Allen : trompette; Alexandre St-Onge : basse; Michel F Côté : batterie] + Monstre (Musique actuelle) Casa del Popolo. (21 h) —Marc Chenard
Danse :
À l'Agora, novembre sera entièrem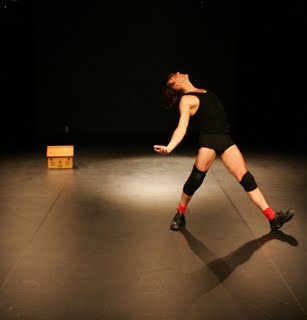 ent placé sous le signe de Pierre-Paul Savoie qui fête les 25 ans de sa compagnie PPSDanse, avec son quatuor Diasporama autour de quatre créateurs québécois installés à l'étranger, en deux volets
du 12 au 21
. —Aline Apostolska
Jazz :
Ven. 13 et sam. 14
» Le groupe du guitariste Stephane Carreau. Upstairs Jazz Bar. (20 h 30) —Marc Chenard
Jazz :
Sam. 14
» Double lancement de disque : Klaxon Gueule + Jean Derome, Philippe Lauzier et Gordon Allen (Ambiances magnétiques) suivi du duo Sainct Laurens (Philippe Lauzier et Pierre-Yves Martel), parution sur &Records. [Musique actuelle] L'envers. Infos :
www.myspace.com/lenvers185
(21 h) —Marc Chenard
Chamber Music:
Le Ladies Morning Musical Club présente le Trio Pennetier-Pasquier-Pidoux en concert à la salle Pollack le
15 novembre
, dans un programme de Mozart, Michel Merlet et Beethoven. Solistes français de premier plan, les musiciens ont formé leur trio alors qu'ils étaient étudiants au prestigieux Conservatoire de Paris, où ils enseignent maintenant. 514-932-6796,
www.lmmc.ca
Jazz :

Dim. 15
» Joe Sullivan Big Band. Concert présenté dans le cadre de la série Power Jazz au Segal Center. Infos : 739-7944. (19 h 30) —Marc Chenard