This Week in Toronto (November 2 - 8)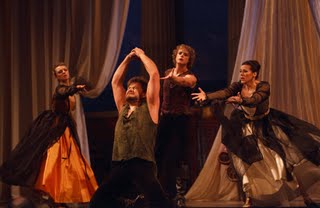 Opera Atelier
Iphigenie en Tauride
Kresimir Spicer (Orestes) ready to sacrifice himself to save his friend Pylades (Thomas MacCleay), with Iphigenie (Peggy Kriha Dye) looking on. Photo: Bruce Zinger
The Canadian Opera Company's fall season draws to a close this week. It will be your last chance to catch the two excellent COC offerings. Tomorrow (Tuesday Nov. 3, 7:30 pm) is the last of fifteen performances of Madama Butterfly. There are still two more performances of Stravinsky's The Nightingale and Other Short Fables, on Nov. 4 and 5 at 7:30 pm. The Stravinsky shows are sold out but check the box office for returns. All shows are at the Four Seasons Centre.
Opera Atelier just opened its fall season with a revival of Gluck's Iphigenie en Tauride. I attended opening night last Saturday, and it was wonderfully sung and played by the excellent Tafelmusik Orchestra under Andrew Parrott. This is the typical OA style of historically informed, super-traditional productions. This show was last seen in 2003. It has lost none of its appeal. OA has assembled a strong cast headed by soprano Peggy Kriha Dye, who has become a Toronto audience favourite. Also returning is Croatian tenor Kresimir Spicer in the baritone role of Orestes, in an unusual bit of casting. He was an excellent Idomeneo two seasons ago. His burly voice is best described as a "baritenor", so the lower tessitura of Orestes does not pose any difficulty for him. As Pylade, OA presents a voice new to Toronto audiences - Montreal tenor Thomas Macleay whose lighter timbre made a perfect foil to that of Spicer's. Performances on Nov. 3, 4, 6, and 7, 7:30 pm at the Elgin Theatre.
Also of interest is the North American premiere of
And The Rat Laughed
, an opera sung in Hebrew, composed by Ella Milch-Sheriff with libretto by novelist Nava Semel, whose parents were Holocaust survivors.
It is presented by
Opera York,
in partnership with the Sarah and Chaim Neuberger Holocause Education Centre and the United Jewish Appeal Federation of Greater Toronto. The cast includes Canadian baritone
Andrew Tees
and mezzo
Adriana Albu
. The conductor is
Geoff Butler
. You can read more about this production at
http://www.operayork.com/fallseasonswf.html
There will be three performances (Nov. 5 and 7 at 8pm and Nov 8 at 2 pm) at the acoustically excellent
Richmond Hill Centre for the Performing Arts
, designed by Jack Diamond who also designed the much bigger Four Seasons Centre, home of the Canadian Opera Company.
A last piece of opera-related event is a free, noon-hour concert given by soprano
Simone Osborne
. A new member of the COC Ensemble Studio, the BC soprano Osborne has the distinction of having won the 2008 Metropolitan Opera Auditions. She is the complete package, combining a lovely lyric soprano voice with abundant musicality and strong stage presence. This concert is a sneak preview of her upcoming New York concert, as a result of her recent win at the Marilyn Horne Foundation Vocal Competition. On the program is works by Rodrigo, Liszt, Strauss, and a new work by Iman Habibi. Click on this link to download her recital program:
http://coc.ca/ecms.ashx/pdfs/concerts091103.pdf
The concert is at the
Richard Bradshaw Amphitheatre
of the
Four Seasons Centre
. Remember to show up at least 30 minutes earlier to get a seat.
Toronto Symphony Orchestra Conductor Laureate Andrew Davis leads a concert of Beethoven's Emperor Concerto with star Canadian pianist Andre Laplante. The program also includes the ever-popular Also sprach Zarathustra. Two performances (Nov. 4 and 5, 8 pm) at the Roy Thomson Hall.
Finally, a piece of sad news. The COC Diamond Anniversary Gala to take place at the Four Seasons Centre on Saturday Nov. 7 with Canadian tenor Ben Heppner, so looked forward to by opera lovers - me included - has received a big blow. It was announced late Saturday afternoon that Heppner has cancelled, due to a lingering infection he suffered with singing Tristan at Covent Garden in October. I am afraid Toronto audiences have had very bad luck when it comes to Heppner. Two of his recitals in Toronto the last ten years were aborted mid-concert, while other shows like the Millennium Gala found him in poor form. This was meant to be his triumphant return to the company, where he last sang in 1996, as Canio in Pagliacci - not counting a very brief appearance in the FSC opening concerts in June 2006. Alas this is not to be. Replacing him will be tenor Ramon Vargas and baritone Russell Braun, with more artists to be named very soon.
NOTE: Later Monday afternoon, I received news that internationally renowned heldentenor John Treleaven has been added onto the Gala Concert roster. He will sing arias from Die Meistersinger, Tannhauser and Goetterdammerung. The previously announced tenor Ramon Vargas will sing arias from La damnation de Faust and Romeo et Juliette.Canadian baritone Russell Braun will sing Wolfram's aria from Tannhauser, and Mercutio's aria from Romeo et Juliette. This arrangement has the benefit of as little disruption to the original programming as possible, since preparation by the conductor and orchestra had already started some time ago based on Heppner's original program.
Labels: And The Rat Laughed, Ben Heppner, Iphigenie en Tauride