This Week in Toronto (October 26 - November 1)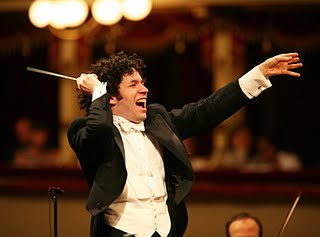 Photo: Gustavo Dudamel
Toronto music lovers can look forward to a number of high profile events this week. Top on the list is the appearance of conducting phenom Gustavo Dudamel leading the Simon Bolivar Youth Orhcestra. He is in town to receive the City of Toronto Glenn Gould Protege Prize, selected by his mentor, Dr. Jose Antonio Abreu, who is the Eighth Glenn Gould Prize Laureate. Dudamel conducts the concert this Monday evening at the Four Seasons Centre. Tickets have been on sale for some time, and they are expensive. However, I just heard that rush tickets are available in person at 5 pm this afternoon (Monday) at the FSC box office. Unfortunately I am not able to find out the exact price of the rush tickets, however you can be sure it is going to be much cheaper than the current cheapest ticket at $155. This young maestro from Venezuela is the hottest thing around in the conducting world and well worth experiencing. Below is from a press release of the Glenn Gould Foundation publicizing Dudamel as recipient of the City of Toronto Glenn Gould Protege Prize:
The Eighth Glenn Gould Prize Laureate, Dr. José Antonio Abreu, has selected Venezuelan Conductor Gustavo Dudamel as winner of the prestigious The City of Toronto Glenn Gould Protégé Prize.

Maestro Dudamel, a native of Barquisimeto, Venezuela will receive a cash award of $15,000 from the City of Toronto as he joins an illustrious group of exceptional young musicians who have received this triennial honour. Previous Protégé winners are Roman Patkoló (2005); Jean-Guihen Queyras (2002); Wu Man (1999); Tan Dun (1996), and Benny Green (1993).

Hailed as one of the most exciting and compelling conductors of our time, the 28-year old Maestro Dudamel will begin his tenure as Music Director of the Los Angeles Philharmonic in fall 2009. Recently named one of TIME Magazine's 100 most influential people of 2009, Maestro Dudamel continues as Music Director of the Gothenburg Symphony. Perhaps best known as Music Director of the Simón Bolívar Youth Orchestra of Venezuela, his infectious energy and exceptional artistry have made him one of the most sought-after conductors by orchestras around the world.
This week also marks the opening of Opera Atelier's Iphigenie en Tauride, in a production premiered in 2003. A marvelous baroque gem, this Gluck masterpiece require great singing actors. OA's audience favourite Peggy Kriha-Dye returns in the title role, and Croatian tenor Kresimir Spicer

, who made a huge impression as Idomeneo two seasons ago, sings Orest. This is a must-see for opera lovers. The show opens on Saturday, Oct. 31 7:30 pm at the Elgin Theatre. Go to

http://www.operaatelier.com/season/iphigenie.htm

for a video clip of the production, introduced by co-artistic director Marshall Pynkoski.
The
COC
continues with its long run of
Madama Butterfly
, with performances on Oct. 27, 29, and 31. Its production of Stravinsky's
The Nightingale and Other Short Fables
continues on Oct. 30. This show so wowed the critics and audiences that an extra performance was added on Monday, November 2. I am sure it is close to selling out, so if you want to experience opera at its most innovative, don't miss out!
Music Toronto
is presenting piano virtuoso
Simon Trpceski
on October 27, 8 pm at the Jane Mallett Theatre. Trpceski was here just three years ago, also under the auspices of Music Toronto. I attended that show and can say he is a truly scintillating performer. On the program this time is Haydn, Mozart, and Chopin. Also on the program is a piece new to me, by Shavov, called
Songs and Whispers
.
Finally, to celebrate Halloween, North Toronto Institute of Music is presenting a "Monster Concert" at Massey Hall on October 31, at a rather strange time of 3 pm. According to the publicity material,
"Monster Concerts" began in the 1830s by the composer Czerny to raise funds for flood victims of the Danube. The concerts featured a large number of grand pianos on stage (usually 10), with 2 players at each, and a conductor. This style of concert was later made popular in the United States by the pianist Gottschalk, and later Eugene List. This concert will feature a program of popular works by Gottschalk, Rossini, Liszt, Saint-Saens and Bizet, performed as solos, duets, and ensembles of 20 or 30 performers. It sounds like fun!
Labels: Gustavo Dudamel, Iphigenie en Tauride, Opera Atelier, Simon Bolivar Youth Orchestra