This Week in Toronto (April 25 - May 1)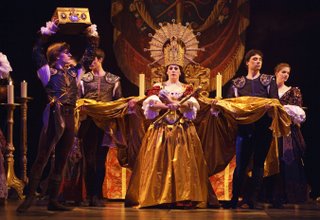 Peggy Kriha Dye as Poppea in Opera Atelier's revival of Monteverdi's
L'incoronazione di PoppeaPhoto: Bruce Zinger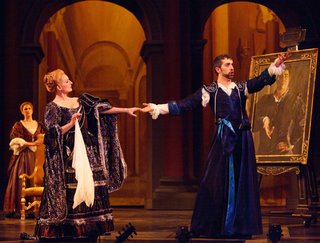 l. to r.
Vicki St. Pierre, Kimberly Barber, Joao Fernandes
Photo: Bruce Zinger
The big news this week is the opening this evening of Opera Atelier's Coronation of Poppea. It stars the sensational male soprano Michael Maniaci as Nero, and Peggy Kriha Dye as Poppea. Both are familiar to Toronto audiences in their previous appearances. New to OA is the long overdue debut of Canadian mezzo Kimberly Barber. To me, Barber's most memorable performance in Toronto was Handel's
Xerxes
for the COC, now almost 10 years ago. Barber has since taken up a voice professorship at Wilfrid Laurier University, while continuing to maintain a performing career. A few months ago, I had a nice phone conversation with her when I was writing a piece on the OA Coronation. I was curious how she manages to combine a singing career with a teaching position. "When WLU interviewed me, they asked how I would be able to balance my life" Barber says. "I'm already balancing home life, child care, attention I give to my partner, and a physically and emotionally demanding career. (Teaching) means I'll just add one more thing in my life to balance!" Barber also finds that teaching and singing complement each other - "(Singing means) I have a lot to give back to my students...likewise I draw energy from my students. It keeps me fresh and my mind open. I am always grateful for a few weeks when I was singing Regina - it is all about me (laughs). When you come back afterwards and full of the wonderful ego stroke, you come crashing down to reality - my students say - 'that was great, now help me'... it keeps things in perspective!" The show also stars Michael Maniaci (Nero), Peggy Kriha Dye (Poppea), Joao Fernandes (Seneca), Olivier Laquerre (Ottone), and Laura Pudwell (Arnalta). David Fallis conducts the Tafelmusik Baroque Orchestra. Dates: April 25, 26, 28, 29, May 1, 2. All shows at the Elgin Theatre.
Another interesting event this week is the appearance of Vladimir Spivakov and the 120-player National Philharmonic of Russia, at Roy Thomson Hall, on Tuesday, April 28, 8 p.m. This is the orchestra's Canadian debut. The guest soloist is pianist Denis Matsuev, who will play the ever-popular Rachmaninoff piano concerto No. 1. Also on the program is Prokofiev Four Pieces from Romeo and Juliet, and Anatoly Liadov The enchanted Lake, Op. 62. Matsuev is the winner of the Tchaikovsky Competition in 1998, and has concertized widely in all the top venues, including appearances at Carnegie Hall, Theatre de Champs Elysees, Salzburg Mozarteum, Muskverein in Vienna, and Roy Festival Hall in London. This will be also be his Canadian debut.