The I LOVE THE ARTS Button / Le macaron Jĺ─˘AIME LES ARTS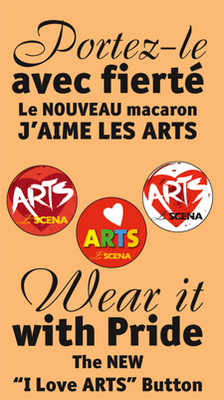 La SCENA is proud to introduce the "I LOVE THE ARTS" button. Three designs are available in full colour. Wear it with pride. Send $2 per button.
La SCENA, 5409 Waverly, Montreal, QC, Canada, H2T 2X8
hannah[at] scena.org
---
La SCENA vous prłęsente le macaron Jĺ─˘AIME LES ARTS, disponible en trois versions en couleur. Commandez des macarons en envoyant 2$ pour chacun.
La SCENA, 5409 Waverly, Montreal, QC, Canada, H2T 2X8
hannah[at] scena.org