Derek Yaple-Schobert performs in Saskatchewan, Ontario & Michigan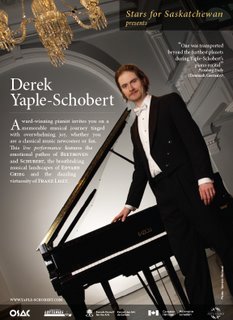 The Organization of Saskatchewan Arts Councils (OSAC) & The Canada Council for the Arts (Music Touring Grant) present well-traveled, award winning emerging pianist Derek Yaple-Schobert in live performances in Shaunavon, Leader, Kindersley and Moose Jaw on November 5, 6, 7 and 8th respectively.

With a growing reputation for bringing classical music to wider audiences, Yaple-Schobert will guide newcomers as well as experienced concertgoers on a memorable musical journey nuanced with engaging and insightful commentary. The programme features a broad spectrum of the immortals: the emotional pathos of Beethoven, the unearthly beauty of Schubert and the dazzling virtuosity of Franz Liszt. Often infusing his recitals with a Scandinavian twist as well as Canadian content, Yaple-Schobert will also perform breathtaking musical landscapes of the Norwegian Edvard Grieg, a set of variations on a Swedish folk tune by Erland von Koch, in addition to 2 short innovative works by Canadian composers Boudreau and Gougeon. Several works on the programme appear on his debut CD, Nordic Passion on sale at each recital. On November 4th in Shaunavon, Dr. Yaple-Schobert will instruct and inspire local piano students in a masterclass. Following his Saskatchewan appearances, Yaple-Schobert performs and will give masterclasses for both the LUMINA Concert Series in Thunder Bay (Nov. 18), Ontario and at Northern Michigan University (Nov. 21 & 23), where local radio will record his recital for future broadcast as well as interview him.
Programme:
Beethoven: Sonata in C Minor, Opus 13 "Pathˆ©tique"
Erland von Koch: Variations on a Swedish Folk Tune (1981)
Edvard Grieg: Holberg Suite, Opus 40 original piano version
(pause of 10 min.)
Franz Schubert: Three Piano Pieces, D. 946
Walter Boudreau: Asylum Waltz (2003)
Denis Gougeon: Piano Soleil (1996)
Franz Liszt: Venezia e Napoli
Derek Yaple-Schobert, piano
http://www.yaple-schobert.com
http://www.myspace.com/yapleschobert
Labels: ontario, piano, saskatchewan