Another fall theatre event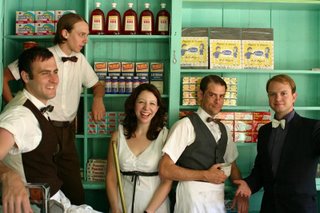 Side

M

art
THEATRICAL GROCERY
Is thrilled to announce the English Language World Premiere of
Translated by

Elisabet Rafols and Michael Bantjes
directed by

Andrew Shaver
The Studio
Segal Centre for Performing Arts at the Saidye
5170 ch. de la Cote-Ste-Catherine Road
Montreal (Quebec)
(514) 739 - 7944


Oooo! is a touching and powerful comedy about the lives of a group of clowns in Nazi Germany. Charlie Rivel, the most tender of clowns is forced to perform for Hitler, the most barbaric of dictators. Can art be guiltless? Does it have to submit to power? Can an artist remain apolitical in the midst of such political mayhem?
Starring Alain Goulem as Charlie Rivel (CBC's The Tournament and 18 to Life)
With Patrick Costello, Graham Cuthbertson, Tobias Goulem and Jesse Todd.



Side

M

art is pleased to return to The Studio as the Segal Centre's Resident Company for a second year in row. Previous Side

M

art productions include the Mecca Award-Winning American Buffalo; the "must-see...runaway hit" (Matt Radz, Montreal Gazette) The Dishwashers in the Basement of BU: Bar-a-Vin; the Canadian premiere of Trad, "two of the best performances you'll see all year" (Brett Hooton, Montreal Hour); and most recently a musical adaptation of Derek McCormack's The Haunted Hillbilly, "the best show I've seen in years" (Neil Boyce, Montreal Mirror).
Regular Ticket: $20

Students & Seniors: $15


Directed by Andrew Shaver (American Buffalo, The Dishwashers, Haunted Hillbilly...)
Production Design by Sarah Yaffe
Sound by Jesse Peter Ash

Stage Managed by Seamus Ryan