The 7th Biennial ASHKENAZ Festival!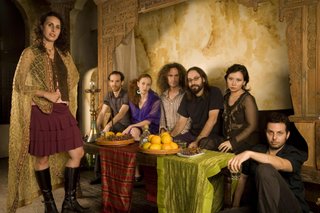 THE 7th BIENNIAL ASHKENAZ FESTIVAL
August 26 - September 1, 2008
The 7th ASHKENAZ FESTIVAL takes place August 26 to September 1, 2008, at Harbourfront Centre and various satellite locations throughout Toronto, Canada.

Programming highlights include Jewish funk supergroup Abraham Inc. (featuring Fred Wesley, David Krakauer, and Socalled); Argentinian Yiddish Tango diva Zully Goldfarb; legendary mandolinist/clarinetist Andy Statman; Ukrainian brass band Konsonans Retro; Kosher Gospel with Joshua Nelson; Russian Klezmer garage band Nayekhovichi; Sephardic Jewish music with Pharaoh's Daughter, Flory Jagoda and Spain's Mashala; and from Canada, jazz pianist Marilyn Lerner, Ken Whiteley & David Wall, Theresa Tova, Shtreiml, Beyond the Pale, Michael Wex, Allen Merovitz, Sisters of Sheynville, and many more.

The ASHKENAZ FESTIVAL is one of the world's largest public celebrations of Yiddish and Jewish culture. Each edition of this multidisciplinary event presents approximately 50-75 artists/groups from Canada and around the world, working in music, film, theatre, dance, literature, craft, and visual arts. This year's festival promises as diverse a program as ever, with artists from over a dozen countries. Once again the famous Ashkenaz Parade will enliven Harbourfront Centre on Labour Day with a community celebration featuring music, dance, massive puppets, stilt-walkers, and overall group revelry, featuring Shadowland Theatre.

The ASHKENAZ FESTIVAL was founded in 1995 by David Buchbinder, Bruce Rosensweet, and Dianne Wienrib. The 2008 Festival celebrates the organization's "Bar Mitzvah," and will be the first Ashkenaz Festival presented by the new (as of fall 2006) management team of Executive Director Karen Tisch and Artistic Director Eric Stein.

The Ashkenaz Foundation is a community-based non-profit organization which fosters an increased awareness of Yiddish and Jewish culture through the arts. Showcasing the work of leading contemporary artists from Canada and around the world, Ashkenaz places an equal emphasis on preservation and innovation within its cultural milieu. ASHKENAZ FESTIVAL programming incorporates many other manifestations of Jewish music and art beyond Klezmer/Yiddish, and actively pursues fusion and cross-cultural exchange with artists from outside Jewish cultural traditions through commissioned work and special projects. The Ashkenaz Foundation places a strong emphasis on local and emerging talent, as well as on education and community outreach.
THE 7th BIENNIAL ASHKENAZ FESTIVAL
August 26 - September 1, 2008
416.979.9901 or
www.ashkenazfestival.com
416.473.4000 or www.harbourfrontcentre.com