Bayview Residences Victoria Symphony Splash takes place August 3rd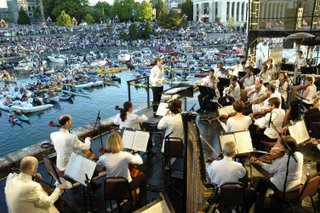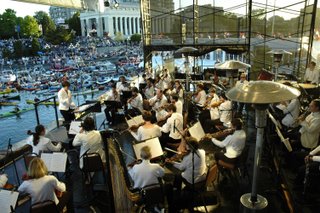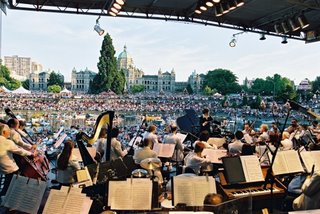 The 19th annual Bayview Residences Victoria Symphony Splash
a highlight of the Festival 150 weekend joins Festival 150 in celebrating the best of BC

Victoria, BC - The 19th annual Bayview Residences Victoria Symphony Splash will take place on Sunday, August 3, 2008. This year, the Victoria Symphony presents a very special performance celebrating BC's 150th anniversary, including participation by BC musicians, the introduction of a young Victoria soloist and the premiere of a new piece by a BC composer, Tobin Stokes.
Tania Miller will conduct the Victoria Symphony when it takes the stage at 7:30 opening with the world premiere of composer Tobin Stokes' piece Inner Harbour Overture. Inspired by the sights and sounds of the Victoria's Inner Harbour this piece will not only showcase the incredible talent of this BC composer but will make the busy historical harbour a star of the show.
As one of the mainstage highlights of the BCFestival 150 weekend celebrations Bayview Residences Victoria Symphony Splash will showcase music by BC composers, music from 150 years ago and some of the incredible musical talents BC has to offer.
"We are delighted that this year's Splash event can be part of an entire weekend of festivities!," says Patricia Mariash, vice-president of Bayview Residences.
Annually a young BC soloist is chosen to perform with the Victoria Symphony. Auditions will be held on June 6th. Tania Miller will announce the 2008 young performer on June 7th as well as more event programming details.

"There is an amazing amount of musical talent in BC and this year we are extremely excited to introduce yet another musical talentadd another name to the list of BC performers to at Festival 150 when we choose the young soloist who will perform debut with the Symphony on August 3rd." exclaims Tania Miller, Music director for the Victoria Symphony
This year's Splash Kids Tent sees a part of the Legislature lawns transforming into a zoo! An Instrument Petting Zoo. Run by musical youth volunteers the Instrument Petting Zoo will the Symphony's biggest yet. The Instrument Petting Zoo take place from 2-5pm on the Legislature Lawn near Belleville Street. Thanks to Long and McQuade, the zoo will feature over 20 musical instruments that young audience members can hold, blow and bow. Studies have shown that early exposure to music and musical instruments can promote better cognitive, memory and learning skills later in life. The Victoria Symphony's Instrument Petting Zoo is present at every Concerts for Kids show and also visits community events and organizations.

This year marks the second in a five year commitment for title sponsor Bayview Residences In 2007 Bayview Residences came to the rescue of the annual event replacing the previous title sponsor when a change in corporate directive no longer provided funding for the Victoria-based event.
Several other sponsorships have also been confirmed for the 2008 Bayview Residences Victoria Symphony Splash: Bayview Residences Victoria Symphony Splash is presented by Bayview Residences and the Victoria Symphony and the following corporate and community sponsors:
Community Partners:
The Allen and Loreen Vandekerkhove Family Foundation,
Splashes Bath & Kitchen Centre and
WAX Partnership
Volunteer Sponsor:
Thrifty Foods
Event/Vendor Sponsors:
Level Ground Trading Ltd, .
Long and McQuade
Government Supporters:
British Columbia Arts Council,
Canada Council for the Arts,
City of Victoria,
CRD,
Province of British Columbia

Tania Miller's reputation as a consummate musician, leader, and communicator has grown rapidly in today's orchestral scene. Maestra Miller was the youngest current music director of a major Canadian orchestra and the first Canadian woman to be appointed to such a significant position in Canada. The 2008-2009 season will mark Maestra Miller's sixth season as music director of the Victoria Symphony Orchestra.
The Victoria Symphony is Vancouver Island's largest and most active arts organization offering its audiences 67 years of tradition, a commitment to fostering new music and a dedication to community involvement through music education. Showcasing the outstanding talents of its musicians and guest artists the Victoria Symphony's 2008-2009 season offers a diverse and exciting line-up of over 100 concerts led by its vibrant Music Director Tania Miller.
Bayview Residences is part of a 20-acre hilltop community being created on Victoria's Inner Harbour. When completed, this Urban Resort Community will include residential towers as well as retail and commercial services as part of the revitalized CPR Roundhouse - a designated National Historic Site. Bayview Residences offers spacious one, two and three bedroom residences with exceptional interior design and attention to detail. The community's Amenity Clubhouse will feature squash and tennis courts, gym facilities, lap pool and cafe. Bayview is a strong supporter of the community, sponsoring numerous national and local events including the Canadian National Junior Squash Championships and the annual Bayview Residences Victoria Symphony Splash. For further details, visit the on-site presentation centre at 80 Saghalie Road or www.bayviewresidences.com.
Each year, the Victoria Symphony performs on Sunday of the BC Day long weekend for 40,000 people from a floating stage in Victoria's picturesque Inner Harbour during the Bayview Residences Victoria Symphony Splash. Recognized as one of North America's most popular and successful outdoor family, cultural and community events, the Victoria Symphony plays to an audience of more than 40,000 people.
while sitting on a floating stage in Victoria's Inner Harbour. The event concludes with a spectacular fireworks display.

For more information, please visit www.victoriasymphony.ca.