La SCENA Arts Directory Released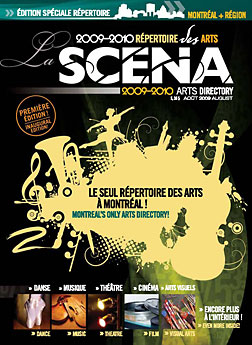 Just in time for fall, we are pleased to present the first-ever annual La SCENA Arts and Music Directory. In these pages, you will find comprehensive listings of schools, amateur and professional choirs and ensembles, supply stores, high-end audio, agents and more in the fields of music, dance, theatre, film, and visual arts. For students or professionals, artists or arts lovers, this guide has something for everyone.
This inaugural Arts and Music Directory is just the beginning. Due to limited time and space, we were constrained in the quantity and scope of information that we could include. In the coming years, we hope to expand our publication to encompass more organizations from every artistic discipline as well as individual artists and musicians. We at La SCENA believe that such a directory is a crucial part of keeping the arts alive, linking and strengthening the various components of the artistic world. We plan to make the guide available on our website, www.scena.org, updating it throughout the year. If you belong to an artistic or musical organization that you think belongs in the directory, don't hesitate to e-mail us at guides@scena.org to become a part of this growing resource.
In order to conserve space and so as not to overwhelm our readers, we chose carefully which contact information to include in the directory. We provide the addresses of venues and retailers, while other organisations are listed with phone numbers and websites. Our small team of dedicated staff and volunteers made every effort to verify the accuracy of the information in this issue. As always, LSM welcomes your feedback, including corrections or suggestions for improvement.
For those of you who are not familiar with our organisation, La Scène Musicale is a non-profit charity dedicated to the promotion of classical music and the arts, now in our 14th year. We publish La Scena Musicale, a free monthly magazine that contains a comprehensive calendar of concerts, compact disc reviews and interviews with musicians as well as feature articles on the local, national and international classical music scenes. In addition, we produce a quarterly interdisciplinary arts magazine, La SCENA. Look for our fall issue of La SCENA, which will appear on September 3, featuring Canadian auteur Robert Lepage, the internationally acclaimed playwright, filmmaker and multimedia artist. The electronic versions of our publications are available world-wide on our award-winning website,www.scena.org.
We hope that you find this guide enriching and informative, and that you will come to view it as an essential resource in the years to come. Enjoy the last few days of summer!
> Download the Arts Directory in PDF format
Wah Keung Chan
Editor and Publisher
Labels: LSM News