Renee Fleming's Violetta at Covent Garden in Your Local Cinema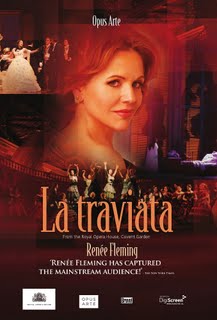 Now that we are in the dog days of summer, operas are in short supply in southern Ontario. Sure you can drive seven hours to Cooperstown to catch the last week of the Glimmerglass Opera Festival, but a much easier way is to attend a performance of the Covent Garden La Traviata, in air conditioned comfort at the selected Empire Theatres across the country. It stars the American reigning prima donna Renee Fleming as Violetta, in a performance taped on June 30th. Opposite her is Maltese tenor Joseph Calleja as Alfredo. American baritone Thomas Hampson is Germont. Toronto opera audiences may remember Calleja as a very youthful Rodolfo in the COC La Boheme back in 2001. He has since become a big star, and will appear next May at Roy Thomson Hall as part of the Vocal Series. And Hampson is justly famous for his Germont, having sung it all over the world. The conductor is Royal Opera House's music director Antonio Pappano. With such a stellar cast, this show is well worth attending. I am attaching the press release from Digiscreen and Empire Theatres with the details:
******************************
TRIUMPHANT PERFORMANCE
IN ROYAL OPERA HOUSE'S
LA TRAVIATA
IN CINEMAS FOR TWO PRESENTATIONS
The most anticipated performance of the opera season, megastar Renée Fleming's sumptuous Violetta in La traviata at Royal Opera House Covent Garden, will be on screen in High Definition for two presentations August 29th and August 30th at select Empire Theatres' locations and other select cinema locations.
The aclaimed American soprano Renée Fleming took London by storm this June with her six sold-out performances as Violetta in The Royal Opera's production of Verdi's best-loved work LA TRAVIATA. The performance was given more ovations by sold-out audiences across Europe, when presented live in cinemas at the end of June.
Critics and audiences alike were spellbound.
"The soprano's charisma on stage is truly magical!" – Dominic McHugh, Musical Criticism
"Renée Fleming wins all hearts with her breathtaking performance. She rightly brought the house down! Mesmerising!" – Keith Mc Donnell, Music OMH
"This is a world-class voice!" - Neil Fisher, The Times
"Nothing cautious about Ms. Fleming's performance here! Tumultuous ovations!" – Anthony Tommasini, NY Times
Captured live by Opus Arte in London on June 30th, Canadian audiences will see Renée Fleming's performance replayed and experience the thrill of this true operatic event in select cinemas on August 29th and 30th.
Richard Eyre's 2009 production is a revival of his highly acclaimed 1994 staging which dazzled audiences with its striking visual feast. Maltese tenor Joseph Calleja and American baritone Thomas Hampson co-star in the Royal Opera House's La traviata. Music Director Antonio Pappano, now in his seventh Season with The Royal Opera, conducts La traviata for the first time at Covent Garden.
Based on La Dame aux Camélias, La traviata was first performed at the Teatro La Fenice, Venice in March 1853. A toast to the pleasures of life! Verdi's masterpiece features some of the most poignantly tuneful music in all of opera.
Montreal distributor DigiScreen Corporation, in partnership with Royal Opera House's Opus Arte releases 10-16 HD productions throughout the year. For more information or to find a participating theatre near you, please visit www.digiscreen.ca.
Tickets will be available at $19.95 + tax per adult, $16.95 + tax per senior and $9.95 + tax per child. For cinema locations and to purchase advance tickets throughout Ontario and the Western provinces visit www.empiretheatres.com/opusarte. For Landmark Cinemas in Alberta and BC, go to www.landmarkcinemas.com. For independent theatres in Vancouver and Waterloo, please visit www.festivalcinemas.ca, www.princesscinemas.com
About Royal Opera House
www.roh.org.uk
The Royal Opera House is the home of three world class performing companies - The Royal Ballet, The Royal Opera, and The Orchestra of the Royal Opera House. It is a focal point for England's national and international artistic excellence, where the evolving traditions of opera and ballet are taken to the highest levels. This is the Royal Opera House - a shining symbol of excellence without compromise since 1732.
About Opus Arte
www.opusarte.com
Opus Arte, owned by the Royal Opera House, has been recording in High Definition for the past decade and has amassed a substantial catalogue of outstanding productions from around the world. Opus Arte led the way by being the first company to release a Classical HD-DVD, and also the first to release a Classical Blu-ray disc into the world market. Working closely with top organizations such as the BBC and TVE, Opus Arte has enabled a large number of people to share the magic of seeing an opera or ballet live. Partnerships with the world's top opera houses has enabled Opus Arte to capture some of the most magnificent productions ever experienced on DVD for people to enjoy over again.
About DigiScreen Corporation
DigiScreen is a digital network for the distribution and presentation of independent film and alternative content. DigiScreen launched the network in 2007 with an exclusive collaboration with Opus Arte and the Royal Opera House of London. Thanks to this collaboration, the company is able to showcase the world's most prestigious contemporary performing arts companies in an ongoing series of spectacular operas and ballets. These productions are captured live, in High Definition, from locations such as Convent Garden (London), Palais Garnier (Paris), Teatro Real (Madrid), Licieu (Barcelona), War Memorial (San Francisco) and other great stages of the world. These HD productions are presented exclusively by DigiScreen and its partners to audiences in more than 300 cinemas across the United States, Canada, United Kingdom, Europe, Japan and Australia. Presentations in South Africa and other territories will be starting shortly.