This Week in Toronto (Mar. 7 - 13)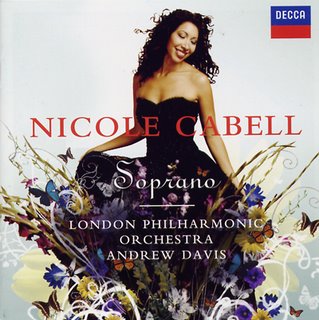 Nicole Cabell's Debut Disc on Decca. Cabell sings a recital at Roy Thomson Hall on Sunday March 8.
(Photo: Decca Records)
With the weather finally warming up this weekend, it's time to come out of hibernation and sample some of the music around town. This Saturday at the Cineplex movie houses, we have a continuation of the Met in HD season with Puccini's
Madama Butterfly
. This production is significant in the history of the Met Opera in more ways than one. It ushered in the Peter Gelb era when the opening night performance was shown live on big screen in Lincoln Center and in Time Square (!) in September 2006. The Gelb regime represents a new marketing and promotion direction that has brought opera (and the Met) to the masses. It was a brilliant stroke of audience outreach. It is also important to remember that this Butterfly replaced the super-realistic and old-fashioned Zeffirelli production, complete with cherry blossoms and Suzuki washing clothes in a little stream in front of Cio Cio San's house! Very quaint but alas also very dated. This new Butterfly incorporates a lot more contemporary theatre aesthetic in the Met's design and staging. Now for the first time it is going to be transmitted worldwide via the Met in HD theatre chains. The original star soprano, Chilean Cristina Gallardo-Domas, has been replaced in the eleventh hour this week by American Patricia Racette. Pinkerton is Italian tenor Marcello Giordani and Sharpless is American baritone Dwayne Croft. This is definitely NOT to be missed, if you can still get a ticket!
American soprano Nicole Cabell gives a recital at Roy Thomson Hall on Sunday as part of the RTH Vocal Series. It won't be easy following in the footsteps of the magnificent La Bartoli who wowed the Toronto audience, even if not one of the local critics. But Cabell is well worth hearing. She burst onto the opera scene by winning the Cardiff Singer of the World several years ago. She combines a lyric soprano of beautiful timbre with a willowy and attractive stage presence. I saw her Musetta three years ago in Santa Fe opposite the Marcello of Canadian baritone James Westman. In the few short years since Cardiff, Cabell achieved the near impossible for a young singer these days - a recording contract with a major label, Decca. Her debut album garnered critical acclaim when it appeared two years ago (see photo above). Her RTH program includes songs by Liszt, Obradors, Guastavino, Bernstein, Ricky Ian Gordon, and Spirituals, with Spencer Myer at the piano.
Another interesting recital this week is that of Canadian soprano Joni Henson. A graduate of the University of Toronto Faculty of Music, Henson was a member of the COC Ensemble Studio, where she sang a number of high profile mainstage roles - Gutrune in the COC Ring, Fiordiligi, Elisabetta in
Don Carlos
(two performances replacing an ailing Adrianne Pieczonka), and most recently the Foreign Princess in
Rusalka
. Her instrument is unusual in that it has true spinto weight, with dramatic soprano aspirations in the future. It is powerful and rich, with a very lovely middle register. At the Music Toronto "Discovery" recital (Thurs. Mar. 12, 8 pm St. Lawrence Centre), Henson will be singing Beethoven's
Ah! Perfido
and Wagner's
Wesendonck Lieder
, both pieces tailor-made for her voice. Also on the programs are Britten's cycle
On this Island
, and Oskar Morawetz's
Songs from the Portuguese
. Stephen Ralls is at the piano.
Labels: This Week in Toronto