The Art of George Szell Volumes 1 & 2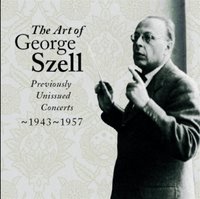 New York Philharmonic-Symphony Orchestra, The Cleveland Orchestra / George Szell
Previously unissued broadcast concerts 1943 – 1957
Volume 1: Beethoven: Symphony No 7; Weber: Overture to
Oberon
; Mendelssohn: Symphony No 4; Schumann: Symphony No 4, Wagner: Overture to
Tannhäuser
; Smetana:
The Moldau
, Overture to
The Bartered Bride
, Quartet in E minor (orch Szell); Brahms: Symphony No 2; Strauss:
Don Juan
,
Till Eulenspiegels lustige Streiche
; Rimsky-Korsakov:
Capriccio Espagnol
; Sousa:
The Stars and Stripes Forever
; Prokofiev: Violin Concerto No 1; Gershwin:
Rhapsody in Blue
West Hill Radio Archives WHRA 6018 (291 min)
Volume 2: Haydn: Symphony No 97; Mozart: Overture to the
Marriage of Figaro
; Beethoven: Symphony No 6; Weber: Overture to
Euryanthe
; Schubert: Symphony No 9; Wagner: Prelude and Good Friday Spell from
Parsifal
; Brahms: Piano Concerto No 2; Lalo: Symphony Espagnole; Franck: Symphony in D minor; Sibelius: Symphony No 2
West Hill Radio Archives WHRA 6019 (299 min)
***** $$$
Vintage performance on compact disc of both studio material and as here, live concerts, has become a reliable growth sector for the classical recording industry. West Hill Radio Archives of Don Mills score a major coup with these sets of first-ever releases of truly historical importance. Here is Szell caught on the fly at the outset of his conducting career in America, drawing out the best from two very fine orchestras.
Posterity has not been kind to George Szell. He has been saddled with the reputation of a ruthless tyrant. In reality, Szell was a supremely gifted musician who approached his art as a matter of life or death. A martinet perhaps, but he ran his own orchestra in Cleveland like a good regiment and established a tradition of excellence which is maintained to this day.
The performances in both sets are vital and thrilling. Precision is razor-sharp without any sacrifice of lyricism or poetry. Szell's 1943 debut concerts with the NYPSO and in Cleveland are documented in Volume 1. This is the real deal in real time: nitpicking musical criticism would equate to gratuitous impertinence.
We are indebted to Lani Spahr for the quality of this edition. He served as producer, annotator (the booklet notes are superb) and audio restoration engineer. The sound quality of the 1940s concerts is as good as any afforded Toscanini or Walter from sources of the same period. Imaging for the concerts from 1953 and 1957 is predictably finer. At no point is the audio less than serviceable. It is also heartening to discover that Mr Spahr is a renowned performer on period oboes. The giants of bygone days are often scoffed at by advocates of the authentic brigade but Spahr lavished respect and affection on this project.
WHRA has also made strenuous efforts on behalf of the inimitable Charles Munch in Boston. Three Munch boxes of previously unissued material are now on the market. The most recent,
Charles Munch in Boston, The Early Years
(WHRA 6015), has been sampled and found to be just as essential as the Szell collection. The seven CDs are packed with performances of spontaneous flexibility and the odd repertory duplication makes for fascinating comparisons to Szell live.
- Stephen Habington
Labels: archive, classical CDs, english, George Szell, product_review