Richard Wagner: Der Ring des Nibelungen (The Copenhagen Ring)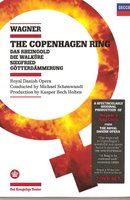 Johan Reuter (Wotan I), James Johnson (Wotan II, Wanderer), Michael Kristensen (Loge), Stephen Milling (Fasolt/Hunding), Christian Christensen (Fafner), Sten Byriel (Alberich), Bengi-Ola Morguy (Mime), Randi Stene (Fricka), Anne Magarethe Dahl (Freia), Susanne Resmark (Erda), Stig Andersen (Siegmund/Siegfried), Gitta-Maria Sjöberg (Sieglinde), Iréne Theorin (Brünnhilde), Gisela Stille (Waldvogel), Guido Paevatalu (Gunther), Peter Klaneness (Hagen), Ylva Kihlberg (Guntrune), et al; Royal Danish Opera Chorus / Philip White; Royal Danish Orchestra / Michael Schønwandt
Stage Director: Kasper Bech Holten
Video Direction: Uffe Bogwartd, Peter Bogwartd
Decca 074 3264 (7 DVDs – 920 min)
*** $$$
Perchance, the numerical rating above reflects a split decision. As a performance of the towering central works of Richard Wagner, this production (box-titled as
The Copenhagen Ring
) might earn a charitable two stars based on orchestral performance and the energy displayed on stage. But, as a succession of evenings of riveting musical drama it is plainly worth double that. Billed as the first feminist
Ring
, Kasper Bech Holten focuses on Brünnhilde and stretches the cycle over a 20th-century framework – the entire 20th century. Wagner's music is essentially complete (and performed well) and we hear most of the text but Holten radically revises character depiction and plot details and introduces a new layer of symbolism from end to end. As a Wagner performance, this can only enhance our admiration for the monumental artistic achievements of Barenboim/Kupfer (Warner) and Boulez/Chéreau (DG) in Bayreuth.
The composer's meticulous (and often impractical) stage directions have been under constant modification since the 1950s. Holten's is the most radical revision to date and he pulls up just short of parody. And yet he succeeds in realizing his artistic vision. The scene-setting
Das Rheingold
is typically the weak link in any performance of the cycle. This one exploits our curiosity and grips the attention throughout. To ring in some conspicuous changes to the 'preliminary' evening: 1) The opening scene is set in a drinking lounge where Alberich is getting hammered. The Rhine Maidens are bargirls who tease their way to catastrophe. Instead of mineral deposits, the Rhinegold is physically personified as a naked youth swimming languidly in the aquarium window of the bar. In a drunken jealous rage, Alberich slays him and cuts out his heart with a broken bottle. This is the 'gold' that is stolen to cast the spell in forging the ring. 2) John Reuter's performance as Wotan (in
Rheingold
only) inspires an instant cautionary dictum: "Beware of an aroused, debt-ridden Wilhelminian dude with a spear in his hands." He removes the ring from Alberich along with a forearm causing bloodshed of
Texas Chainsaw Massacre
dimensions. More gore follows… 3) Loge is depicted as a chain smoking yellow-press journalist who ends up knowing too much. Wotan slaughters him before he gets a chance to deliver his crucial, prophetic valedictory.
And so it goes. In
Die Walkure
, it is Sieglinde who draws the sword out of the tree and Wotan allows Hunding to scuttle away from the duel unharmed.
Götterdämerung
opens with ropeless Norns singing from the audience and the Gibichung are depicted as ruthless masked gunmen from the Serbian corner of the Balkan triangle. In the end, Brünnhilde declines to submit to immolation and departs with her off-stage newborn child (Yikes! The Wälsung walk among us! Well, maybe in Denmark.)
The production is of variable vocal quality. Stunning performances from James Johnson and Stig Andersen really carry the show in
Die Walküre
and
Siegfried
. Also notable are The Alberich of Sten Byriel, Stephen Milling as Hunding, Guido Paevatalu (Gunther) and Peter Klaveness, who presents an unforgettable psychopathic portrayal of Hagen.
Mostly Wagner, part scary movie, this set is not recommended for those approaching the
Ring
for the first time. It offers terrific entertainment value but other productions remain closer to the spirit and intent of the composer. According to taste and inclination, viewers may regard it as corruption of the highest operatic art. But it deserves to be viewed.
- Stephen Habington
Labels: dvd, english, product_review, Richard Wagner, Ring