Le Piano: Les choix de Georges Nicholson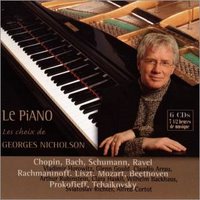 Horowitz; Gould; Arrau; Rubenstein; Haskil; Backhaus; Richter; Cortot

Disques Pelléas CD-0123 (6CD)
***** $$$$
This compilation is a fine introduction for any young pianist or new classical music lover. The collection consists of six discs (7.5 hours) of some of the most famous recordings mixed with older, less celebrated selections. Featuring performers like Cortot, Gould and Horowitz, the CDs are divided into categories:
Chopin
,
Adagio – Rêverie
,
Les Femmes
,
Transcriptions
,
Glenn Gould
, and
Horowitz
. At the moderate price of $26.99 (less than five dollars per disc) it is a great deal considering some epic recordings usually cost a premium when purchased individually. Vladimir Horowitz's performance of Tchaikovsky's Piano Concerto no. 1 and Glenn Gould's recording of Mozart's Piano Sonata in C major are two recordings no pianist's collection should be without.
Les Femmes
is a particularly eclectic CD of female musicians, pairing Beethoven and Bach beside Chabrier and Granados and featuring Fauré's oft forgotten Impromptu No. 2 in F minor recorded by the talented Marguerite Long. Unfortunately, the only modern composer is Frederico Mompou, so while the collection is ideal for a new initiate, the seasoned listener may find they already own the more popular recordings.

- Andrew Buziak
Labels: Chopin, classical CDs, Cortot, english, Glenn Gould, piano, product_review, Vladimir Horowitz