The Sweetest Holiday Tradition - The Nutcracker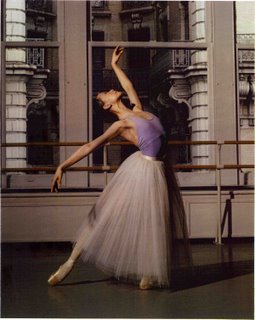 Canadian Ballet Theatre Presents
Three Performances Only with Special Guest Ballet Superstars
Alina Somova & Anton Korsakov, Kirov Ballet
Zhong-Jing Fang, American Ballet Theatre
December 20 & 21, 2008, Winter Garden Theatre
Toys magically coming to life, a young girl, a mysterious prince, elegant dancing snowflakes and Christmas wishes fulfilled: it's no wonder THE NUTCRACKER is the most beloved ballet in the world and the most delightful of holiday traditions! Canadian Ballet Theatre (CBT) is thrilled to present an elegant, traditional Russian mounting of this classic piece with international ballet superstars performing alongside shining young stars-in-the-making.

The role of Clara will be alternated between Victoria Harding and Alys Shee, to be partnered with Eugene Dokoukine as the valiant Nutcracker Prince. All of these superstars in the making are senior students with the Academy of Ballet and Jazz, the school of Canadian Ballet Theatre.

Alina Somova is a St. Petersberg native who graduated from the Vaganova Academy of Russian Ballet in 2003 and joined the Mariinsky theatre the same year. A glittering ballerina, Ms. Somova is famous for her impeccable fouette turns and grands jetes.

A past winner of the esteemed Helsinki International Ballet Competition, Anton Korsakov is widely renowned for his dramatic intensity, technical prowess and spectacular elevation.

A rapidly rising star, Zhong-Jing Fang has been with American Ballet Theatre since 2002. Trained at the Shanghai Ballet School, where she was accepted at the age of 10, Ms. Fang won the very first competition she entered, the Prix de Lausanne 2000.

Canadian Ballet Theatre students have the unique opportunity to work with the award-winning and world-famous Artistic Director Nadia Veselova Tencer. With her husband and producing partner, Solomon Tencer, Ms. Veselova co-founded the Canadian Ballet Theatre, and it's school, the Academy of Ballet and Jazz, both committed to the traditions of Russian classical ballet. A master teacher, Nadia is a graduate of the world-renowned Vaganova Choreographic Institute, the school of the Kirov Ballet, class of Alla Osipenko.

The Tencers produce the worldwide dance phenomenon, Stars of the 21st Century. For more than ten years these international ballet galas, a tribute to excellence in the art of classical dance, have been the hit of the season around the world. Recently, Nadia judged and choreographed at the Youth America Grand Prix dance competition finals in New York and was a judge at the Prix Benois De La Danse, at the Bolshoi Theatre in Russia. This faithful and classic rendering of THE NUTCRACKER is staged by Nadia Veselova Tencer.
THE NUTCRACKER begins on Christmas Eve with the young Clara and her beautiful nutcracker. As the clock strikes midnight, Clara falls asleep under the Christmas tree and dreams the most marvelous dream of a winter wonderland with dancing snowflakes, a defeated Mouse King, and a magical sleigh ride with her Prince.


Canadian Ballet Theatre presents
Music by Pyotr Ilyich Tchaikovsky
Choreography by Vasily Vainonen
Set and Costumes from the Bolshoi Ballet
Staged by Nadia Veselova Tencer
Winter Garden Theatre, 189 Yonge Street (north of Queen Street)
Saturday, December 20, 2008 at 2:30pm and 7pm
Sunday, December 21, 2008 at 1:30pm
TICKETS ON SALE NOW!
Tickets are $60 and $70 and can be purchased in person at the box office,
by calling Ticketmaster 416.872.5555 or online at
www.ticketmaster.ca
For more information about Canadian Ballet Theatre please visit
www.starsofthe21stcentury.com
Labels: ballet, tchaikovsky, Toronto