"Let's Find A Way" Song Brings Hope For Children With AIDS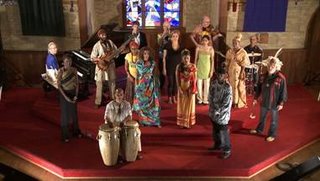 Let's Find A Way is a labour of love or "kenoronhkwa" (in the Mohawk language of the Iroquois confederacy, it is the word for love medicine) that began with the hopes of bringing international attention and relief to children either affected or infected by the HIV virus. It's a concern that reaches across borders, religions and political beliefs; never before have so many performers come together in song, from around the world, to raise awareness of the need for help in fighting this deadly disease. For more information please visit letsfindaway.ca.

In 2006, Robin Tomlin (Chair of the Let's Find A Way Society), approached songwriters Phil Koochin and Kevan Ehman to write a song that would inspire hope all over the world and serve as an AIDS international anthem. He could not turn a blind eye to the fact that children worldwide are being orphaned, left homeless, hungry or dying due to this ravaging virus and that they desperately need our help and support.. Once the song was complete, Tomlin's dream really began to take shape when multi-talented Toronto artist Waleed Abdulhamid came on board as Musical Director of the project. He produced and recomposed the song and successfully recruited top-notch international musicians and performers to sing in their native languages. Highly acclaimed artists such as Blood Sweat and Tears frontman David Clayton Thomas, and Zaki Ibrahim as well as the dulcet tones of the Orpheus Choir of Toronto all added their enormous talent and good will to the project.

Over time many more people got involved, whether for religious or personal reasons, or just for the love of children. The result of these efforts are three unique versions of the song entitled "Let's Find A Way" - an English version, a multicultural version featuring 13 languages, and another with rap and spoken word featuring US artist Ursula Rucker and Toronto poet/activist Boona Mohammad. A documentary of the process, including interviews with performers and organizers is also set for release in October of this year.

The Let's Find A Way Society hopes that people of all walks of life will be moved to purchase the CD/DVD package and or/make a donation to this worthiest of causes, by visiting the Lets Find A Way Society website. The three versions of the song and a DVD are available now at iTunes, Napster, Rhapsody, mTraks, and through letsfindaway.ca.
All proceeds will be disbursed internationally to marginal communities including Aboriginal youth populations that do not have direct access to HIV/AIDS support.
ARTISTS BIOS
PHIL KOOCHIN & KEVAN EHMAN - Songwriters
Both musicians grew up in British Columbia where they spent their youth forming and playing in many popular and successful bands. Over the years they have formed a bond of experience and creativity which has resulted in a diverse and unique repertoire of original music. Their songs bridge musical genres effortlessly and reach across all boundaries to share a passion for music that can make a difference.
KGOMOTSO (KG) TSATSI 'Äì English - myspace.com/musicbykg
Kgomotso Tsatsi was born in Johannesburg , South Africa where she began studying music as a young child. While only 21, she recently participated in the USA World Showcase where she made the top 20 out of over 40,000 auditions. She performs regularly in and around Southern Ontario as the lead singer of her own R&B-blues band, The Hip Kings, and has just released her first EP, The Art of Love.
ZAKI IBRAHIM 'Äì French - zakiibrahim.com
Born in Vancouver , BC and raised between South Africa and Canada 's West Coast, vocal sensation Zaki Ibrahim has performed at Capetown's historic Armchair Theatre, toured Canada with South Africa 's Tumi and the Volume, as well as with the Roots and Bedouin Soundclash.
FATIMA - Spanish and German - myspace.com/fatimanyc
Born to a European mother and an African father, Fatima studied classical music in Germany while pursuing her love of Arabic music. She is currently living in New York City where she has earned both a music and theatre degree.
RUTH MATHIANG - Swahili 'Äì myspace.com/ruthenfriends
Ruth Mathiang was born in Malakal-Sudan and is quickly becoming one of the rising stars of African music in Toronto. Growing up in Kenya , Ruth performed with local musicians in styles ranging from traditional music to hip hop. In 2006, she recorded her second album which is a mixture of hip hop, reggae, Afrobeat, and gospel.
YUI KIEWBORIBOON - Chinese
Born in Thailand , Yui is now the volunteer Executive Secretary at the Thai Society of Ontario in Toronto and is the co-host of Thai News Radio at AM1430, which entertains the local Thai community with music and news updates.
URSULA RUCKER 'Äì rap and spoken word - ursula-rucker.com
Ursula Rucker is a spoken word artist from the United States and is known for her diverse repertoire and performances with The Roots, Mos Def, and Nina Simone.
DAVID CLAYTON THOMAS - English - davidclaytonthomas.com
Best known as the frontman of Canadian band Blood, Sweat & Tears, David has sold over 40 milion records and was inducted into the Canadian Music Hall of Fame in 1996, and in 2007 was inducted into the Canadian Songwriters Hall Of Fame.

SAMIDHA JOGLEKAR - Hindi
Born in New Brunswick and raised in Guelph , Ontario , Samidha began her vocal training in western classical music at the age of ten and has since developed a deep appreciation for the Hindustani vocal music of her heritage.
ANTON MAMINE - Russian
Opera sensation Anton Mamine was born in Moscow and placed first in the Kiwanis Music Festival's Grand Opera category of Toronto in both 2007 and 2008. He performed at the opening of the Four Seasons Centre, and performed his solo debut at Roy Thomson Hall in 2007.
VALU DAVID - Portuguese - valudavid.com
At the age of twelve Valu began his musical career singing at youth festivals and church choirs in his home of Angola , Africa . After migrating to Canada , he studied music at Toronto 's Seneca College to become a sound engineer. Today the singer- songwriter, composer, and producer has brought his combination of mainstream jazz, soul / R&B and African beats from Angola to Toronto. He sings in English, Portuguese, Spanish, French and in some Angolan dialects such as Kimbundo, Humbundo, and Kikongo.
BOONAA MOHAMMED - Rap - boonaa.com
As a youth activist, Boonaa Mohammed has taken leadership roles in organizations such as the Black Youth Coalition Against Violence, B.L.O.C.K. headz, and the Toronto Youth Cabinet. He has won numerous poetry slams around Toronto and he has been featured in the historical "When Brothers Speak" spoken word concert. Boonaa was a member of Team Toronto in the Canadian Festival of Spoken Words, and is currently touring high schools with the "Stolen From Africa" movement.
LIZZY MAHASHE - Zulu - myspace.com/mahashe
Lizzy Mahashe was born in Cape Town , South Africa and has been recognized with awards and nominations from the Black Label Artist Coalition Award - African Canadian Music, Toronto African Music Award - Best Female performer.
DENISE WHITCOMB - Thai
Denise Whitcomb is the assistant director of the Thai Dance Troupe of Ottawa. Studying at the University of Ottawa in Arts Administration, music and dance has always been an integral part of her life. She has dabbled in the traditional dances of Scotland , India , Indonesia and the diverse Canadian cultures, however Thai classical and folk dance are her forte.
DAVID MARACLE - Mohawk, Iroquoian - Celtic flutes - davidrmaracle.com
With no formal training in the arts or music, he believes his talents are a gift from the Creator. He is a six- time Canadian Aboriginal Music Award winner, has won the Aboriginal Peoples Choice Awards for Best Instrumental Album in 2007, has two gold records globally, and played to the Queen for her Jubilee.
THE ORPHEUS CHOIR OF TORONTO - orpheuschoirtoronto.com
The Orpheus Choir of Toronto has earned a reputation as one of Toronto 's most distinguished and important choirs. The sixty-voice group is now in its 43rd season and sings in French, Spanish, and English on this recording.
ROBERT COOPER 'Äì Orpheus Choir of Toronto Conductor - orpheuschoirtoronto.com/7.html
One of Canada 's leading conductors of choral music, Robert Cooper is currently also the Artistic Director of the Chorus Niagara, the Opera in Concert Chorus, and the Faculty of Music Women's Chorus, University of Toronto . He brings fine choral music to all of Canada as Executive Producer of Opera and Choral Music for CBC Radio Two. He was recently made a member of the Order of Canada .
WALEED ABDULHAMID 'Äì Arabic - Electric Bass & Acoustic Guitar - myspace.com/waleedabdulhamid
Waleed Abdulhamid is the project manager, music director and producer of the recording of "Let's Find A Way". He is also responsible for recomposing the original song to the version that is now heard on the recording. Originally from Sudan , the multi-instrumentalist, composer, vocalist and producer has been an active member of the Toronto music scene since his arrival in Canada in 1992. Waleed leads his African jazz band, Radio Nomad which won Band of the Year at the Toronto African Music Awards in 2000.
MARK KELSO - Drums - groovydrums.com
Originally hailing from Belfast , Northern Ireland , Kelso has made Toronto his home for quite some time. He has performed with Herbie Hancock, Paquito D'Rivera, Jane Bunnett & Spirits of Havana , and Montuno Police.
RICHARD GREENSPOON - Drums
Toronto-based Richard Greenspoon is an accomplished drummer and teacher whose credits include studio work, feature film recordings, touring and a large student base.
BRUCE CASSIDY - Trumpet - brucecassidymusic.com
Born in Fredericton and schooled in Nova Scotia , Bruce Cassidy is the musical director for David Clayton Thomas and is one of the most sought-after jazz musicians in Toronto .
RAVI NAIMPALLY - Tabla
Ravi Naimpally was born in Kanpur , India where his parents ran a classical music society. This gave Ravi the opportunity to listen to some of the legends of Hindustani music. Today Ravi has accompanied many of India 's finest artists including vocalist Lakshmi Shankar, sarod maestro Buddadev Das Gupta, and kathak dancer Pratap Pawar.
JOHN EBATA - Piano & Keyboard - myspace.com/johnebata
John Ebata's talents run deep in the music world as a musician, song writer, arranger, producer, musical director and recording engineer. As a recording engineer, his Time Warp album was nominated for Jazz Album of the Year at the Juno Music Awards. As a writer, his song, "Hit & Run Lover", won Rhythm & Blues Song of the year at the Black Music Awards of Canada.

DEREK THORNE 'Äì Congas & Percussion - myspace.com/riddum
Born in Trinidad, Derek performs regularly in the Toronto area with Kobo Town , Ballet Creole, and various other jazz artists.
LAURENCE STEVENSON - Violin - myspace.com/laurencestevenson
Laurence is a radio producer for CBC Radio One's "Outfront". Outside of work, he plays violin and electric mandolin in several bands utilizing a variety of styles including traditional folk, electric Celtic, flamenco, experimental electronica, prog rock, jazz-rock fusion and African music.

HENNIE BEKKER - Piano - henniebekker.com
Hennie Bekker is an award winning, multi-platinum selling musician whose eclectic career spans decades, continents, generations and genres.
JORDAN LIPSON

HELEN COXON

Let's Find A Way Society gratefully acknowledges the support from the Producers of the CTV's Corner Gas, David Livingstone and Empire New Media, TXN Installations, Arbor Records, iTunes, Napster, Rhapsody, mTraks, Robert Cooper and Helen Coxon.