In performance, Sat & Sun at 2:30 pm in Montreal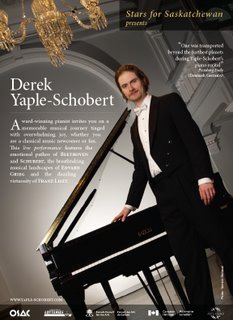 Award-winning pianist invites you on a memorable musical journey tinged with overwhelming joy, whether you are a newcomer to classical music or a connoisseur. This live performance features the emotional pathos of Beethoven and Schubert, the breathtaking musical landscapes of Edvard Grieg and the dazzling virtuosity of Franz Liszt.
This is what the poster below (or in attachment) states for my upcoming 6 recital, 3 masterclass and 1 radio recording & interview tour in November in Shaunavon, Leader, Kindersley & Moose Jaw (Saskatchewan), Thunder Bay (Ontario) and Marquette (Michingan, USA). Press Release in attachment as well.
Come hear a preview for FREE in Montreal! Feel free to invite friends!
Though Christmas is still far away, Nordic Passion CDs will be available for $15, all included. Two dates, one location, one programme:
'Üí Saturday, November 1 at 2:30 pm
'Üí Sunday, November 2 at 2:30 pm (NEW time!)
Studio de musique
Conseil des arts de Montrˆ©al
3450, St-Urbain (just North of Sherbrooke) mˆ©tro Place des arts or bus 24
FREE admission
Same programme on Saturday & Sunday
Beethoven: Sonata in C Minor, Opus 13 "Pathˆ©tique"
Erland von Koch: Variations on a Swedish Folk Tune (1981)
Edvard Grieg: Holberg Suite, Opus 40 original piano version
(pause of 10 min.)
Franz Schubert: Three Piano Pieces, D. 946
Walter Boudreau: Asylum Waltz (2003)
Denis Gougeon: Piano Soleil (1996)
Franz Liszt: Venezia e Napoli
Info: 514 284-1219 or derekys@hotmail.com
http://www.yaple-schobert.com/
http://www.myspace.com/yapleschobert