Dulcinea's Lament, Dulcinea Langfelder & Co./D.B. Clarke Theatre- Nov. 12-19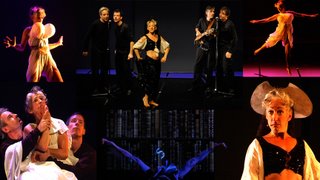 The D.B. Clarke Theatre presents
A Dulcinea Langfelder & Co. production
The Canadian premiere of
Dulcinea's Lament
A multidisciplinary creation by Dulcinea Langfelder & Co.
Directed by Alice Ronfard
One week only
Wednesday, November 12 'Äì Wednesday, November 19, 2008
To see an inspiring excerpt of Dulcinea's Lament please go to:
Ducinea's Lament on YouTube (the show will be presented in English)
"No, I was not chaste'Ķbut I never made anyone pay!" 'Äì Dulcinea del Toboso
Montreal, October 2008- The D.B. Clarke Theatre presents Dulcinea Langfelder & Co.'s newest creation, Dulcinea's Lament. Written and performed by respected actor, singer, dancer Dulcinea Langfelder and directed by the ever-creative Alice Ronfard, this humourous, sensitive and critical look behind the cloak of Cervantes' muse, Dulcinea del Toboso, will entertain and enlighten. Dulcinea's Lament recently made its world premiere at the Spiral Hall Theatre in Tokyo. Isabelle Bouvier, Director of the D.B. Clarke Theatre, is honoured to present this exciting new work, "For years the D.B. Clarke Theatre has played an important role in helping make diverse cultural productions available to the Concordia and greater Montreal communities. By presenting Dulcinea's Lament, we hope to carry on this tradition."
Join us in this new adventure; an eclectic, eccentric and energetic frolic into past and present human foibles...
Inspired by Don Quixote's muse, Dulcinea del Toboso, multidisciplinary artist Dulcinea Langfelder takes on Cervantes' 'absent heroine'. Using her namesake from the novel, she expresses her vision of religious attitudes, the world and its history. In this multimedia theatre production, you don't need to have read the book to know intuitively who Dulcinea is. This impressive performance, creatively weaving song, puppetry, spoken word and dance, will spellbind you. Director Alice Ronfard is thrilled to be on board with this latest show, having worked with Dulcinea on some of her earlier productions, "I have always felt passionate about the themes Dulcinea engages in. It was important for me to follow through with her on this particular creation."
Don Quixote, the best selling book in the world after the Bible, speaks to the quest for righteousness against all odds. Langfelder addresses our divisions in this troubled, 'post 9/11' world, "I want the audience to leave the theatre more curious about the world and why we behave the way we do. I want them to feel more confident in themselves and less vulnerable to 'group think'." She continues, "I hope that people walk out ready to laugh at human foible rather than stress out over it!"
Directed by the wonderful Alice Ronfard, with the musical wisdom of Philippe Noireault and Danys Levasseur, the video prowess of Yves Labelle, the discerning designing eye of Ana Capellutto, the smoky lighting of Eric Gingras, the puppet and puppetry of Vincent Santes, the crazy choreography and concept of Dulcinea Langfelder, and championed by Honourable Colleagues: Erik Lapierre, Francis La Haye and Jean-Franˆßois Bernier.
Dulcinea's Lament 'Äì seven shows only
A presentation of the D.B. Clarke Theatre
1455 de Maisonneuve West, Guy metro
Admission (514) 790-1245 www.admission.com (for information: 514 848-2424, ext. 4742)
Dates: Wed. 12, Thurs. 13, Fri. 14, Sat. 15, Tues. 18, Wed. 19 November at 8:00pm
Matinee: Sunday, Nov. 16 at 3:00 pm
28$ regular, $24 seniors, $22 students (service charges apply).
Group rates available
Dulcinea's Lament is a co-production of the Carlsen Center (Overland Park, KS, USA), and is sponsored in Montreal thanks to the participation of Manulife Financial. Dulcinea Langfelder & Co. acknowledges with thanks the support of the Conseil des Arts et des Lettres du Quˆ©bec, the Canada Council for the Arts, and the Conseil des arts de Montrˆ©al. The company benefited from creative residencies in Montreal at Hexagram, Usine C and la Place des Arts,
and in Bic at le Thˆ©ˆ¢tre du Bic.