Aaron Brock Memorial International Guitar Competition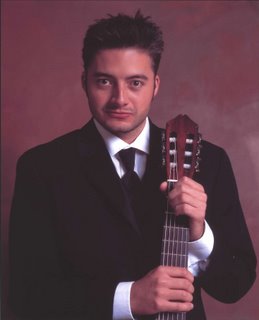 Aaron Brock Memorial International Guitar Competition
October 30 - November 1, 2008 - Mazzoleni Hall, Royal Conservatory
The Aaron Brock Memorial International Guitar Competition which honours the memory of Aaron Brock, a brilliant young classical guitarist, composer and Royal Conservatory instructor, who died tragically two years ago, will be held from October 30 to November 1, 2008.

The Aaron Brock Memorial International Guitar Competition is the first initiative of the Foundation created in Aaron's name. The Foundation is dedicated to fulfilling the wishes that, as a result of Aaron's young life being cut tragically short, were left unfulfilled.

The Aaron Brock Memorial International Guitar Competition will take place in Mazzoleni Hall in conjunction with The Royal Conservatory of Music, 273 Bloor St. W. Access through the Philosopher's Walk entrance.

Aaron Robin Brock passed away suddenly at his home on August 3, 2006 at 31 years of age, when his good heart failed without warning, the result of an undiagnosed condition known as ARVC. Aaron was already an accomplished performer having given concerts across the United States, Europe, Canada and Mexico. At the time of his death he was regarded as a great musician of exceptional talent, capable of evoking deep emotion, and sharing a warm, generous connection with his audiences. He graduated from the Eastman School of Music with a Doctorate of Musical Arts in 2003, where he was chosen to be the inaugural recipient of the Andres Segovia Award. He had won top prizes at numerous international competitions such as the Schadt String Competition, Rantoucci Guitar Festival, Appalachian Guitarfest, Canadian Music Competition, Barnett Foundation Guitar Competition, Stotsenberg Guitar Competition, Guitar Foundation of America Competition and the Concert Artists Guild.

Aaron had collaborated as a guitar soloist with many distinguished musicians, ensembles and orchestras in Canada and abroad. His performances were broadcast on CBC radio and City-TV television. Aaron was also a dedicated teacher on the guitar faculty of the Royal Conservatory of Music in Toronto, as well as an active composer. His first CD, Toccata was released May 2006.

An international panel of accomplished guitarists and judges from Canada, U.S.A. and Norway will adjudicate the Aaron Brock Memorial International Guitar Competition which is the largest prize guitar competition in Canada offering $15,000 in cash prizes, a three week music residency at the Banff School of Music, and engagements in Canada, U.S.A. and Mexico.

This year's qualifying competing guitarists are from Canada, Australia, U.S.A., Mexico and Greece. The Preliminary Round is Thursday, October 30th from 10am to 2pm. That night at 7:30pm three of the judges, Nicholas Goluses, Mark Delpriora and Randal Avers will play a short concert celebrating the guitar in Mazzoleni Hall.

The Semi-Final Round is Friday, October 31st 10am to 2pm. The Final Round (Concerto] is Saturday, November 1st at 7pm with results announced at the end of the evening. All events are open to the public and are FREE! For complete details and a schedule of events, visit www.aaronbrockcompetition.com.
Labels: competitions, guitar