The Victoria Symphony presents Viva el Flamenco! November 6,7 & 8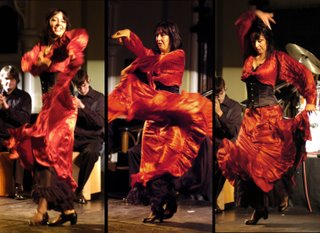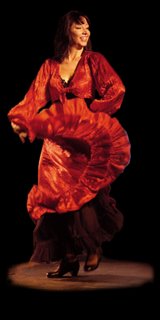 An unprecedented performance takes place when Halifax based El Viento Flamenco
makes its Westcoast debut with over 50 musicians from the Victoria Symphony!
Victoria, BC ĺ─ý On November 6, 7 and 8, the Halifax based El Viento Flamenco makes their first symphony appearance west of Quebec. In a performance with the Victoria Symphony and Principal Pops Conductor Brian Jackson, they bring their award winning and unique style of flamenco to the Royal Theatre in a passionate performance of song, dance and music titled Viva El Flamenco!
El Viento Flamenco brings its own, very distinct voice to the art of Flamenco. With a singer and guitarist who hail from rock and roll, a percussionist who is involved in everything from Newfoundland folk to African drumming and Punk rock, and dancers who have lived all over the world, the group stands subtly but resolutely outside of flamenco tradition. Having performed to rave reviews with Symphony Nova Scotia and Orchestre symphonique de Qułębec, the Victoria Symphony is bring El Viento Flamenco to Victoria.
Dancer Evelyne Benais first encountered flamenco in 1993 at the Don Quixote, a flamenco tavern in Toronto, where she would later start her career under the direction of Carmen Romero. She then moved to Newfoundland where she convinced St. John's rock guitarist Bob Sutherby to plunge into the genre, and in 1996, El Viento Flamenco was born on the wind-swept shores of the Avalon Peninsula. The entire troupe, including singer Sean Harris and percussionist Tony Tucker, moved to Halifax in 2001, where they added dancers/singers Maral Perk and Megan Matheson. They have all pursued flamenco with a passion --traveling repeatedly to Seville to study with masters and steeping themselves in this rich cultural tradition.

In the last five years El Viento Flamenco has toured extensively throughout Atlantic Canada, including all the Atlantic Presenters and Arts and Culture Centres. They have performed at the National Arts Centre in Ottawa; made several regional and national appearances on CBC radio and television as well at Government House for the Lieutenant Governor of Nova Scotia. They have had their music arranged for orchestra for two concerts with Symphony Nova Scotia, and they have been featured in a half-hour documentary on Bravo Television.
Following a performance with Orchestre symphonique de Qułębec who reengaged El Viento Flamenco a second time after receiving audience accolades and rave reviews, Richard Boisvert for Le Soleil wrote:
"Carried by a somehow severe grace that is softened by stunning curves, Evelyne Benais, founder of the ensemble with guitarist Bob Sutherby, has developed a technique of dance that is absolutely astounding. Given the precision and quality of the sound of her feet, one can literally speak of music. Some of the pieces accompanied by the Orchestre symphonique de Qułębec were like veritable concertos for heels and points.ĺ─¨
Flamenco is the traditional music and dance of the Roma gypsies of Southern Spain. It has developed over the last 250 years, with influences from various cultures, including Latin American and the Middle-East. Today, the vast spectrum of Flamenco styles is kept alive and vibrant in Spain as well as by artists of different ethnic and cultural backgrounds around the world.
Maestro Brian Jackson is the Principal Pops conductor of the Victoria Symphony, the Kitchener Waterloo Symphony and Orchestra London Canada. At the age of 25 Jackson was the youngest Music Director in Canada (Peterborough Symphony) and since that time he has conducted all the major Canadian orchestras. He has also led orchestras in the UK, Europe, the United States and South America. Jackson has performed all major symphony and choral literature as well as being recognized as a champion of Canadian composers.
The Victoria Symphony is Vancouver Islandĺ─˘s largest and most active arts organization offering its audiences 68 years of tradition, a commitment to fostering new music and a dedication to community involvement through music education. Showcasing the outstanding talents of its musicians and guest artists the Victoria Symphonyĺ─˘s 2008-2009 season offers a diverse and exciting line-up of over 50 concerts led by its vibrant Music Director Tania Miller.
Viva El Flamenco! featuring El Viento Flamenco, Maestro Brian Jackson and the Victoria Symphony takes place at the Royal Theatre on Thursday, November 6 at 2:00pm and again on Friday, November 7 and Saturday, November 8 at 8:00pm. Come early on Friday November 7th and join in on a Flamenco dance lesson with members of Alma de Espana dance studio beginning at 7:15pm. Tickets from $26.50 to $68.50. Students save 50%. Call 250.385.6515 or 250.386.6121 or online at www.victoriasymphony.ca
The Victoria Symphony wishes to acknowledge the generous support of Beltone Better Hearing Centre for these performances.
For complete programming details of the 2008-2009 season please visit www.victoriasymphony.ca.