TSMF continues until August 17, 2008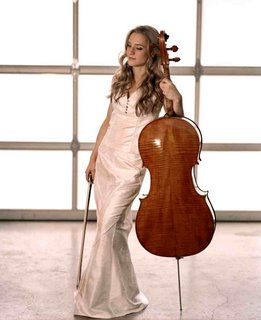 TORONTO SUMMER MUSIC FESTIVAL
Elegant start to the Festival by pianist Andrˆ© Laplante;
more of the world's top interpretive artists still to comeŠ
After the brilliant opening concert of the 2008 Toronto Summer Music Festival, with Canadian pianist Andrˆ© Laplante at the historic Carlu, John Terauds of the Toronto Star wrote: "Laplante made magic as he performed Romantic pieces that are at the core of his specialty ¬ä There was even more magic in the air, as the 1,000-strong audience gathered at the Carlu ¬ä But there is much more inspirational music-making on offer to August 17 at the festival."

The Festival, now in its third year, runs until August 17 at various venues in Toronto. Artistic Director Agnes Grossmann's concept of programming an entire festival around a central theme, In the Fire of Conflict, is an innovative way to engage artists and audience in a spiritual and aesthetic conversation that creates an intense musical experience.

On August 5, MUSIC AND DANCE features dynamic cellist and Grammy-award winner, Denise Djokic, who will be joined by dance phenomenon Peggy Baker and percussionist Ryan Scott. The program pushes the barriers of convention in a sonic soundscape with the world premiere of In the Fire of Conflict, fusing classical music with elements of hip hop and play-back rapping, adding to the performance a new, younger sensibility.

PRESSLER AND FRIENDS, on August 9, brings pianist Menahem Pressler to the forefront. Honoured as one of the greatest chamber musicians of all time by the Concertgebouw and celebrated for his lifetime achievements by governments and cultural organizations around the world, Pressler will be accompanied by string superstars violinist Alexander Kerr, violist Roberto Diaz, and cellist Paul Watkins for a stellar piano quartet.

The four-week festival concludes with four fully-staged performances of Richard Strauss's Ariadne auf Naxos, conducted by Maestra Agnes Grossmann with stage direction by Titus Hollweg. Artistic Director and conductor Agnes Grossmann is one of the very few women on the international conducting circuit. She has just completed an extensive conducting tour of Asia and Italy, and is also the only woman to have held the position of Artistic Director of the Vienna Boys' Choir (during their 500th anniversary celebrations). Stage Director Titus Hollweg, son of famous tenor Werner Hollweg, is well known in the European opera world and has collaborated with Agnes Grossmann on a previous production of Ariadne auf Naxos, after initially meeting her as a young artist while singing with the Vienna Boys' Choir.

For a full listings or all concerts, master classes, and lectures, visit
www.torontosummermusic.com
.
TORONTO SUMMER MUSIC FESTIVAL
July 22 - August 17, 2008
Violin/Piano Recital: Mayumi Seiler & Tˆºnde Kurucz: Thursday, July 24, 2008 at 8pm _*
In the Fire of Conflict: Suzie LeBlanc and Daniel Taylor: Saturday, July 26, 2008 at 8:00pm ***
Music and Painting: Molinari String Quartet: Tuesday, July 29, 2008 at 8pm _*
Revolution and Tyranny in Europe: Leipzig String Quartet: Saturday, August 2, 2008 at 8pm ***
Music and Dance: Denise Djokic: Tuesday, August 5, 2008 at 8pm _*
Chamber Music Treasures: Anton Kuerti: Thursday, August 7, 2008 at 8pm ***
Pressler and Friends: Saturday, August 9, 2008 at 8pm ***
Music and Masks: Gryphon Trio: Tuesday, August 12, 2008 at 8pm _*
Ariadne auf Naxos: Thursday, August 14, 2008 to Saturday, August 16, 2008 at 7:30pm;
Sunday, August 17, 2008 at 2:00pm ***
Festival passes ($175 - $250) and single tickets ($27 - $50) are available
online
www.torontosummermusic.com
or by calling 416.597.7840
* At Walter Hall, *** At MacMillan Theatre (Edward Johnson Building, Faculty of Music, 80 Queen's Park)
Labels: chamber, festival, piano, string quartet, Toronto, violin