Toronto Summer Music Festival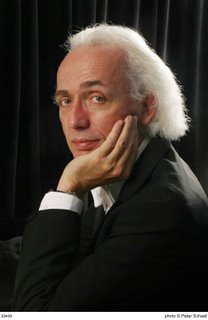 TORONTO SUMMER MUSIC FESTIVAL
Highlights include performances by Andrˆ© Laplante and Anton Kuerti
and a fully staged production of Ariadne auf Naxos
Now in its third year, the TORONTO SUMMER MUSIC FESTIVAL, Artistic Director Agnes Grossmann, will present some of the world's finest artists in concerts of chamber music and opera from July 22 - August 17, 2008. Worldwide conflicts, whether they are social, political or religious, have produced powerful outpourings of artistic expression and this year's festival will explore these struggles under one unifying theme, In the Fire of Conflict.

The Festival features three new concert series this year: on Tuesdays the series will celebrate links between music, visual arts and dance; Thursday evenings will be devoted to chamber music; and Saturday nights will bring the world to Toronto (French, German, and New Worlds). Distinguished performers include pianist Anton Kuerti; the Leipzig String Quartet; pianist Menahem Pressler with violinist Alexander Kerr, violist Roberto Diaz and cellist Paul Watkins; the remarkable young cellist Denise Djokic with one of Canada's most prominent and innovative dancers Peggy Baker; the Gryphon Trio; Molinari Quartet; and a duo recital with violinist Mayumi Seiler and pianist Tˆºnde Kurucz. The Festival opens with a very special performance of pianistic virtuosity by Andrˆ© Laplante at the historic Carlu.

The four-week festival culminates with four fully-staged performances of Richard Strauss's Ariadne auf Naxos, conducted by Maestra Grossmann with stage direction by Titus Hollweg of Vienna and pre-concert talks with operatic expert Iain Scott. The opera will be double cast with some of the world's best young singers, accompanied by the National Academy Orchestra. New this year is a three part pre-opera lecture series providing context to the story of Ariadne auf Naxos with Corey Keeble, Domenico Pietropaolo and Bryan Gilliam. "A Day at the Opera" introduces opera lovers to Ariadne with a performance by master storyteller Clayton Scott, followed by a hands-on clay workshop at the Gardiner Museum and concluding with the final opera performance of the TORONTO SUMMER MUSIC FESTIVAL.

TORONTO SUMMER MUSIC FESTIVAL
July 22 - August 17, 2008
Andrˆ© Laplante: Tuesday, July 22, 2008 at 8pm *
Violin/Piano Recital: Mayumi Seiler & Tˆºnde Kurucz: Thursday, July 24, 2008 at 8pm _*
Music and Painting: Molinari String Quartet: Tuesday, July 29, 2008 at 8pm _*
Revolution and Tyranny in Europe: Leipzig String Quartet: Saturday, August 2, 2008 at 8pm ***
Music and Dance: Denise Djokic: Tuesday, August 5, 2008 at 8pm _*
Chamber Music Treasures: Anton Kuerti: Thursday, August 7, 2008 at 8pm ***
Pressler and Friends: Saturday, August 9, 2008 at 8pm ***
Music and Masks: Gryphon Trio: Tuesday, August 12, 2008 at 8pm _*
Ariadne auf Naxos: Thursday, August 14, 2008 to Saturday, August 16, 2008 at 7:30pm;
Sunday, August 17, 2008 at 2:00pm ***
Festival passes ($175 - $250) and single tickets ($27 - $50) are available online
www.torontosummermusic.com
or by calling 416.597.7840
* At the Carlu
** At Walter Hall
*** At MacMillan Theatre