CD launch: Whirlwind at Jello Bar, Fri. May 23, 5pm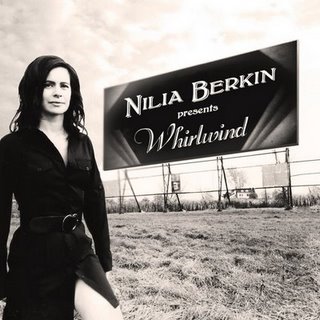 Nilia Berkin releases Whirlwind, her debut CD,
with a record launch party:
Friday, May 23 @ 5pm
Jello Bar -151 Ontario East
(Martinis and goodies will be served!)
And at midnight, when you're chasing sheep across the sky and aching for a lullaby,
Let me be, please let me be, let me be the one to sing to you,
To you, to sing to you, to you, to sing to you, to you, to you.

-Dusty White Moon
Nilia Berkin's debut show at the Sala Rossa on May 2 was a great success with Matt Lipscombe and Subcollisions playing after her set to a packed crowd and glowing reviews. She is thrilled to launch her debut CD, Whirlwind, on Friday, May 23 at Jello Bar at 5pm.
Nilia is a singer/songwriter based in NDG. She grew up in Sherbrooke, Quebec and came to the big city to realize her musical aspirations studying classical piano at Vanier College and Concordia University.
Nilia has also studied jazz under the tutelage of Lorraine Desmarais and has been performing in a jazz duo with her partner, TJ Plenty (ex-Asexuals) since 1998.
In early 2000, after a musical contract in a hotel in Japan, Nilia returned to Montreal and started writing the 12 songs for her debut CD.
Whirlwind is Nilia's first album and an intensely intimate work. "The songs are mostly musings of the world and question what happens in the spaces we can't see. Where do we go when we fall asleep, when we die, when we daydream? I've always been interested in symbols and coincidences. Sometimes when you're perfectly still, the world starts to reveal itself in ways you can't pick up on when you're distracted by all this living."
Whirlwind was recorded at the church where she sang as a soloist for over a decade and in her home. TJ Plenty produced and played guitars. The CD is available online from Nilia's website as well as www.CDBaby.com which describes Whirlwind as 'Indie pop creations that are a blend of pop, jazz and classical with a sprinkle of punk-rock. The music is sultry, mysterious, retro.' It is also available at independent record stores around the city.
Nilia will be playing songs from this album on May 23rd with help from backup singers Stefanie Buxton and Danielle Desormeaux as well as guitarist TJ Plenty at Jello Bar, 151 Ontario East (between Saint- Laurent and Saint- Denis).
Come early and get a good seat- martinis and goodies will be served.
For more information and to hear clips from Whirlwind: www.niliaberkin.com