Young pianist helps tell the tale of the boy genius Mozart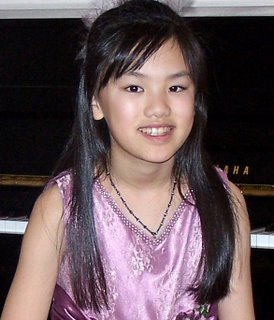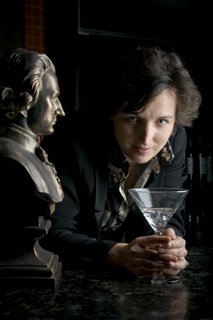 Remarkable young pianist joins
Tania Miller
to tell the tale of the boy genius Mozart
Victoria, BC ĺ─ý At 8pm on May 6th at the Marriott Hotel, Shanna Fong, a gifted and award winning young pianist, joins the Victoria Symphonyĺ─˘s Music Director Tania Miller for Miller, Mozart and Martinis a special addition to the 2008 Mozart Festival.
Tania Miller will be discussing the life of Mozart and the impact his music has had on her and the world of music during this intimate social evening. Miller will tell the story of Mozartĺ─˘s life including his travels through Europe as a young soloist. To enhance the tale of the young genius Shanna Fong will perform one of Mozartĺ─˘s most popular keyboard works, Sonata K330, which was composed between 1780 and 1784 in Munich or during Mozartĺ─˘s early years in Vienna.
Maestra Miller will be sharing her love for Mozartĺ─˘s music with attendees, as well as relaxing with a special ĺ─˛Mozart Martiniĺ─˘ and mingling with guests. She is looking forward to the event, ĺ─˙Mozart would be most amused to see us getting together to toast him with a few martinis! Iĺ─˘m looking forward to celebrating with fellow Mozart lovers and spending some time sharing my love for his music.ĺ─¨
There are a limited number of tickets left for this event. Tickets can be purchased for $50 by calling 385-6515.
Shanna Fong began piano lessons at the age of six with her current teacher, Mrs. Ingrid L. Henderson at the Victoria Conservatory of Music. Now only 13 years old Shanna has won numerous awards in the Greater Victoria Performing Arts Festival including the Junior Piano Concerto Cup in 2003, 2004 and 2005, and the Intermediate Concerto Cup in 2006. In addition, she was awarded the Intermediate Nathan Geminiano Cup for most distinguished piano performer and selected to represent Victoria in the B.C. Performing Arts Festival June 2006 receiving the
Runner-up award.
In July 2004 Shanna performed Mozart Piano Concerto No.8, K246, at the University of Victoria Piano Summer School concerto and chamber concert with string ensemble and again in 2007 performing the first movement of Mozart Piano Concerto No.13, K459. Recently, Shanna was invited to perform on stage in collaboration with world renowned violinist Moshe Hammer April 18th at the Alix Goolden Performance Hall.
Celebrating the extraordinary genius of Mozart and his contemporaries, the third annual Mozart Festival brings the incredible pianists of the Parker family to Victoria and includes a host of other events to appeal to everyone with a special affinity for everything Mozart.
The Victoria Symphony is Vancouver Islandĺ─˘s largest and most active arts organization offering its audiences 67 years of tradition, a commitment to fostering new music and a dedication to community involvement through music education. Showcasing the outstanding talents of its musicians and guest artists the Victoria Symphonyĺ─˘s 2007-2008 season offers a diverse and exciting line-up of over 100 concerts led by its vibrant Music Director Tania Miller.
Single ticket prices:
Orchestral concerts $25 to $60
Chamber concerts $25
Miller, Mozart and Martinis $50
Movie In Search of Mozart $10
Festival passes are also available. All passes and tickets can be purchased through the Victoria Symphony box office 385-6515 or www.victoriasymphony.ca
Calendar of Events
Saturday, May 3, , Royal Theatre
Orchestral concert: Jon Kimura Parker, piano Tania Miller, conductor
Sunday, May 4, ĺ─ý SOLD OUT
Childrenĺ─˘s concert: The Magic Flute, The Victoria Music Corner Ensemble
Sunday, May 4, Alix Goolden Hall
Chamber concert:: Colin Tilney and Friends
Tuesday, May 6, Marriott Hotel
Social event with Tania Miller, ĺ─˛Miller, Mozart and Martinisĺ─˘
Wednesday, May
Film screening: In Search of Mozart, documentary, Marriott Hotel
Thursday, May 8, Royal Theatre
Orchestral concert: Ian Parker, piano Tania Miller, conductor
Saturday, May 10, Alix Goolden Hall
Chamber concert: Gryphon Trio
Sunday May 11, and Monday, May 12, Royal Theatre
Orchestral concert: Ian, James and Edward Parker, piano Tania Miller, conductor
For tickets and venue information contact 385-6515 or visit www.victoriasymphony.ca