May and June at the TSO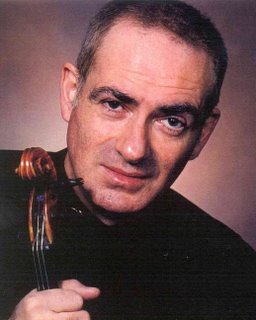 A Stellar Conclusion to the
Toronto Symphony Orchestra's 86th Season
Featuring Yo-Yo Ma, Yannick Nłęzet-Słęguin and Jacques Israelievitch
The Toronto Symphony Orchestra's 86th season will soon come to an end, but before you put on your sunglasses and head to the beach, there are still several concerts that are not to be missed!

Much-loved cellist Yo-Yo Ma, whose concerts sell out wherever he performs, returns to Toronto on May 3 to perform Shostakovich's Cello Concerto No. 1, originally written for Mstislav Rostropovich. TSO Music Director Peter Oundjian will conduct this very special evening that will also include Tchaikovsky's Symphony No. 4.

Former TSO music director Gł║nther Herbig returns to conduct the Orchestra on May 7 and 8 in Mendelssohn's The Hebrides (Fingal's Cave) and Schubert's Symphony No. 9, in a concert titled Beethoven Piano Concerto 3. The Concerto will be performed by Jonathan Biss, the talented young American pianist, already recognized for his exceptional artistry, artistic maturity, and versatility. Biss comes from a long line of musicians: both of his parents were professional string players, while his grandmother was Raya Garbousova, for whom Samuel Barber composed his Cello Concerto.

Find out what happens when aliens plot to take over Roy Thomson Hall with conductor Rosemary Thomson and the Magic Circle Mime Company on May 10 at 1:30pm and 3:30pm. Orchestra from Planet X, the last of the Young People's Concerts Series this season, is an out-of-this-world concert experience!

Canadian violinist James Ehnes, a multiple Juno Award-winner and 2008 Grammy Award-winner, joins the TSO for the second time this season for Ehnes & Oundjian, on May 21 and 22. Ehnes will play the violin and lead the Orchestra in Mozart's Violin Concerto No. 4, and will be joined by TSO Principal Oboe Sarah Jeffrey for Bach's Concerto for Violin and Oboe. Peter Oundjian will conduct Beethoven's Symphony No. 5, which will conclude the evening.

Rising Canadian star Kwamłę Ryan will make his TSO debut conducting Ravel's most popular and passionate work, Bolłęro, on May 24 and 25. Ryan, who grew up in Trinidad, is charting a distinguished career in Europe, having recently been named Musical Director of the Orchestre National Bordeaux Aquitaine. He will be joined by another Canadian, violinist Karen Gomyo, who was born in Tokyo to a Japanese father and a French-Canadian mother. She won the 1997 Young Concert Artists International Auditions just one week after her fifteenth birthday and the following year became the youngest artist ever to be presented in the Young Concert Artist Series in New York. In addition to Ravel's Bolłęro, his Mother Goose Suite, Mendelssohn's Violin Concerto, and Grieg's Holberg Suite will also be on the programme.

Canadian sensation Yannick Nłęzet-Słęguin returns to the TSO for a second appearance this season to conduct Brahms Symphony 4 on May 29 and 31. This all-Brahms evening features American pianist Stephen Kovacevich, renowned for his interpretations of Brahms, who will take the spotlight in Piano Concerto No. 2.

June will start with a Russian/American Festival, comprising two concerts: Oundjian & Dindo on June 4 and 5, and Thibaudet Plays Gershwin on June 11, 12, and 14.

As tickets are no longer available for Yo-Yo Ma's special appearance in May, the TSO invites you to experience another cello virtuoso, Enrico Dindo. In 1987, Dindo was invited by Riccardo Muti to be the principal cellist at the Orchestra of the Teatro alla Scala in Milan, a post he held for 11 years. His solo career was launched in 1997 when he was the first Italian to be awarded first prize at the Mstislav Rostropovich International Cello Competition in Paris. Dindo returns to the TSO after his dazzling debut in 2002, playing both of Shostakovich's Cello Concertos on two consecutive days. This time he will play Prokofiev's Sinfonia concertante for two performances on June 4 and 5.
The second concert of the Festival promises a programme of drama and elegance as masterful French pianist Jean-Yves Thibaudet plays Gershwin's Piano Concerto and Peter Oundjian conducts Shostakovich's Tahiti Trot (variations on "Tea for Two") and selections from Prokofiev's ballet Romeo and Juliet on June 11, 12, and 14.

Jacques Israelievitch bids farewell to the Orchestra after 20 years as the TSO Concertmaster (the longest such tenure in the ensemble's history) in two concerts titled Celebrating Jacques Israelievitch, one of which will take place at the George Weston Recital Hall. The TSO has commissioned a world premił«re of the Double Concerto for Violin and Percussion from Kelly-Marie Murphy, which will be conducted by the TSO Composer Advisor Gary Kulesha, and performed by Israelievitch with his son Michael Israelievitch on percussion. Israelievich will play, as well as lead, Bach's Concerto for Two Violins, for which he will be joined by Associate Concertmaster Mark Skazinetsky. Finally, Peter Oundjian will conduct Tchaikovsky's Violin Concerto, on June 7 and 8.

The TSO season closes with the ever-popular Last Night of the Proms on June 17 and 18. The always entertaining and witty Bramwell Tovey returns to the TSO to conduct these concerts, filled with jovial flag-waving songs such as Rule Britannia, Jerusalem, and Land of Hope and Glory.

A STELLAR CONCLUSION TO THE
TORONTO SYMPHONY ORCHESTRA'S 86th SEASON
Featuring Yo-Yo Ma, Yannick Nłęzet-Słęguin and Jacques Israelievitch
Yo-Yo Ma: Saturday, May 3, 2008 at 8pm
Beethoven Piano Concerto 3: Wednesday, May 7, 2008 at 8pm & Thursday, May 8, 2008 at 8pm
Orchestra from Planet X: Saturday, May 10, 2008 at 1:30pm & 3:30pm
Ehnes & Oundjian: Wednesday, May 21, 2008 at 8pm & Thursday, May 22, 2008 at 2pm
Bolłęro: Saturday, May 24, 2008 at 7:30pm & Sunday, May 25, 2008 at 3pm
Brahms Symphony 4: Thursday, May 29, 2008 at 8pm & Saturday, May 31, 2008 at 8pm
Oundjian & Dindo: Wednesday, June 4, 2008 at 8pm & Thursday, June 5, 2008 at 8pm
Celebrating Jacques Israelievitch: Saturday, June 7, 2008 at 7:30pm & Sunday, June 8, 2008 at 3pm*
Thibaudet Plays Gershwin: Wednesday, June 11, 2008 at 8pm, Thursday, June 12, 2008 at 2pm
& Saturday, June 14, 2008 at 8pm
Last Night of the Proms: Tuesday, June 17, 2008 at 8pm and Wednesday, June 18, 2008 at 2pm & 8pm
All concerts take place at Roy Thomson Hall, 60 Simcoe Street, Toronto
unless otherwise indicated
For tickets to all TSO concerts, call Roy Thomson Hall box office 416.593.4828
or online http://www.tso.ca/
*George Weston Recital Hall, 5040 Yonge Street
Tickets to this concert can be purchased through Ticketmaster at 416.872.1111
or online at www.ticketmaster.ca
Labels: nłęzet-słęguin, symphony, Toronto, yo-yo ma