ESCHER STRING QUARTET MARKS ITS MONTREAL DEBUT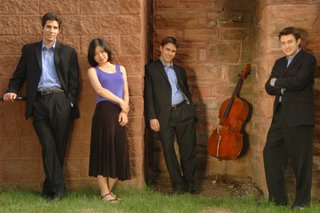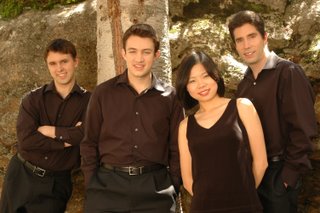 MONTRˆâAL ¬ñ April 21, 2008
Press Release
THE McGILL CHAMBER ORCHESTRA
Presents
The Escher String Quartet
In their Montrˆ©al debut
"From Vienna With Love"
The world renowned Escher String Quartet, invited by the MCO, performs Monday, May 5, 2008 at , in Pollack Hall.
Featured guests for the evening are Adam Barnett-Hart (Violin); Wu Jie (Violin); Pierre Lapointe (Viola); Andrew Janss (Cello)
The Escher String Quartet is a young quartet rapidly gaining world fame.
Both Pinchas Zukerman and Itzhak Perlman, who immediately admired the young ensemble's individual sound, inspired artistic decisions and unique cohesiveness, invited the Escher to be the quartet-in-residence at each artist's summer festival. In only a few years, the group has established a reputation as a world-class string quartet. The Escher String Quartet takes its name from Dutch graphic artist M.C. Escher; inspired by Escher's method of interplay between individual components working together to form a whole.
The quartet will make their Montrˆ©al debut with this concert, though at least two of its members are not exactly strangers to the city.
Canadian violist Pierre Lapointe received a prize in 2004 from the Lieutenant-Governor of Quˆ©bec for his work at the Gatineau Music Conservatory. Prior to this award, the University of Ottawa granted him a gold medal for his undergraduate degree in composition and violin performance.
Second Violinist Wu Jie moved to Montrˆ©al at age 16 and studied with Yuli and Eleanora Turovsky for two years before moving to New York. She has garnered unprecedented international success as both a chamber and solo musician. She is a former student of Pinchas Zukerman, who wrote that "Her talent is a gift to us all."
In 1999 Wu Jie was awarded first prize at the Orford Second International Violin Competition with her stunning performance of the Barber violin concerto, which was broadcast across the province of Quˆ©bec. This prize led to her successful solo appearances with the NAC Orchestra, I Musici Chamber Orchestra, FACE orchestra and the European tour with the Shanghai Music Conservatory Symphony Orchestra, as well as solo recitals in Montrˆ©al, Ottawa, Shanghai, and New York.
The program for the evening will feature the following works:
Alexander von ZEMLINSKY: String Quartet No. 4, Op. 25 (Suite)
Alexander von Zemlinsky composed his String Quartet, Opus 25 over the summer of 1936 though it had to wait until 1967 for its first performance. In a direct homage to his friend, Alban Berg, who had died on Christmas Eve 1935, Zemlinsky called this work his Suite. Like Berg's Lyric Suite, Zemlinsky's Suite is a work in six parts, constructed in three 'acts' with common thematic material and a structure that opposes and contrasts fast and slow movements. It also illustrates the astonishing technical mastery and musical inventiveness of Zemlinsky's mature writing,
Wolfgang Amadeus MOZART: String Quartet in G major, K. 387
"To my dear friend Haydn," read the inscription. "A father who had resolved to send his children out into the great world took it to be his duty to confide them to the protection and guidance of a very celebrated Man, especially when the latter by good fortune was at the same time his best Friend." This is Mozart's inscription for the set of six superb string quartets that he composed between 1782 and 1785 and that he dedicated to his friend and colleague, Josef Haydn.
Franz SCHUBERT: String Quartet in D minor, D. 810
"Death and the Maiden"
Schubert began his D-minor string quartet in 1824 but did not complete it to his satisfaction until February 1826. It was published posthumously in 1832. The D-minor quartet owes its nickname of the Death and the Maiden quartet to its second movement whose theme and variations are based on Schubert's lied, Der Tod und das Mˆ§dchen (D.531) that he had composed in 1817 on a short poem by Mathias Claudius
-30-
Tickets are $38 |$30 | $25 |$10/Students
For more information: Susan McKinnon Bell, Executive Director
5459 Earnscliffe Avenue, Montrˆ©al, Quˆ©bec H3X 2P8
514-487-5190 | 514-487-7390 (fax) |514-830-6033 (cell)
www.ocm-mco.org
sbell@ocm-mco.org
Labels: escher, mcgill chamber orchestra, montreal, string quartet