Interview: Sondra Radvanovsky at The New Classical 96.3 FM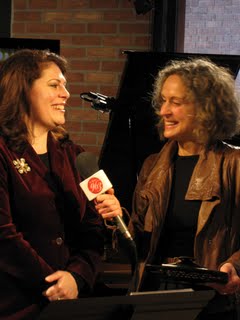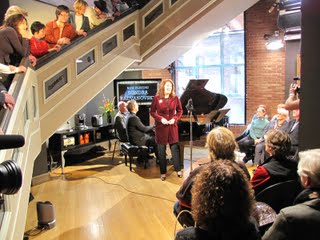 (b) Soprano Sondra Radvanovsky in Concert at the New Classical 96.3 FM
(t) Radvanovsky interviewed by broadcaster Alexa Petrenko (Photos by Soula Zisidis)
Soprano Sondra Radvanovsky is Canada's - and Toronto's - best kept secret. I say that because the internationally renowned soprano sings in all the important opera houses of the world, yet hardly ever in her adopted country of Canada. The American-born Radvanovsky is married to a Canadian, Duncan Lear, who is also her business manager. They have been living near Toronto for quite some years now. Yet the only time she has sung in Toronto was a brief appearance in LUNA, an opera concert during the Luminato Festival three years ago. But things are going to change. This Saturday March 20 8 pm, Radvanovsky and the Russian baritone sensation Dmitri Hvorostovsky will give an opera concert at Roy Thomson Hall. This is part of a tour sponsored by Show One Productions that will take them to Montreal and New York. They have sung together in many opera productions, but particularly in Verdi's Il Trovatore. They will reprise the opera at the Arena di Verona this coming summer. This fall, Radvanovsky will be making a belated COC debut, as Aida, which will also be her role debut. An authentic "Verdi soprano", Radvanovsky has a dark-hued and sumptuous soprano of beauty and power, with a remarkable range, from mezzo lows to a high E-natural. She is also capable of a full range of dynamics, from honeyed mezza voce to knock 'em dead fortissimos. I have heard Regine Crespin and Gwyneth Jones live, two legendary sopranos known for the huge sounds they made. Judging by yesterday's concert that Radvanovsky gave at the New Classical 96.3 FM, our Sondra has them beat in the volume department, and beautiful too!
For an hour, Radvanovsky sang a very generous recital of six arias, including four very substantial pieces. She began with 'Tacea la notte placida' from Il Trovatore. Hearing that vibrant, dark-timbred soprano up close was thrilling. She followed by "Tu che le vanita", Elisabetta's last act aria from Don Carlo, which she just sang in Paris last week. This long, 7 minute aria requires a true grandi voce and Radvanovsky has it in spades. The third aria was 'Ernani, involami', complete with the vocal fireworks, followed by Amelia's 'Morro, ma prima di grazia' from Ballo, a role she is going to tackle next season. She then surprised us with the chestnut, 'O mio babbino caro' - not something in her repertoire, but of course one of the most recognizable arias. It was amazing to hear her huge voice singing this essentially soubrette piece! Her last piece was an even bigger surprise, a song made famous by Canada-born Deanna Durbin, "Beneath the Lights of Home", a sentimental piece sung with great feeling by Radvanovsky. In between, she chatted with the host Alexa Petrenko. After the concert, I had a chance of interviewing the soprano. She is a completely delightful person, very down to earth with no trace of the diva. Here is a transcript of our interview:
****************************
JS: Is it true that you started your career at the age of eleven? What were you singing at that age?
SR: I was singing a lot of Italian art songs. I did my first opera as a smoke girl in Carmen, at 13! It was in a little town in Richmond, Indiana.
JS: Have you always had this dark timbre in your sound?
SR: Yes, I have. Actually my voice developed very early. I started as a mezzo...that's where the colour came from. Maybe it's also the Czech part of my heritage. My father is Czech and my mom Danish.
JS: Can you still speak Czech?
SR: Yes, a little.
JS: Where did you do your vocal studies?
SR: I went to USC and UCLA, as a theatre major. I also studied privately with Martial Singher when I was at UCLA.
JS: You also studied with Ruth Falcon?
SR: Yes, for fourteen years - I left her two years ago.
JS: What about Diana Soviero? Do you still work with her?
SR: Yes, I work with her on and off - it's just hard to find the time. I work mostly with my coach in New York: I've been with him now for sixteen years. I basically know how to sing...I just need a set of ears to tell me if something is right or not.
JS: You said your voice changed drastically the last year and a half....can you explain?
SR: When a singer is forty, the voice starts to deepen and grow...it is a maturity thing that singers go through. I'm learning about my voice...
JS: Does that mean Norma is beckoning?
SR: Yes it does! I have three contracts for it, maybe even four...It'll be in 2012. I did Lucrezia Borgia a year ago and it's a really good step into Norma. I also have the three Queens (Donizetti's Maria Stuarda, Roberto Devereux, and Anna Bolena) slated. I'll be doing them together in one place...can't say where yet, but it's in a very large opera house (laughs). I'll then be doing them separately around the world....
JS: I'm so looking forward to your Aida....
SR: It's a role that has scared me for the longest time, I must say. There is so much tradition associated with this opera...
JS: With your high pianissimos it'll be perfect...
SR: What scares me more is the first aria, 'Ritorna vincitor' - it's so dramatic and so easy to get caught up in the drama as opposed to staying calm. Yes, I'm excited but a little nervous!
JS: Would you say the Trovatore Leonora is your signature role?
SR: Absolutely! I've done it hundreds of times.
JS: What about Elena in Vespri?
SR: Oh I do love sing Vespri! You get to show off so much of your voice - I throw in the high E-natural at the end of the Bolero. She has three really great arias...
JS: It's not done very often, is it?
SR: I think it's because it is such a big production, and it really requires some sincere, honest, true Verdi singers to carry it off. I'll be doing it in Torino in March 2011.
JS: Who had the biggest influence on you when you were growing up and studying to be an opera singer?
SR: The biggest influence was Placido Domingo. I saw him on TV singing in Tosca at the Arena di Verona when I was eleven. I said to my mom - 'I want to do that'! The first recording I bought was La forza del destino with Leontyne Price, Domingo and Sherrill Milnes. I listened to Price and I thought - oh, where did this voice come from?! It's so beautiful, like molten lava, the chocolaty warm sound. Then I found Maria Callas! Domingo, Price and Callas had the biggest influence on me. I was very lucky to find and be attracted to voices that are similar to mine too!
JS: What do you love most about your work, as an opera singer?
SR: I love to sing, I really do. It sounds cheesy and simple, but the thrill of standing on stage emoting, telling the story to the audience, capturing them for three hours, transporting them to a different world, having people forget their worries for three hours...for me, the visceral feeling of singing - there's nothing like it in the world! And I get paid to do it...
JS: Do you still study? Do you vocalize every day?
SR: Yes, studying - it's a constant, ongoing thing. During the opera season I vocalize every day, but in the summer time, I like to take time off. We sing such heavy music, I need a rest in the summer. I try to take three months off, but things sneak in. I'll go to Vienna for a Verdi Requiem, and then I go to Verona to sing Trovatore with Dmitri. I sang there six years ago. I was doing 'D'amour sull'ali rose', and a shooting star went across the sky - you think, where else in the world can you have this...
JS: Now, what do you NOT like about your profession?
SR: (Big laughs) The travelling! For me, travelling, and being away from home is difficult. Luckily, my husband travels with me, so I bring part of my home with me. It's become such a hassle after 9/11. Just simple things like taking a bottle of water on the plane, being body checked...you feel so violated. Just the hassle of it.
JS: Have you ever missed an engagement because of this?
SR: No, thank goodness! But I've missed a plane because of it. That part of it is tough...missing birthdays, weddings, anniversaries. You really get to know who are your real, dear friends. Unfortunately, they often have to come travel to you. But you make it work. The good thing is you know when you are going to be home. I have my schedule for the next 6 or 7 years - I'm booked to 2016-17, so I know when I'll have a free week to go to the Bahamas!
JS: How many performances do you sing a year?
SR: It depends, maybe 40 operas. Including concert, it's maybe up to 50, 55.
JS: If you do have spare time, what do you enjoy doing?
SR: Sitting at home (laughs) I'm a real homebody...sitting at home and having friends over. It's such a simple joy. We have a new house we bought in September and I haven't seen the flowers grow yet. We have ten acres, trees, pond...I love going into the garden.
JS: Do you enjoy your life here in Canada?
SR: I do, I really love it! We live right by the forks of the Credit now...walking down there right by the river. Canada is breathtaking...this area is spectacular, and the people are so nice.
JS: When you are not learning music, not studying, what do you listen to?
SR: A lot of pop music...I just bought Barbra Streisand's CD - she's a good friend of ours. I also like Josh Groban... he's also a friend of ours. Love Billy Joel, 80's music... of my generation. It's fun, easy listening.
*****************