This Week in Toronto (March 22 - 28)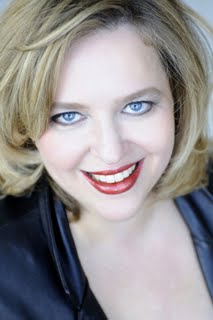 Soprano Karina Gauvin (Photo: Michael Slobodian)
There are a number of very interesting concerts on offer this week. For one thing, English Canada's favourite Quebec singer, soprano
Karina Gauvin
is in town. She is appearing with the
Tafelmusik Baroque Orchestra
in selections from Handel's Alcina. Gauvin has had a big success in this piece, so it is a great chance to hear her live singing these arias. It is part of a program called
Enchantress -
the character of Alcina is a sorceress afterall. In addition to
Alcina
, we also get to hear the Vivaldi Motet
In furore justissimae irae.
The dates are March 25, 27, and 28 at the Trinity St. Paul's Centre, and March 30 at the George Weston Hall. It is good to have Tafelmusik still playing at this woefully underused North York venue. I remember so fondly the wonderful music I heard there throughout the 1990's. For concert times and tickets, go to
http://www.tafelmusik.org/index.php
The Royal Conservatory of Music's production of Massenet's Cendrillon continues this week, with performances on Tuesday March 23 at the very odd time of 11:00 am at Koerner Hall. The last of four performances is on Thursday, March 25 at 7:30 pm. It features students from the Glenn Gould School program.
Another high profile visitor to TO this week is welcome return of conductor Rafael Fruhbeck de Burgos, the music director of the Dresden Philharmonic. He conducts Berlioz's Symphonie Fantastique with the Toronto Symphony Orchestra, together with Spanish music - a piece by Turina and the perennial audience favourite Concierto di Aranjuez by Rodriqo, with Pepe Romero as the guitar soloist. Pepe Romero is of course part of the legendary Romero Family of great guitar players. Throughout my undergraduate days, I went to all the concerts of Angel Romero whenever I could. If you like the guitar, this is not to be missed - two performances on March 24 and 25 at 8 pm at Roy Thomson Hall. On Saturday March 27, at 1:30 and 3:30 pm, the TSO presents Spanish Fire! a program for young audiences of Spanish music at popular prices, featuring Pepe Romeo and the Esmeralda Enrique Spanish Dance Company.
On March 23 8 pm at the St. Lawrence Centre, Music Toronto presents pianist Stephane Lamelin in a program of Schubert Sonatas. The innovative Tapestry New Opera Works under music director Wayne Strongman - who incidentally was recently award the Order of Canada - is presenting Opera To Go, a revival of five short operas it had previously presented. It takes place at the fermenting Cellar, 55 Mills Street in the Distillery District of downtown Toronto. Performances on March 24, 25, and 26 at 8 pm. On Sunday March 28 at 2:30 pm, Opera in Concert presents Bellini's I Puritani at the Jane Mallet Theatre of the St. Lawrence Centre. This is a concert performance and with piano, but it seems unlikely this opera will be staged by our opera companies in town, so this is a good opportunity to hear it live.
Finally, a company previously unfamiliar to me,
Wish Opera
, is presenting an opera concert on March 25 and 27 8 pm at the Sandra Faire and Ivan Fecan Theatre of York University. Soloists are tenor
Ermanno Mauro
, soprano
Sinead Sugrue
, baritone
James Westman
, with orchestra conducted by
Sabatino Vacca
. Globe and Mail's
Deirdre Kelly
is the emcee. Wish Opera's very intriguing mission is to "create a modern vision of opera by fusing the existing beauty of operatic sound with contemporary fashion and design" - a most intriguing idea! For more information, go to
http://www.wishopera.ca/
Labels: Cendrillon, Karina Gauvin, Rafael Fruhbeck de Burgos