This Week in Toronto (March 8 - 14)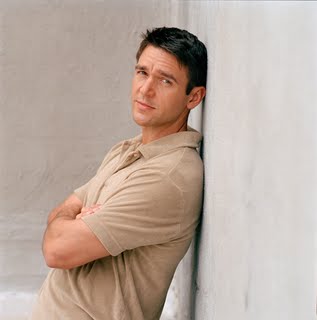 Baritone Nathan Gunn (Photo: Dario Acosta)
The big news for voice fans this week is the first Toronto appearance of American baritone Nathan Gunn, in town on Wednesday, March 10 8 pm at Roy Thomson Hall as part of its Vocal Series. Mr. Gunn is the archetypal "bari-hunk", a term invented some years ago by person unknown to describe baritones who are as pleasing to the eye as to the ear. There is a long tradition of singers of this ilk, from Lawrence Tibbett in the 1930's to Sherrill Milnes in the 1970's - hunky baritones with great voices. But there seems to be many more of them today, undoubtedly a reflection of the public favoring singers who look good on stage. In addition to Nathan Gunn, baritone poster boys today include the New Zealander Teddy Tahu Rhodes, Italian Luca Pisaroni, Uruguayan Erwin Schrott, American Jason Hardy, and Canada's own Dan Okulitch. There are many more, but these ones come to mind readily. They all have beautiful voices and are convincing actors onstage. With Mr. Gunn in town for a recital at Roy Thomson Hall, we'll get to judge for ourselves. I first heard him thirteen years ago, as Orestes in the famous Francesca Zambello production of Iphigenie en Tauride in Glimmerglass, arguably the show that propelled him to fame. He is singing better than ever. On the program are songs by Schubert, Charles Ives and American spirituals, accompanied by his wife Julie Gunn.
On the subject of voice, a worthwhile concert to attend is one given by Canadian soprano Yannick Muriel Noah. Several years ago, she was plucked out of the COC Ensemble to fill in for an indisposed soprano as Tosca. Critics and audience were impressed with her huge, gleaming lirico-spinto. She has since sung La Wally at Klagenfurt in Austria, and was Cio-Cio-San in COC's Madama Butterfly last fall. This spring, she returns to Klagenfurt as Aida. Noah will be giving a recital of songs and arias by Weill, Strauss, Verdi, and Puccini, with Liz Upchurch at the piano. It takes place on Saturday March 13, 8 pm at the Runnymede United Church, 432 Runnymede Road. Tickets are $25 ($20 for students and arts workers) and can be purchased as her website www.yannickmurielnoah.com/recital.
On Sunday March 14 2:30 pm at Walter Hall, Edward Johnson Building at the U of Toronto Faculty of Music, the Aldeburgh Connection presents Hugo Wolf: Mighty Miniaturist. Soloists are soprano Monica Whicher, tenor Michael Colvin, and baritone Brett Polegato, with Stephen Ralls and Bruce Ubukata at the piano. As usual, there will be tea at intermission! I have attended a few of their concerts in the past and they are never less than delightful.
Elsewhere, the Canadian Opera Company free noon hour concert series presents The Composer and His Music, on Thursday March 11, at the Richard Bradshaw Amphitheatre, with student soloists from the University of Toronto Opera Division under the music directorship of Sandra Horst. It is an eclectic - and highly interesting - program with arias and ensembles from Nixon in China, Hamlet, Leoncavallo's Boheme, Rigoletto, Gloriana, Ghosts of Versailles, Don Pasquale, Madama Butterfly, and Candide. Remember to show up a good 45 minutes early to ensure a seat. On Tuesday, March 9 is another noon hour concert - 18 year old pianist Suren Barry plays music by Bach, Beethoven, and Debussy.
The Toronto Symphony Orchestra presents Enigma Variations on March 11 at 3 pm and March 13 at 8 pm, with soloist Lars Vogt playing the Grieg Piano Concerto in A minor. Also on the program are Elgar's Enigma Variations, Sibelius Suite from King Kristian II and Magnus Lindberg's Chorale. Robin Ticciati conducts.
Tafelmusik, Canada's premiere baroque orchestra, presents Bach in Leipzig, with Jeanne Lamon directing the Tafelmusik Baroque Orchestra and Chorus in a program of Bach and Telemann. Performances on March 10, 7:30 pm, March 11, 12, and 13 at 8 pm, at the Trinity-St. Paul's Centre.
Finally, a bit of very sad news. The great British tenor Philip Langridge passed away from cancer this week at the age of 70. He carried on the tradition of English tenors in the mode of Peter Pears, championing the music of Benjamin Britten - he was a supremely moving Peter Grimes - as well as a wide ranging repertoire from Mozart to Janacek to Stravinsky. When I first heard the news two days ago, it just didn't seem possible - after all, he was singing as recently as December and January as the Witch in the Met's revival of Hansel und Gretel! He is survived by his widow, mezzo-soprano Ann Murray and four children. As a remembrance, here is a link to his most moving rendition of Comfort Ye from Handel's Messiah on Youtube -
Labels: Aldeburgh Connection, Lars Vogt, Nathan Gunn, Tafelmusik Baroque Orchestra, Toronto Symphony Orchestra, William Aide, Yannick-Muriel Noah