Pianist Avan Yu at The New Classical 96.3 FM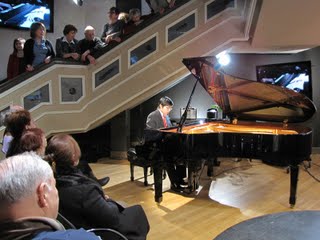 Pianist Avan Yu gives a noon hour concert at The New Classical 96.3 FM on March 1, the 200th anniversary of Frederic Chopin's birthday.
Photo: Soula Zizidis
On Monday March 1st, the world celebrated the 200th anniversary of the birth of the great Polish composer Frederic Chopin. Toronto's classical radio station, The New Classical 96.3 FM, opened its doors by inviting music lovers for a free noon hour concert starring Chinese Canadian pianist Avan Yu, winner of the 2004 Canadian Chopin Competition. It was followed by a lunch reception, complete with birthday cake! Broadcast live over the airwaves as well as webcast from www.classical963fm.com, it was a scintillating recital. Avan Yu played with bravura technique and beauty of tone, but particularity with a maturity that belies his tender years of 22. No wonder - he has already had a wealth of experience, captivating audiences worldwide. Since winning the Canadian Chopin Competition at the age of 17, he made his Carnegie Hal's Weill Recital Hall debut in fall 2008, and recently made his debut as soloist with the NAC Orchestra under the baton of Pinchas Zukerman, performing Chopin's Polonaise brilliante with cellist Yo-Yo Ma. Born in Hong Kong and raised in Vancouver, Avan Yu has been living for close to three years in Berlin, where he is studying with the great pianist/pedagogue Professor Klaus Hellwig.
After the concert, I managed to have a quiet conversation with Avan Yu. He is an affable young man, smart, polite, mature, and thoughtful in his answers. Below is a brief synopsis of our conversation:
JS: Is Chopin your favourite composer?
AY: At the moment, yes. Really it is whoever I am playing at the time. I also love Bach, Beethoven, Ravel....and I love Schumann!
JS: How did you happen to be studying with Professor Klaus Hellwig in Berlin?
AY: It was because of the Chopin Competition in Warsaw. I was 18 at the time. After it was over, I asked a jury member if he could recommend a teacher, and he suggested Prof. Hellwig. Next summer, I auditioned for him and was accepted.
JS: How long have you been in Berlin?
AY: Almost three years . I can carry on a conversation in German now!
JS: A mundane question - how many hours do you practice a day?
AY: About 5 to 6 hours a day....it depends. Today, I just warmed up a little bit.
JS: How many performances do you give a year?
AY: Last year it was 36 - it worked out to about one every 10 days. I played all the Chopin pieces, including his piano concertos.
JS: Do you come from a musical family?
AY: Yes, my father plays the sheng, a Chinese woodwind instrument. He plays in the BC Chinese orchestra. My mother used to play the pipa.
JS: When did you start studying the piano? Who was your teacher? Do you have siblings? Do they study musical instruments?
AY: It was in Hong Kong, I was five. My first teacher was Miss Lee. I have one younger sister and she used to study the piano. She is now studying human ecology at Cornell University.
JS: If you could look into the future - how do you see yourself in 10 years time?
AY: I hope to be playing concerts and making music. I enjoy travelling and seeing the world, expanding my musical horizon.
JS: Will you still be studying?
AY: Yes, always learning! I work hard and practice up to 7 hours a day, but the average is 5 hours. I listen to recordings, but I don't consider that work!
JS: What do you do in your spare time?
AY: I enjoy browsing the web...I love to read news articles on line, chatting with friends.
JS: Do you enjoy attending concerts?
AY: Yes! In Berlin, I get to hear Martha Argerich and Charles Dutoit conducting the Deutsches Symphony Orchestra; also Pollini, Perahia...
JS: Where do you go after Toronto?
AY: I go back to Vancouver, where I have three concerts with three different organizations in BC, and then I go back to Berlin.
You can find out more about Avan Yu, including sound clips of his performances at his website:
Labels: Avan Yu, Canadian Chopin Competition, The New Classical 96.3 FM