This Week in Toronto (Jan. 4 - 10)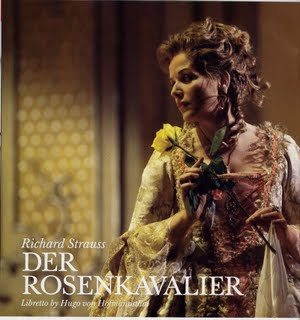 Photo: Renee Fleming as the Marschallin in Richard Strauss'
Der Rosenkavalier
, on Saturday Jan. 9 in select theaters across Canada (photo courtesy of The Metropolitan Opera)
With the Christmas and New Year's festivities now history, the various music organizations are gearing up for the winter season. Musical activities in this first full week of the new year is still rather sparse. The COC for example is just starting rehearsals for Carmen and Otello, with various singers just arriving in town this week. Maestro Paolo Olmi, who was so good in Don Carlo two years ago, has just arrived in Toronto. With him at the helm, we can look forward to a truly idiomatic Italianate Otello!
On Thursday noon, the
Canadian Opera Company Vocal Series
presents
Collaborations
, a joint recital between young artists from both the COC Ensemble and the Atelier Lyrique of Opera de Montreal. To my knowledge this is the first of such joint recitals and it is well worth attending. I for one am intrigued by the Quebec young artists whom we don't get to hear in Toronto. The concert takes place from 12 noon to 1 pm at the Richard Bradshaw Amphitheater at the Four Seasons Centre. Again, it is general seating so be sure to show up at least 45 minutes early - preferably even earlier - to ensure a seat.
The Met in HD series opens with Der Rosenkavalier, live from the stage of the Metropolitan Opera this Saturday. It stars a trio of well known stars - Renee Fleming as the Marschallin, Susan Graham as Octavian, and Christine Schaefer as Sophie. Preliminary reports indicate that both Fleming and Graham are in top form, but Schaefer is unfortunately not at her best. It is a shame that the telecast is with her rather than the Swedish soprano Miah Persson who sang the role earlier in the season. Dutch conductor Edo de Waart, who is now the music director of the Hong Kong Philharmonic, leads the Metropolitan Opera Orchestra. Unfortunately for me, I left it a little late getting a ticket as everything is sold out, so if you don't have a ticket, you'll have to attend the encore on March 6. I am still hoping for a miracle....